By Chris Williams, CycloneFanatic.com PublisherFollow Chris on Twitter @ChrisMWilliams
Iowa State is five practices into spring football 2012. Considering the fact that only three of those days have featured contact and pads, it's tough to read too much into anything at this point in time.
However after attending practice number one, participating in yesterday's media session and talking with my peeps, here are three Cyclones who I believe have increased their stock up to this point during spring drills.
1 — Jr. CB Jansen Watson
It's certainly no lock that he'll win the starting right cornerback job and replace Leonard Johnson but Jansen Watson has to be the clear-cut front-runner at this point in time. Watson, a 5-foot-9, 184 pound junior has seen the field in each of the two previous seasons and is fully adjusted to the speed of the division one game. Speed – That's key when discussing what Watson brings to the field.
"Jansen brings great speed to that corner position," said Paul Rhoads on Tuesday. "Better speed than we've played with. Better than Jeremy (Reeves) and better than Leonard."
Rhoads wasn't the only one talking up Watson yesterday.
Junior free safety Jacques Washington praised Watson for his improved man-to-man defense.
"I think he is more focused in his man technique. He is becoming a good cover corner," said Washington. "There were some things over the past couple of years that he struggled with but he has really picked it up over the last couple of practices."
2 — So. C Tom Farniok 
What? An offensive lineman who started last year? You were looking for something a little more juicy right? Well consider this. Since his redshirt freshman campaign that Rhoads referred to as "remarkable" yesterday, Tom Farniok has added 18 pounds to his frame.
"There were times where I would be in the right position and stuff but my size and strength weren't good enough," said Farniok. "I'd end up getting beat just because I was small."
Since spring ball began last week, Farniok has already noticed the extra weight.
"There's definitely a big difference the way I am able to drive people off of the ball," said Farniok."I'm a lot stronger than I was. That will change a lot."
Farniok said that he plans on putting an additional 10 pounds on before the start of the 2012 season.
"We expect big things out of him in just his sophomore season but overall in his career I think he can end up as a very decorated player here at Iowa State," said Rhoads.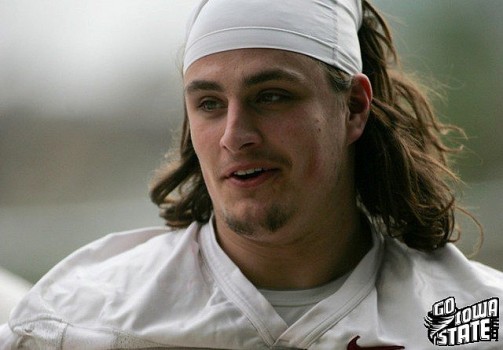 3 — So. WLB Jevohn Miller
Due to the fact that Jake Knott is sitting out this spring, sophomore Jevohn Miller is getting the bulk of the reps at No. 1 WLB going up against Iowa State's first string offense. His mentor, Knott, likes what he's seen so far.
"As long as he keeps his confidence up he does great things," said Knott. "That's the biggest thing with him that I talk to him about. No matter what. If you have a bad play, just forget about it. When he does that he plays really well."
Knott said that Miller has the "it" factor.
"He's a playmaker. Some people have that and some people don't," said Knott. "He has that ability to make a play. He'll do something wrong and still make a play. A lot of people can't say that they can do that."
Miller is up to 6-foot-1, 242 pounds. He played special teams last season as a true freshman.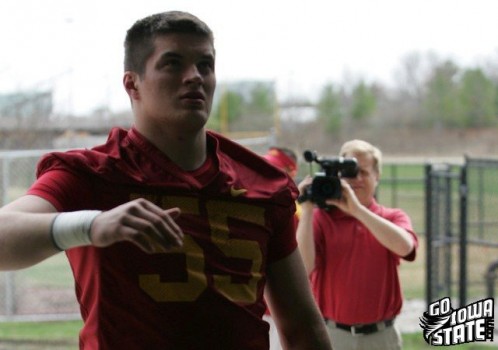 THREE MORE…
— Fr. SS T.J. Mutcherson –  "T.J. is a raw product, a raw athlete," said Jacques Washington of Iowa State's young strong safety T.J. Mutcherson. Paul Rhoads elaborated.
"T.J. Mutcherson is a football player," said Rhoads. "I think will probably grade out at about 50 or 60 percent on Saturday which is not good, and probably make eight or 10 tackles, which is good. He's a football player. As he continues to learn the other things that he needs to grade out better, he is going to become even better."
There are worse things that can be said about a guy. The tools are there for Mutcherson to be a stud.
"You can see glimpses and bits of him being an explosive player," said Washington. "He can tackle. He can cover. He'll be a great player."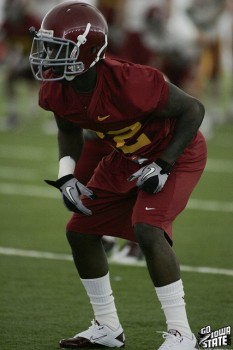 — Jr. WR Justin Coleman – Austen Arnaud pointed this Nebraska-Omaha transfer out to me at last week's open practice. Arnaud liked what he saw and had heard positive things leading up to then. On Tuesday, Rhoads recognized the junior during his press conference. I wouldn't be surprised at all if this 5-foot-11, 193-pound junior sees the field in 2012, especially when you factor in the extra reps he'll get this spring with Iowa State's injuries at wide receiver.
— Fr. RB Rob Standard – Fellow freshman DeVondrick Nealy seems to get most of the attention but Rob Standard caught the attention of Rhoads during offseason workouts.
"He probably had as consistent of what we refer to as our fourth quarter program, our offseason conditioning program," said Rhoads. "He's probably been as consistent in that as any true freshman that we've had go through it so I was really excited about watching him this spring."
Rhoads said that Standard lacerated his leg during Saturday's practice but should be back on the field by Thursday.