By Chris Williams, CycloneFanatic.com PublisherFollow Chris on Twitter @ChrisMWilliams  
Before I begin, here's a reminder to tune into our final CycloneFanatic.com/Wilson Toyota of Ames Call-In Show of the season tonight from 6-7 on 1460 KXNO from Buffalo Wild Wings in Ames. Tron Smith, Austen Arnaud and I will be joined by Iowa State assistant men's basketball Coach Matt Abdelmassih to break down the NCAA Tournament. Plus, Billy Fennelly will join us from the women's program if Iowa State learns of its tournament fate before we get off the air. Can't catch the show live? We'll post a podcast later on tonight. 

——————————————————————————————————————————
UConn and then possibly a date with top-ranked Kentucky.
(Gulp).
Scary stuff right? Yeah, but for some odd reason, part of me thinks that a first round draw against a watered-down version of the defending national champs just might not be a bad thing for this group of Cyclones.
Let's face it. All season long, talent has never been the problem for Iowa State. Sure, a point guard would have been nice, but the consistent pockets where the Cyclones lacked focus have plagued Fred Hoiberg's squad from day one. Those same moments are the very reason that Iowa State is an 8-seed in this NCAA Tournament and not a six, seven or potentially even a five or better.
Having said all of that, I find a scenario in which the Cyclones aren't up for and locked in on one of the most storied programs in the history of college basketball hard to believe.
Match Iowa State up with say, Iona in the first round…Then we might have a problem Houston.
Folks, UConn is good. As Fred Hoiberg put it last night, it's a team that boasts two future lottery picks. But the Huskies are a 9-seed for a reason okay.
The entire country is now anticipating a second round game between two Goliaths, UConn and Kentucky. From an Iowa State perspective, that's not necessarily a bad thing. David, in this case the Cyclones, like to fly under the radar. They've been doing it all season long.
— The following Royce White quote in reference to UConn should be very telling to every fan out there…
"They don't seem like Gods to me. I'll put it like that."
White said that based off the fact that he played AAU ball against the likes of Jeremy Lamb, Shabazz Napier and Alex Oriakhi back in the day.
To a fan base that hasn't seen the NCAA Tournament since 2005, UConn is a worst-case scenario first round draw and you know what, that way of thinking might be right. But I don't expect this group of Cyclones to be at all rattled by seeing UConn on the jersey of its opponent.
It's just like Chris Allen pointed out to me in an interview last night…When Iowa State defeated Kansas this year and the entire crowd stormed the court, Allen didn't see what the big deal was. He had already beaten Kansas while playing for Michigan State. Allen expected to beat Kansas.
Again – UConn is a 9-seed for a reason. Vegas tabbed Iowa State as the early one point favorite for a reason.
Every pundit with a pulse (besides Doug Gottlieb evidently) will pick Iowa State to lose this game. But don't let all of this cloud your vision. It might seem like an uphill battle, but Iowa State has a very good chance to win this basketball game.
— If you're one of those fanatics out there that thinks Iowa State somehow got the shaft with its NCAA Tournament draw, just relax. Iowa State did this to itself. Win a game last week in Kansas City and this isn't the scenario right now. We all knew going into the Big 12 Tournament that the Cyclones would be right around that 8-9 game. Beat Texas and Iowa State is likely a seven. Fact is, when Iowa State was picked to finish eighth in the Big 12's preseason poll, every single one of you would have taken an 8-seed in the NCAA Tournament in a heartbeat right? Right? Enjoy it.
— One big positive about this matchup is that Iowa State will play in one of the most compelling first round games of the entire tournament. With Kentucky looming in the second round, this game has gotten as much national attention as any since the brackets were released last night.
— I thought that Fred Hoiberg delivered one of the most emotional press conferences of his career last night. Here's the transcript of one of his answers that I thought really captured his passion for Iowa State basketball.
"From a personal standpoint being someone who grew up in Ames, it is awesome to see the passion that is back for Cyclone basketball. I said it out on the floor. I've been so passionate about Iowa State athletics since I was a kid. I used to walk to games. I had a broken ankle and I would hobble on crutches for five blocks to come to Hilton Coliseum to watch those games. The town shut down on game nights. You're seeing some of that again. It's a different era. With all of the blogs and the social media right now, it is a different era. There are so many things out there but it is fun to see people writing positive things about Iowa State basketball. I do have a passion. When I was off playing, I flipped a table over at a restaurant watching Iowa State lose when Tyus Edney drove down and scored that basket, not all of the way over, but I was upset. I always talked to the coaches. When Coach Floyd was here and Coach Eustachy, Wayne and Coach McDermott, you build relationships with those guys because you want to see the program moving in the right direction. Now that we're there hopefully we stay moving in this direction for a long time. This is something that is expected every year, getting to the tournament."
That's some good stuff right there from the coach.
— I find it interesting that Hoiberg, Greg McDermott and Larry Eustachy will all be coaching in the 8-9 game during this year's Big Dance.
Cyclone fans…Will you root for Eustachy's Southern Miss squad or the Big 12's Kansas State?
I think that McDermott and Creighton got a raw deal in an 8-9 matchup with Alabama. The first round contest against the Crimson Tide isn't what bothers me. It's the made for TV Doug McDermott vs. Harrison Barnes second round competition that makes a guy scratch his head…
— Note that two "cupcakes" from Iowa State's non-conference schedule made the Big Dance. There's Lehigh, who is a 15-seed that will play Duke in the first round. Then there's pesky Mississippi Valley State, who will take on Western Kentucky in a "First Four" matchup.
Back on Jan. 1, who would have thought that Mississippi freaking Valley State would be in the NCAA Tournament?
You there Chris Berman?
That's why they play the games.
On the Big 12 women's tournament…
— It's a crying shame that the Big 12 Women's Basketball Tournament has seen its final days in Kansas City. From what I understand, the league is moving the women's tournament away from the men so that it will stop playing second fiddle and will supposedly receive more attention.
Hey Big 12 Conference…Here's a little news flash for you. You're wrong. It won't. This is a colossal mistake.
Take our site for example. I've covered the women's tournament (along with the men) every year since being hired here at CycloneFanatic.com. Do you think that as a free site, we're going to be able to afford to cover two different tournaments during two different weeks in March?
Be real here. Will all three Des Moines television stations send crews to two separate tournaments? I don't have the answer to that, but my gut says that in today's day and age, it is highly doubtful.
This is a short-sighted move that will be thrown back in the league's face.
It's especially devastating for a unique fan base like Iowa State's, that crosses over as much as any in the conference.
— One more women's basketball nugget for you today…
While watching Nikki Moody put the team on her back during Iowa State's loss to Kansas State in the Big 12 Tournament, I got to thinking about the following topic. That's how nasty Bill Fennelly's backcourt might be in two years when Moody is a junior and all-everything freshman Jadda Buckley is in town…I'm hearing that she's good…Really good.
RANDOMS…
— Here's a positive off topic story for you all on a Monday. As I've written about here in Monday Musings before, my wife is the veterinarian at the Furry Friends Refuge in West Des Moines. If you've ever walked into an animal shelter, you know heartbreaking it can be. Nothing tugs at my heart more than homeless/sick animals who have literally been through a living hell.
Well last week, seven 6th graders from Crossroads Park Elementary presented a donation to the shelter. The girls baked cookies, created jewelry and sold the items and in return, made a donation to Furry Friends.
That's some pretty neat stuff right there. Below is a picture of the girls, with their names listed below.
If you'd like to make a donation to the Furry Friends Refuge and help homeless animals, CLICK HERE for more information.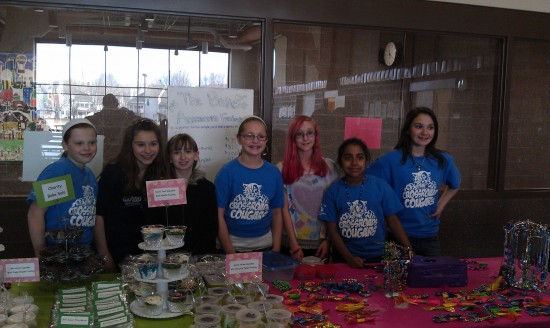 From left to right: Kalista Socarras, Emily Johnson, Skyler Plymale, Maddy Penick, Catherine Larson, Ann Thomas, Marisa Sullivan — All 6th graders from Crossroads Park Elementary