By Chris Williams, CycloneFanatic.com PublisherFollow Chris on Twitter @ChrisMWilliams 
What: Iowa State (17-6, 7-3) @ Oklahoma State (11-12, 4-6)
When: Tuesday, Feb. 7 at 6 p.m.
Where: Gallagher-Iba Arena in Stillwater, Okla.
TV: ESPN2/ESPN3
AMES — So you want to double-team Royce White huh?
Bring it.
During Monday's pre-Oklahoma State press conference in Ames, White was asked if he liked being double-teamed. Without hesitation, his answer was simple, to the point and very sincere.
"Yep," said the Iowa State sophomore, who is currently the only player in America that leads his team in points, rebounds, assists, steals and blocks per game. "I like assists better than points."
That's scary.
If you're White, it doesn't hurt when the players around you knock down 15 3-pointers on the road in a Big 12 game. That's what happened on Saturday as the Cyclones (17-6, 7-3) downed Oklahoma 77-70 and won in Norman for the first time since 1996.
White only attempted one field goal in the victory. He made it, registering three points in the game. His seven assists tell the real story though.
"Going back and watching that film, I think that Royce made such good decisions with the ball when he got double-teamed," said head coach Fred Hoiberg. "He just made simple basketball plays and we did such a good job of spacing the floor."
Just an observation here – But after all of what I'd call "impressive" Iowa State wins this season, Hoiberg has combined those two words.
Simple basketball.
White saw what the Sooners were offering up. He took what was there, didn't force the issue and his teammates knocked down open shots because of it.
"It's great to have arguably your best player as your most unselfish player," said Hoiberg. "I played with a couple of guys like that in the NBA and it's a great thing to have. Sometimes you have a selfish superstar. Sometimes those aren't the best teams. If you have a guy who goes out there, yeah you have to be selfish sometimes to score it, but when the defense collapses on you like they were doing on Saturday, if you have a guy who is going to make the right decisions, it makes the game pretty easy."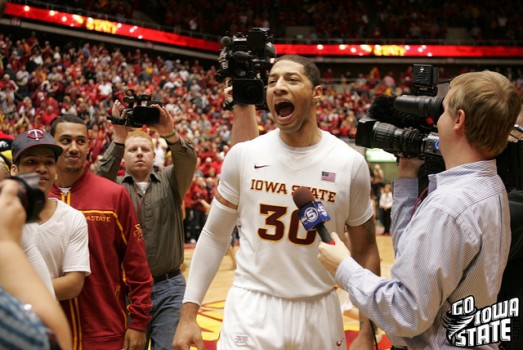 The Cyclones have won five-of-six games heading into tonight's rematch at Oklahoma State. Will Iowa State make it two-for-two in the state of Oklahoma in 2012? Let's break it down.
Iowa State's probable starters:
G: Chris Allen, 6-3 Sr. – 11.8 PPG, 2.5 RPG
G: Scott Christopherson, 6-3 Sr. – 11.0 PPG, 2.8 RPG
G: Chris Babb, 6-5 Jr. – 9.2 PPG, 4.3 RPG
F: Melvin Ejim, 6-6 So. – 8.8 PPG, 6.2 RPG
F: Royce White, 6-8 So. – 13.5 PPG, 9.3 RPG
Oklahoma State's probable starters:
G: Keiton Page, 5-9 Sr. – 14.3 PPG, 2.2 RPG
G: Markel Brown, 6-3 So. – 9.9. PPG, 5.3 RPG
G: Brian Williams, 6-5 Fr. – 7.9 PPG, 3.2 RPG
F: Le'Bryan Nash, 6-7 Fr. – 13.2 PPG, 4.8 RPG
F: Michael Cobbins, 6-8 Fr. – 5.2 PPG, 5.0 RPG
BREAKING DOWN THE COWBOYS
Oklahoma State has left its mark on the Big 12 since losing in Ames 71-68 back on Jan. 18. Since then, the Cowboys handed Missouri one of its two conference losses this season on Jan. 25 and nearly beat sixth-ranked Baylor on Saturday, losing 64-60.
"They are playing very good basketball," said Hoiberg, who credited blue chip freshman Le'Bryan Nash as a big reason for the turnaround. "He's really started to figure it out. It takes freshmen a while, guys playing their first season to get it to where they are comfortable out on the floor and he is certainly doing that now."
Nash had a breakout game when Oklahoma State traveled to Ames earlier this season, scoring 21 points and going 10-for-19 from the field. Nash parlayed that performance with a 27 point night in the Missouri upset.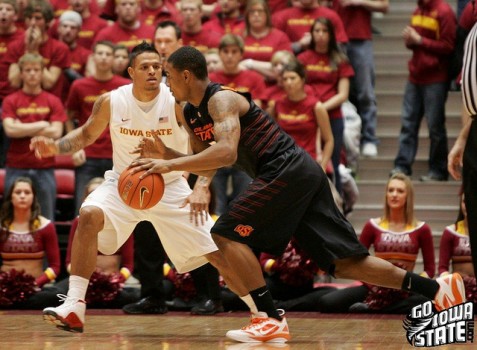 And then there's the guy who I refer to as Keiton "Bleeping" Page, the 5-foot-9 guard who set Oklahoma State's all-time 3-point record against Iowa State earlier this year.
The Cowboys out-rebounded Iowa State 29-27 the first time that these two teams tangled this season.
"Even though they don't have a lot of depth, it's a team that plays very hard and will always have a chance because of they way that they play," said Hoiberg.
Cowboy to watch: Keiton Page and Le'Bryan Nash are obvious answers here but you know what you're going to get with that pair. I'm going to cut against the grain and go with another young Cowboy, freshman Brian Williams, who recorded a career-high 23 points in Saturday's loss to Baylor. Williams was 9-of-15 from the field in that game and he's shot 50 percent or better in Oklahoma State's last four games. Williams scored 22 points in Oklahoma State's win over Missouri and is quickly becoming a legitimate third scoring threat for Travis Ford's youthful squad.
Note: That Williams struggled in game one against Iowa State, going 1-of-6 from the field and only scoring three points.
Key to a Cyclone victory: I've got two of them.
— Iowa State's one loss in its last six games tells the story here. While the Cyclones shot a measly 33 percent in a 62-55 loss to Texas on Jan. 24, Iowa State was also within 3-points with 25 seconds to play. Why?
The Cyclones executed their game plan. That proves that even on poor shooting nights (which will happen from time-to-time), Iowa State can still win.
So whatever Hoiberg and his staff have in store for the Cowboys in round two, the team has to execute that. If the Cyclones do that, they'll have a shot in the end.
— Also, watch Royce White. The big man got into foul trouble the first time these teams met, playing only seven minutes in the first half. Besides that, White was unstoppable, going 7-for-10 from the field.
"They really mixed it up of playing him one-on-one, where he did a great job of scoring," said Hoiberg. "We don't know how teams are going to play us from game-to-game but with Royce out there doing a lot of facilitating for our offense, he does such a good job of knowing when that double team comes and when he has to deliver a pass and also figuring out when he has to go score it."
For what it's worth, White has managed to stay out of foul trouble during this stretch, recording four fouls only once, which just happened to be in Iowa State's lone loss at Texas.
=== QUOTABLE ===
Fred Hoiberg on his team's hot streak – 
"We're playing with a different level of confidence right now. I think that's a big part of it. Our focus has been great since we started conference play. We've had great practices almost daily leading into our games. Our attention to small details has been off the charts. That all leads to wins."
PREDICTION
I'll be surprised if Iowa State shoots the ball well tonight. After the record-breaking 15 3-pointer outburst on Saturday, the Cyclones are back on the road after a quick stay at home. Remember the last time Iowa State had a stretch like this? The Cyclones shot 33 percent in Austin on a Tuesday night following a Saturday road trip back home from Lubbock.
Still, the Cyclones possess some serious swagger right now and they are a better basketball team than Oklahoma State.
If Iowa State shoots the ball as poorly as it did in Austin, the Cyclones won't win tonight. However, that's on the extreme end of bad for this team and won't go down very often.
Last week, I thought that Iowa State would split these games in Oklahoma. I liked Saturday's game, but tonight's scared me. However after Saturday's performance, I'm not sure I can actually pick against this team at this point in time. Not against Oklahoma State at least.
Vegas has Iowa State as a one-point underdog and that's probably pretty accurate. After all, Iowa State has lost 16 straight games at Oklahoma State. But I'm picking the hot team to win a nail-biter in Stillwater. Give me the Cyclones by a point.
THE PICK
Iowa State 67, Oklahoma State 66