By Chris Williams, CycloneFanatic.com PublisherFollow Chris on Twitter @ChrisMWilliams 
AMES — Happy Monday Cyclone Nation.
Here's what's on my mind to start the week…
ON IOWA STATE BASKETBALL
— If the regular season was to end today, who would be the Big 12's Coach of the Year?
In my opinion, there are arguments that can be made for only two men. Missouri's Frank Haith and Iowa State's Fred Hoiberg.
When Mike Anderson left Columbia for Arkansas last spring, there's no doubt that Haith took over a talented squad. Missouri's group of guards might be the best in the entire country. But after losing senior forward Laurence Bowers to an ACL injury before the season and just knocking off arch-rival Kansas, the fourth-ranked Tigers give Haith a strong case to win the award.
And then there's Hoiberg, a second-year coach who has somehow transformed a team primarily of transfers into one of the the most unselfish units we've ever seen at Iowa State. Kansas head coach Bill Self complimented Hoiberg's coaching of bad matchups last week. Self said that Hoiberg might be the best coach in America in that phase of the game, mainly because of his experience in the NBA. I couldn't agree more, but I'll take it a step further. I don't think that many coaches in America could get guys from all over the map to play together the way that Hoiberg has either. Somehow, Hoiberg has found a way to get every player on this team to accept his role.
These guys know where Hoiberg has been, what he has done and where he wants to go. Hoiberg has the upmost confidence in his individual players and because of that, this group of Cyclones has responded and jumped out to a 7-3 start to the Big 12 season.
— Another reason to credit Hoiberg on this year's success is the improvement that this team has made down the stretch during league play. During the non-conference portion of the schedule, this is when Iowa State was at its worst. It all comes down to the two C's. Confidence and coaching.
— A quick key to victory on Tuesday night seems like a no-brainer to me. Royce White HAS to stay out of foul trouble. The big man only played 27 minutes in the first meeting between these two teams. He went 7-of-10 from the field. Oklahoma State doesn't have an answer for him. Period.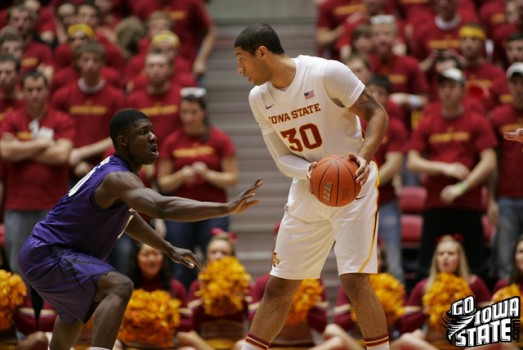 WOMEN'S HOOPS…
— I spoke about this on our Wilson Toyota Call-In Show a couple of Thursday's ago and I'm even more confident in the theory now. The Iowa State women's basketball team WILL play in the NCAA Tournament this year. The program couldn't have asked for more of a nightmare first five games of the conference schedule. After starting league play 0-5, Bill Fennelly's team has won 4-of-5 and is back to 4-6 in league play. If the Cyclones win our at home (games vs. Kansas, Oklahoma, Missouri and Kansas State), that gets them to 8-10 in the Big 12 and in my opinion, SHOULD be enough to play in the Big Dance, especially when you consider the fact that Ames is scheduled to host the first and second rounds.
— I think that senior Lauren Mansfield has been one of, if not the biggest reasons for this team's turnaround. Take Saturday's win over Texas for instance. Mansfield went an ugly 1-of-10 from the field, but she also dished out 11 assists. During his weekly press conference, Fennelly pointed out that recently, Mansfield has been doing other things to help her team win if she isn't scoring. Sounds kinda Royce White-ish…
— In case you're wondering, ESPN.com does do a women's hoops Bracketology. This week, the projections have Iowa State as 9-seed. 
RANDOMS
— The Godfather will be traveling with the men's basketball team down to Oklahoma State this evening, so I'll attempt to fill in for John Walters on tonight's Cyclone CourtCyd Call-In Show from Applebees in Ames. Brian Schwartze from the football department will join me, along with Jodi Steyer from the women's basketball coaching staff. Tune into the Cyclone Radio Network Station near you from 6:30 to 8.
— In my opinion, the best part of Super Bowl Sunday 2012 was learning that G.I. Joe: Retaliation, will be released on my birthday in June. The Rock. Bruce Willis. Are you kidding me with that cast? That's like teaming up Derrick Rose and Kevin Durant in the NBA…Watch this trailer. If you don't get jacked up at least a tad, you might want to check your pulse.
— For the last two years, the Spartacus series on Starz has been my favorite on television. After Andy Whitfield tragically died at the age of 40, the series was forced to replace the role of Spartacus with a man named Liam McIntyre. Hate to admit it, but so far Liam ain't cutting the mustard. I'd give seasons one and two both A's. So far, season three is struggling to creep its way into the C range for me. Let's hope that the script gets taken up a notch over the next few weeks…
— Don't lie to yourself. The Bachelor is a great television show. Some fearless predictions: I'm picking a Kacie B. vs. Lindzi final, with Kacie brining home the bacon. She's one of the only legit women on that show. That Courtney gal's craziness will finally catch up to her. Stay tuned…Who's with me?