What: Iowa State (15-6, 5-3) vs. Oklahoma (14-6, 5-3)
When: Monday, Feb. 4 at 6 p.m.
Where: Hilton Coliseum
TV: ESPNU
To be brutally honest with you all, I didn't think that Iowa State had it in them.
No really – had you told me before Saturday's game vs. Baylor that the Cyclones were going to go 4-for-24 from 3-point range, I probably would have predicted a 10-15 point loss. I did not believe that this team had the ability to beat a quality opponent the way that Iowa State beat Baylor – by going hard to the rack, sinking free throws and scoring 36 points in the paint.
Well-done Cyclones. 
Saturday's outcome, not only the win, but how Iowa State won is encouraging for the future of this basketball team. This isn't exactly hard-hitting analysis but with Oklahoma invading Hilton tonight (pointing out the very short turnaround), call me crazy when I say that it is hard to imagine Iowa State having two "off" nights in a row, playing at home.
That's why I expect a confident Iowa State team to come out guns a blazing at 6 p.m. on ESPNU.
Breaking down the Sooners…
A few of my colleagues have recently grown tiresome of my man-crush on Oklahoma head coach Lon Kruger. I've said it a million times and I'll write it again today – he's one of the best coaches in all of basketball.
Fred Hoiberg would tell you the same thing.
Kruger, who is in the middle of his second season at Oklahoma, has won everywhere he's been at since landing the first head coaching job of his career at Pan-American back in 1982. He revitalized Kansas State's program in the 80's. Kruger led Florida to the Final Four in 1994. He took Illinois to the NCAA Tournament in three of four years from 1996 to 2000 and in his latest stint at UNLV, the Runnin' Rebels went to four NCAA Tournaments in six seasons under Kruger.
Oklahoma was a mess three years ago and once again as he has done so many times in so many different places, Kruger is picking up the pieces. The Sooners, who enter tonight's game with a 14-6 (5-3) record, are right in the middle of a dogfight within the Big 12 Conference and are a legit tournament contender as well.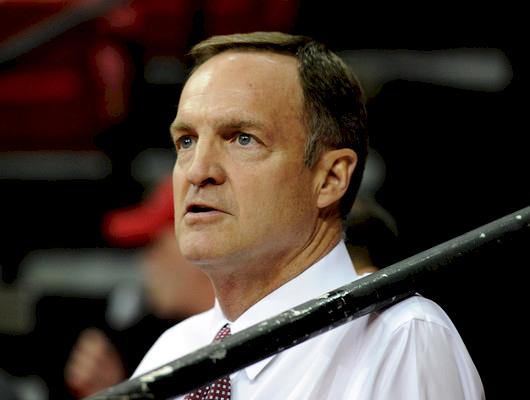 Like Baylor, Oklahoma boasts some talented big men who will look to give Iowa State trouble this evening. Romero Osby, a 6-foot-8 senior, leads the Sooners in scoring and rebounding at 14.2 points and 6.6 rebounds per game. He's done all of that in only an average of 26.4 minutes per game so when Osby is on the floor, he's always effective.
Then there is the Big 12's preseason Newcomer of the Year, Amath M'Baye. He's a Wyoming transfer who is averaging 10.7 and 5.7. M'Baye is lengthy at 6-foot-9 and scored a season-high 20 points in Oklahoma's win at Baylor last Wednesday. 
A guy Cyclone fans should remember, senior Steven Pledger, is Oklahoma's second leading scorer this season at 11.0 points per game (more on him later). Pledger dropped 20 on Baylor last week only to follow it up with a dreadful two-point performance in a home loss to Kansas State.
After that, two talented freshmen round out OU's starting lineup, Buddy Hield and Je'Long Hornbeak (both were four-star prospects).
Oklahoma has one of the top sixth-men in the conference in Andrew Fitzgerald, a former Melvin Ejim teammate at the Brewster Academy. Fitzgerald, a 6-foot-8 forward, scored 27 points against Iowa State last year in Norman.
Two of Oklahoma's five league wins have come on the road, at West Virginia and at Baylor. Its three other wins were in Norman over Oklahoma State, Texas Tech and Texas. The Sooners are a good road team, as they are 7-4 playing outside of Norman this season.
Prediction
Here's a lovely stat for you courtesy of Oklahoma's media notes for tonight's contest. Of course Iowa State swept Oklahoma last year, winning 77-70 in Norman and 80-69 in Ames. When you combine those two games, Iowa State outscored Oklahoma by 54 points from 3-point range. Iowa State hit a combined 26 treys on the two games compared to only eight by the Sooners.
More of that is what I expect to see tonight. If you want to win in Ames, you better bring firepower. Oklahoma, a team that is averaging 11 points fewer than Iowa State per game this season, could struggle with that. 
Also, don't look past how much Baylor's length had to do with Iowa State's cold night on Saturday. After watching the game again on Saturday night, something tells me that had more to do with Iowa State's ice-cold performance than most people think. 
I'm fully aware that Pledger can get hot at any time. After all, the senior dropped 38 on the Cyclones back in 2010. But ever since Chris Babb became eligible to play for the Cyclones, Pledger has combined to go 7-for-25 against Iowa State (in two games) scoring on 14 and seven last season. The Pledger factor is one to consider for tonight, but I haven't lost any sleep over it at all. 
This one will come down to Oklahoma's bigs but most importantly, Iowa State's ability to score.
After Saturday night, I just have a feeling that the Cyclones are going hit 10 or more 3-pointers in this one and escape this two-game home stand with a 6-3 mark in the Big 12.
The Pick
Iowa State 82, Oklahoma 73