By Chris Williams, CycloneFanatic.com PublisherFollow Chris on Twitter @ChrisMWilliams 
Greetings Cyclone Nation.
So you want to know how much of a life that I do not have?
You'll find out today in Monday Musings. Let's begin with some thoughts on…
BIG 12 BASKETBALL…
— Keiton "BLEEPING" Page. How can anyone not love Oklahoma State's sharp-shooting senior (when he's not shredding the Clones of course)? Ahhh yes. Keiton "BLEEPING" Page struck again on Saturday by dropping 40 in a 90-78 win over Texas. Page went 20-for-20 from the free throw line and get this: The Cowboys went 43-for-56 from the charity stripe compared to Texas' 14-for-18 mark! Forty-three free throws! What a game….Keiton "BLEEPING" Page. Heck yes.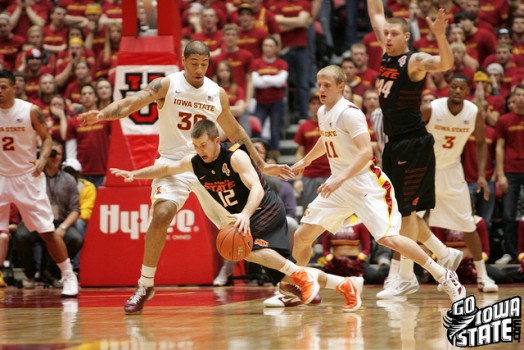 — Say it with me fanatics…
Baylor is Baylor is Baylor is Baylor is Baylor.
After spanking the Clones by 14 on Monday night, quite a few of us thought that Scott Drew's supremely talented group of Bears was back on track and ready to close out the regular season strong.
Hey, Lee Corso is here.
"Not so fast my friend."
At this point, I am just assuming that Baylor is well on its way to finishing 2012 just like they did 2011 to a slightly lesser degree.
When it comes to the Bears, you just never know what you're going to get. This group can look like a top five team in the country on one night and the next time out…Well, not so much.
In a 57-56 win in Waco on Saturday, Kansas State knocked on the Big 12's door and said, "Hey. We're still here you know?"
The Wildcats are now tied with Texas for fifth place in the Big 12 at 7-7. Baylor is now 9-5 and tied for third with you know who, your Iowa State Cyclones.
— All season long, I've heard Andy Fales (from 1460 KXNO's Murph and Andy Show) warn Cyclone fans to not look to far into the future with this Iowa State team. He's right. You just never know. But Texas Tech is making it awfully difficult to not do this in reference to Wednesday night's contest at Hilton Coliseum.
After losing at Kansas 83-50 on Saturday, the Red Raiders have combined to score a whopping 88 points in their last two games. Yuck.
Iowa State is 15-1 this year when the Cyclones score 70 points or more. The last time that Texas Tech cracked the 70 point mark was on Dec. 27 against CSU Bakersfield.
— What will Iowa State's 2012 Big 12 Tournament bracket look like? It's officially prediction time here at CycloneFanatic.com. Here are my picks for every Big 12 game for the rest of the season.
Texas over Baylor
Missouri over Kansas State
Oklahoma State over Oklahoma
Kansas over Texas A&M
Iowa State over Texas Tech
Kansas State over Iowa State
Baylor over Oklahoma
Oklahoma State over Texas A&M
Kansas over Missouri
Texas over Texas Tech
Kansas over Oklahoma State
Baylor over Texas Tech
Kansas State over Texas A&M
Missouri over Iowa State
Texas over Oklahoma
Kansas State over Oklahoma State
Missouri over Texas Tech
Oklahoma over Texas A&M
Iowa State over Baylor
Kansas over Texas
— If indeed the conference season ends up exactly how I've predicted it to (trust me, it won't), here's what the Big 12 standings would look like heading into the league's tournament (these would be the tournament's seeds as well.)
1 – Kansas, 16-2
2 – Missouri, 15-3
3 – Iowa State, 11-7
4 – Baylor, 11-7
5 – Kansas State, 10-8
6 – Texas, 10-8
7 – Oklahoma State, 8-10
8 – Texas A&M, 4-14
9 – Oklahoma, 4-14
10 – Texas Tech, 1-17
NOTE: A special thanks goes out to CF user "MRed" for his bracket simulator that you can find by CLICKING HERE. It's awesome and addicting too.
— In this specific scenario, Iowa State would be the Big 12's three-seed in the conference tournament due to a tiebreaker over Baylor (Iowa State beat Kansas).  The Cyclones would face Texas in the tournament's quarter-finals.
From a matchup perspective, I'd much rather see Iowa State play Texas for a third time than Kansas State. From the looks of things, it's going to take an odd next two weeks for Iowa State to play any team other than Kansas State or Texas in the first round of the tournament. So get ready for one of those two opponents Cyclone Nation…
According to my predictions for the rest of the season, this is what your Big 12 Tournament bracket would look like…
First Round
(8) Oklahoma vs. (9) Texas A&M
(7) Oklahoma State vs. (10) Texas Tech
Quarters
(4) Baylor vs. (5) Kansas State
(1) Kansas. vs. OU or A&M
(2) Missouri vs. OSU or TTU
(3) Iowa State vs. (6) Texas (an 8:30 p.m. start time)
— Kansas State's upset of Baylor tremendously helped the Big 12's cause to get six teams into the 2012 NCAA Tournament. It was a season-saver for Frank Martin's crew. That man can coach.
— Speaking of coaches, it was refreshing to see Lon Kruger back in the Big 12 and at Hilton Coliseum on Saturday. Just think about what life will be like in this league once Bob Huggins (West Virginia) invades next year. The Big 12's roster of coaches is ridiculous.
Kruger WILL turn Oklahoma around. Billy Gillispie will improve the current basketball landscape in Lubbock. There's this guy named Fred Hoiberg who has resurrected roundball in Ames. Have fun recruiting against Scott Drew and Travis Ford. Oh yeah, then there's that Mr. Bill Self man too.
Who knows who TCU's coach will be next year. Could Larry Eustachy potentially be a candidate (thinking out loud but this one makes sense).
And if the rumors about Louisville are true, we'll be welcoming Rick Pitino to the crew in a couple of years.
With the Big East's imminent implosion on the horizon, I think it is a pretty safe bet that in five years from now the Big 12 will without a doubt be college basketball's best conference.
CYCLONE WOMEN'S BASKETBALL…
— And looks who is back in the top half of the Big 12 standings….
After starting off conference play with an 0-5 mark, the Iowa State women's basketball team has won seven of nine including a big time victory over Oklahoma on Saturday night.
If you were one of those people blasting Bill Fennelly after a tough start to the conference campaign, shame on you. Do not doubt this man. Capiche?
— All of the sudden, freshman Nikki Moody looks like a future All-Big 12 point guard. Moody struggled going 1-of-7 from the floor on Saturday night. How did she make up for it? How's 11 assists to four turnovers sound? Moody now has recorded 111 assists this season, which sets an Iowa State record for a freshman. Lyndsey Medders posted 108 back in 2004. That's some pretty decent company is it not?
— Speaking of Medders, props to her on calling a fantastic game during Saturday night's broadcast on Mediacom. Lyndsey's analysis was spot on and intrigued me all night long.
— Here's more reason to hope that Iowa State's men's basketball team does climb all of the way to the three-seed in the Big 12 Tournament. There's a strong possibility that the women will play in that four vs. five game. Remember last year, when both teams played at the same time? There's decent chance that this could happen again in 2012…
— Lauren Mansfield, come on down. Welcome to the prestigious club of flat out CLUTCH guards in Iowa State women's basketball history. A couple of Mansfield's threes against Oklahoma were borderline ridiculous. The senior went 6-of-8 from behind the arc on the night. Not bad. Not bad at all.