By Chris Williams, CycloneFanatic.com PublisherFollow Chris on Twitter @ChrisMWilliams
In a weekend where NFL championship games and all sorts of wild finishes in college basketball took place, the unfortunate passing of former Penn State head football coach Joe Paterno took center stage.
Iowa State lost a legend this weekend as well.
To begin this week's installment of Monday Musings, I think it is fitting that we honor a man who is arguably the biggest Iowa State fan that I've ever met, the Cyclone Gridiron Club's first president, Mike Lacey.
I first had the honor of meeting Mike back in 2004 when I was a student at Iowa State and publishing the old CycloneNation.com.
I think that the Voice of the Cyclones, John Walters, stated it best on his Twitter feed Friday when he wrote that Lacey was one of the most selfless people he had ever met. That's the perfect description of Mike Lacey, a man who always seemed to be working hard to help others.
Here's only one example…
After I emceed the 2010 Cyclone Gridiron Club Coaches Cookoff, Mike pulled my wife and me aside from all of the raucous to check on if my wife (who he had met maybe once or twice along the way) had found a job after graduating from vet school and if not, how he could help her land on her feet.
He didn't have to do that.
To sum it up, Mike Lacey was just a really, really, really good guy. He will truly be missed.
To view his obituary, CLICK HERE.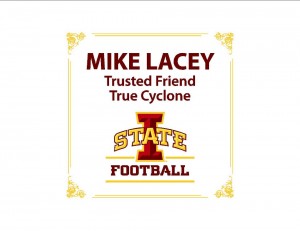 ON IOWA STATE BASKETBALL…
— How big is tomorrow night's road trip to Texas? Well, here's what's fun about what's happening before our very eyes. Right now, every game is a big game. This is what it is like to once again be relevant in the Big 12. Here's a quick check of the current Big 12 standings…
Kansas, 6-0
Missouri, 5-1
Baylor, 4-2
Iowa State, 4-2
Kansas State, 3-3
Oklahoma, 2-4
Texas, 2-4
Texas A&M, 2-4
Oklahoma State, 2-4
Texas Tech, 0-6
This week's schedule is an intriguing one.
The struggling Baylor Bears will travel to Norman tomorrow. If the Cyclones can manage to steal one in Austin, there's a decent chance that Baylor will drop that game and Iowa State could be sitting along in third place in the league when Kansas enters Hilton Coliseum on Saturday. That game will be nationally televised. It'd be a showcase for the new era of Cyclone basketball…
— Here's another thing that's fun about this basketball season for the Clones. Take a look at Iowa State's next six games.
@ Texas
Kansas
Kansas State
@ Oklahoma
@ Oklahoma State
Texas A&M
Is there one game on that schedule where you feel like Iowa State doesn't have a chance to win? The road doesn't seem to bother this team. The Big 12 isn't the juggernaut that we're used to seeing. It's an exciting time…
— No, Texas Tech is not a good basketball team but when you look at the last 10 years or so of Iowa State basketball, ANY road win is indeed a VERY good win. Saturday's win marked the second time this season that the Cyclones have won in the state of Texas by 24 points.
— Tomorrow night's game against Texas will not be televised in Iowa. I've seen a lot of chatter about this topic on our forums over the last couple days. Iowa State's Steve Malchow addressed this fact in his blog today at Cyclones.com. It's a good read. Check it out by CLICKING HERE.
— Can't get enough of Scott Christopherson's buzzer-beater to defeat Oklahoma State last Wednesday? Here's a Zach Borg "Cold Cut" from WHO-TV 13 Sports.
— Future Cyclone forward Georges Niang scored his 2000th career point on Saturday night for the Tilton School out in Massachusetts. In another Niang note, the 2012 signee is now a nominee to be a McDonald's All-American.
FOOTBALL…
— Not a lot on my mind today but I do want to take a moment to invite you all to our third annual CycloneFanatic.com Football Recruiting Party at the Keg Stand in West Des Moines. This year's event will take place the day after National Signing Day, Feb. 2nd at 7 p.m. I cannot get into specifics about the party but I can write that we're putting together the final touches for the evening that will be unforgettable. Get there early! We anticipate a massive crowd.
— If you didn't see it yesterday, this is the time of year when football recruiting gets downright nasty. CLICK HERE for more.
RANDOMS…
— Tune into the Cyclone CourtCyd Show tonight on a Cyclone Radio Network station near you. I'll be filling in for Austin, Texas bound John Walters. Gymnastics coach Jay Ronayne, Billy Fennelly from the women's basketball staff and an assistant football coach will be my guests.
— Remember the cat that I wrote about in last week's Monday Musings? I have some outstanding news for you all today. Patty has a home! Here's a big thanks to the family that is adopting her.
— I'm currently reading Brad Paisley's new book, "Diary of a Player: How My Musical Heroes Made a Guitar Man Out of Me." — Review? So far, fantastic. If you're a country music junkie, I label this a must read