By Chris Williams, CycloneFanatic.com PublisherFollow Chris on Twitter @ChrisMWilliams
What: Iowa State (4-4, 1-4) vs. Kansas (2-6, 0-5)
When: Saturday, Nov. 5 at 11:30 a.m.
Where: Jack Trice Stadium
TV/Radio: Fox College Sports/Cyclone Radio Network

Tune into the CycloneFanatic.com/Wilson Toyota of Ames Pregame Show on Des Moines' sports station, 1460 KXNO (or listen online @ KXNO.com) from 8:30 to 9:30 on Saturday morning. Chris Williams and Tron Smith will be joined by the Voice of the Cyclones, John Walters, and others throughout the broadcast.
——————————————————————————————————————————————–
Paul Rhoads shouldn't have to say too much to get his team ready to play against a lousy Kansas squad on Saturday.
All that Iowa State has to do is look at last week's 41-7 thumping of Texas Tech. Just one week prior, Tommy Tuberville's surging Red Raiders squad snapped the nation's longest home winning streak by punking Oklahoma in Norman.
Last Saturday, Rhoads' Cyclones were ready to play. Texas Tech was not. Iowa State dominated the Red Raiders and now, the Cyclones are in a similar situation than they were last year at this time. That's coming off of a huge road victory, sitting on four wins with the Jayhawks coming to town.
Last year, the Cyclones looked sluggish in the first half vs. Kansas, but managed to win the game by a 28-16 final.
What will go down on Saturday? Let's break it down.
BREAKING DOWN THE CYCLONES
Run the football. Run the football. Run the football.
What's the key to Iowa State winning its second game in a row?
Running the football.
After racking up 368 rushing yards in last week's win over Tech, Iowa State will now host the nation's second-to-last rush defense, as the Jayhawks are giving up over 250 yards per game on the ground.
Against Tech, it all started up front for the Cyclones with a dominant performance by what's turned out to be a deep offensive line.
"We recognized our offensive linemen after the A&M loss as having played a really good football game," said Rhoads. "They played their best game against Texas Tech."
The line did this with backups on the field, as Brayden Burris (right tackle) is out for the season and Ethan Tuftee (left guard) went down early in the game. The Cyclones responded, as freshman Jacob Gannon didn't skip a beat as Tuftee's replacement. Carter Bykowski and Kyle Lichtenberg have been successfully tag teaming the right tackle position.
"The fact that we have done it with six, seven and eight guys and are doing it at the highest level right now is very encouraging for us," said Rhoads.
The blocking was great last week, but the guys with the football in their hands executed. If it wasn't for Jared Barnett being sacked once, three Cyclones would have run for over 100 yards in the win. The numbers from Barnett and sophomore running back James White were expected. Freshman running back Duran Hollis chipping in with 101 yards and a 71-yard touchdown was a surprise.
"What I hadn't seen "Duck" do until Saturday night was run with the aggressiveness that he did in a game," said Rhoads. "I had certainly seen it in practice and that's why I talked about him so much leading up to that first game. Early in the season, I thought that he ran very tentative. I thought that he covered the ball up on a short yardage play like he was worried about them stripping the ball. With the ball security problems that we had had, that was probably the case. But he ran aggressive and that showed in his speed on Saturday."
A dominating running game does more than move an offense down the field. It also allows a team to dominate the time of possession battle. The Cyclones had a 40 to 20 minute advantage in that category last week. That's a stat that a rested Iowa State defense took note of.
"I feel like I didn't even play in the second half," said linebacker Jake Knott. "Our offense was out there for so long. It was ridiculous. When you get that as a defense, it's huge. When you do go back out there you are completely fresh and completely ready to go. That was really big especially for a team like Texas Tech that goes so fast."
What to watch for:
— INTENSITY – Will Iowa State have it from the opening kick on Saturday? All week long, the Cyclones said that this will not be a problem.
"You have to go into every game with the same mentality, knowing that you need to get that victory," said Barnett. "Kansas is down a little bit right now but we're not expecting them to come in here and not play us. We're expecting them to be ready and come out with nothing to lose and to come out and play hard."
—BARNETT – He's been great through two games, but is anybody else worried about Jared Barnett getting injured? The young man runs so much and up until taking an ugly hit at the end of the first half vs. Tech, the freshman was having a hard time of knowing when to slide.
"It is a tough decision, if you need to slide or not. There is always that, I need to make a couple of more yards or protect yourself from a big hit that you can't see coming," said Barnett. "Knowing when to slide and when not to slide, I feel really has to do with down and distance and if you have the first down or not."
— JARVIS WEST – Paul Rhoads told me on Monday that he gave the offensive coaching staff specific instructions to get freshman wide receiver Jarvis West more involved last weekend. It was obvious that Tom Herman took note. Will West continue to see more touches this weekend vs. the Jayhawks? With Shontrelle Johnson out of the lineup, West is one of the biggest home run threats on Iowa State's roster.
— CROWD – At the time of me writing this, Iowa State is close to selling 50,000 tickets to Saturday's game. Should Iowa State get over that number, the program will set a football attendance record for the season.
Kansas coach Turner Gill on Iowa State…
"We are really focused and in tune on this game to get it done right. (Iowa State head coach) Paul Rhoads did a great job last week and knocked off Texas Tech. They really got off to a fast start and had a big win against those guys. One thing that stands out is that they are averaging 5.5. yards per carry and the new quarterback they have, Jared Barnett, can run the football. He definitely has made some plays for them and I would say he is a dual threat type of a quarterback, who is able to do things with his legs as well as his arm. They also have lost (one of) their running backs, but the new guy they have in there (James White) has been very good too, so I've seen them be productive in their running game. Defensively they are solid and have not been much of a blitz team. They do mix up some things, but they have been quite solid on that side of the ball."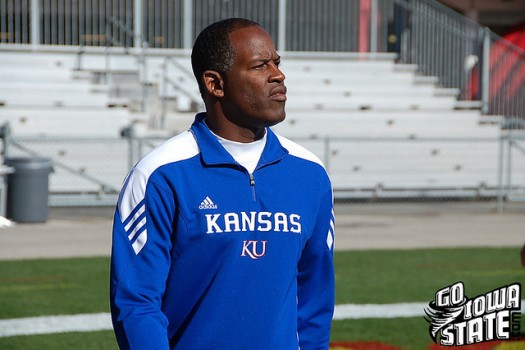 BREAKING DOWN THE JAYHAWKS
After last week's embarrassing 43-0 loss at Texas, things can only go up for the Kansas Jayhawks. No really. I'm not sure that it is statistically possible for them to get any worse.
Kansas only gained three first downs and 46 total yards in 60 minutes of football last Saturday.
Those stats represent rock bottom Kansas. But there's also the Kansas team that gave Oklahoma all that they wanted and more on Oct. 15.
"I think that they are a talented football team," said Rhoads. "We have had enough crossover that I had a chance to see them play. Tommy (Tuberville) and I were talking about it before the game. They have the ability to compete with anybody in this league. That continues to be proven, week in and week out with the schedule that you see in this league."
Rhoads is right. Texas Tech was a 24-point underdog the week that they went into Norman and won. Iowa State was a 17.5 underdog last week in Lubbock. The Jayhawks are only 13.5 dogs heading into this weekend's game so according to the "experts," Kansas beating Iowa State would actually be less surprising than the other two.
The Jayhawks have an adequate quarterback in sophomore Jordan Webb. Webb has thrown for 1,456 yards this season with 12 touchdowns to only six interceptions.
The biggest story surrounding this Kansas team is the fate of its head coach. When Turner Gill took the Kansas job, he was one of the hottest names in the game. After losing six straight contests without showing much(if any) improvement at all, the Jayhawk Nation doesn't appear to be buying what Gill is attempting to sell.
That's my big question regarding Kansas right now. Kansas has talented guys like Webb and wide receiver D.J. Beshears on its roster. But 46 total yards and three first downs in an entire game of football? Have the Jayhawks given up?
"It is not the way you would like to have it at this point, but we have an opportunity to improve," said Gill. "We have four games to get that done, show that we can finish up strong and get things going in the right direction."
PREDICTION
Kansas isn't as bad as they looked last week. Having said that, the Cyclones aren't as good as their 34-point spanking of Texas Tech would leave you to believe. During his Monday press conference, Paul Rhoads was asked if you can bottle a single performance and use it for the rest of the year.
"You can't. If you could, there would be a lot of successful coaches and successful teams out there," said Rhoads. "It's something that you can't do. You continue to prepare in the fashion that we prepared throughout that whole week like successful teams do. You get ready to execute at 11:30 on Saturday morning."
As history has taught us over the last two weeks in the Big 12, the Cyclones better be ready to go.
I believe that they will be. This is the same Iowa State team that had lost four straight games only a week ago. There is no need to be cocky. After the Tech win, reporters told me that there wasn't much celebration among the Cyclones. It was almost as if Iowa State expected to thump the Red Raiders.
I think we'll see another workmanlike Iowa State victory over the Jayhawks this weekend.
THE PICK
Iowa State 38, Kansas 13