By Chris Williams, CycloneFanatic.com Publisher
For the biggest win in Iowa State football history, here's a massive installment of LINKS GALORE here at CycloneFanatic.com.
I'll begin with some screenshots that I saved after Friday night's 37-31 win over Oklahoma State from some of America's most popular sports websites.
ESPN.com…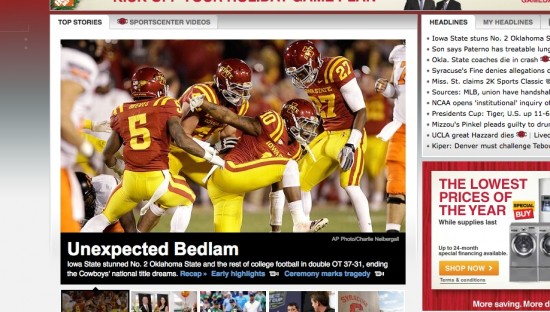 Yahoo Sports…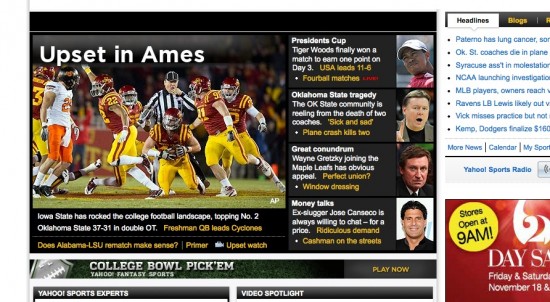 CBS Sports…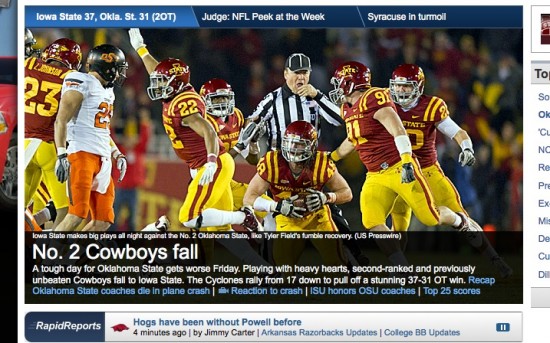 CNNSI.com…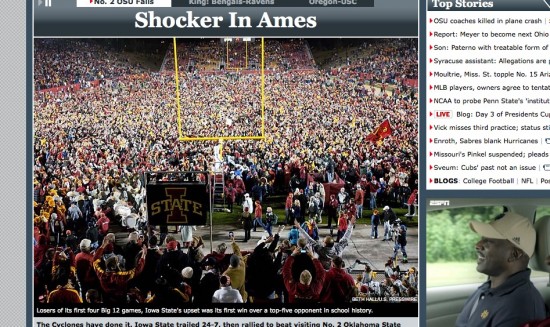 MSNBC…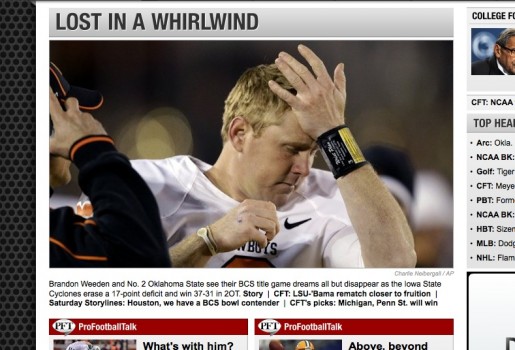 Now onto some actual links from the big win…
— CycloneFanatic.com'sIan Smith's game story, along with his notebook featuring Wally "The Wizard" Burnham.
— Some heavy hitters were in town on Friday. Here's a column from Andy Staples of Sports Illustrated.
— The Cyclones just screwed everything up writes ESPN.com's Mark Schlabach.
— Marc Hansen of the Des Moines Register writes about Oklahoma State's fan base having to face more than just a football loss.
— Brent Blum can see the future.
— The Des Moines Register'sMark Emmert gives Iowa State's defense some major props in the upset.
— More notes on the victory from the Register's Andrew Logue.
— Gary Lake of theDes Moines Register with a compilation of thoughts from Iowans on Twitter after the game. Cool idea here by Gary.
— I love the Ames Tribune's headline in this Bobby La Gesse story. "All-time upset."
— Funny headline from an Alabama blog site. "Hell Freezes Over."
— ESPN.com'sBig 12 blogger David Ubben on the upset…
— News and notes from the big win via Travis Hines at the Marshalltown Times-Republican.
— Berry Tramel from the Oklahomanreflects on a dark day in Oklahoma State history.
NOTABLE TWEETS
WHO-TV 13's Chris Hassel writes…
"Can't overestimate what this win does for the ISU football program. Cornerstone victory. Much deserved."
Ben Bruns from the Cyclone Radio Network writes…
"Watching the replay of ISU-OSU, there is no doubt our team expected to win this game.
"
Local commentator Steve Deace…
"Can't recall the last time Iowa State was the lead story on SportsCenter since Eustachy scandal…What Rhodes has done here is phenomenal."
WHO-TV 13 sports director & 1460 KXNO's Keith Murphy…
"Forget Tebow. He lost once as starter. All Jared Barnett does is win. Now 3-0 since taking over QB1.
"
Iowa State women's basketball coach Bill Fennelly…
"That was about a 4 hour infomercial for all that is good about Iowa State and our great fan base! we won more than just a game tonight!
"
Iowa State men's basketball coach Fred Hoiberg…
"2 of the best games I've ever seen at Jack Trice this year!!!! First Iowa, now this! Paul Rhoads is the man!!! Go Cyclones!!!!"
Fake Dan Beebe…
PAUL RHOADS, I AM SO PROUD TO BE YOUR FORMER COMMISSIONER