By Chris Williams, CycloneFanatic.com PublisherFollow Chris on Twitter @ChrisMWilliams
The NBA is locked out. Major League Baseball is in our rear view mirror. The big boys in the NFL only play ball on Sunday and Monday right now. I can only assume that the not so monumental matchup between Toledo and Central Michigan didn't trip your trigger…
If you are a sports fan, there's a pretty decent chance that you had your eyes on ESPN and Ames, Iowa on Friday evening.
In a game that had major BCS implications riding on it, Iowa State's 37-31 double-overtime shocker over the second-ranked Oklahoma State Cowboys was the show in the world of sports.
It was the only show.
That wouldn't have been the case on a regular Saturday afternoon. Some non-Midwest football fans who had likely never even heard of Ames were watching Cyclone football for the first time. I can only assume that many were cheering on the Cardinal and Gold, as Iowa State was a 27.5 point underdog and all.
Coming off of a bye week and riding a two game winning streak, a massive opportunity stared Paul Rhoads' football program in the eyes.
The fearless Cyclones took the bull by the horn. Iowa State's football program won the biggest game in program history on the largest stage possible. The Cyclones will go to a bowl game for the second time in three years under Rhoads because of it.
It was a banner evening. It was a day, a night and a moment that you'll never forget. I know that I won't.
THREE UP
Iowa State University – Iowa State women's basketball coach Bill Fennelly nailed it after the game when he tweeted that the last four hours of programming on ESPN had been one big infomercial for Iowa State University. While the football team's effort attracted all of the attention, Fennelly is right in the sense that everybody won.
At one point, Iowa State, Paul Rhoads (his named was actually spelled "Rhodes" but hey, we'll take it) and Hickory Park were all three trending on Twitter at the same time.
During the same time span, Iowa State's football program headlined the website's of ESPN, Yahoo, MSNBC, The New York Times and CNNSI, just to name a few.
That type of publicity is priceless.
Paul Rhoads – While it's great for recruiting and the rest of America loves seeing an emotional Paul Rhoads in the locker room after a big win, Iowa State fans shouldn't need that to realize how special of a football coach he is. It doesn't matter if Rhoads is chatting it up with fans at a Gridiron Club event, speaking to the media or doing whatever he does when he's at home with his family. It's his enthusiasm for coaching and most importantly, Iowa State that makes him the perfect man for this job. Few coaches have been able to sustain success in Ames. The ones who have, actually wanted to be here.
Rhoads, the lowest paid coach in the Big 12, was a national superstar on Friday in a year where all sorts of high-profile jobs are going to be open at the end of the year.
The entire country just watched David slay Goliath.
I'd say it is time to start talking about giving this man a raise…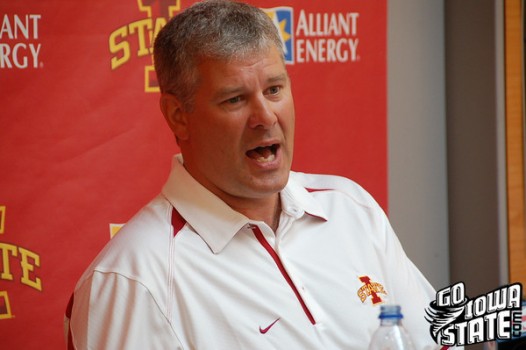 Oklahoma State – I've interacted with a handful of Oklahoma State fans/bloggers over the last week and have yet to have a bad experience. These people are first class. Iowa State and Oklahoma State actually have a lot in common and while I was glad that Iowa State pulled off the upset, I would have loved to see the Cowboys march onto a national championship had Friday night's game gone the other way.
THREE DOWN
Brandon Weeden – Until Friday, I didn't think it was possible to rattle this guy…
The BCS – The Cyclones just screwed everything up. Whoops…
Josh Lenz – Iowa State's most consistent wide receiver left the game in the first half due to multiple leg injuries. After the game, Rhoads told the media that x-rays come back negative. He's a guy who Iowa State needs healthy going forward though.
GAME BALL
Jared Barnett – Jared Barnett threw for 376 yards and three touchdowns while running for 84 yards in the win, but the moxy that he once again showed is what impressed me the most.
Barnett threw a pick six with a minute to go in the first quarter. At that point, Iowa State's wide receivers were having an awful time of catching the football.
Barnett did what he does though. That's grind. He kept going. The freshman is mature beyond his years.
All of those numbers are nice and all, but it's the 3-0 record as a starting quarterback (in the Big 12 with two wins vs. opponents in the top 25 I might add) that matters the most.
HELMET STICKERS
If I went through and gave every Cyclone helmet sticker who deserved one, this would be a 6,000 word blog.
The entire team gets helmet stickers. I'll be sure to write plenty more about some of the game's top performers later this weekend and into next week.