By Chris Williams, CycloneFanatic.com PublisherFollow Chris on Twitter @ChrisMWilliams
Iowa State's 52-17 loss to Missouri on Saturday was a puddle of mud. It's awfully hard to paint that game as a bottle of wine.
Iowa State is at the season's halfway point of this season with a 3-3 record. A fanatic can look at that a couple of different ways.
The optimistic view points out that by winning three games at all, the Cyclones have already exceeded the expectations of some in 2011 with some winnable football games remaining on the schedule.
The pessimistic (and maybe realistic) view is that this football team has lost its first three Big 12 games by a combined 81 points. Teams are running at will on the Cyclones and the offense is struggling to even get first downs.
The postseason is still a realistic goal for this football team, but the Cyclones are officially in desperation mode for next Saturday's homecoming matchup with Texas A&M.
——————————————————————————————————————————
=== THREE UP ===
Takeaways – The Cyclones forced three Missouri turnovers on Saturday. How do you force three turnovers and still lose by 35? I'll touch more on that in Three Down.
Kicking – It's hard to find a lot of positives from this one. Having said that, Zach Guyer didn't miss a kick in the loss. The senior made a 26-yard field goal in the second quarter and was 2-for-2 on PAT's. To most teams, this would be a pretty minor stat. But for Iowa State this year, not missing a kick on the day is a major positive.
Clone Zone – Hats off to Iowa State and the Big 12 for getting today's game up for all to view at the Clone Zone at Cyclones.com. I watched the game at a friend's house. He hooked his computer up to a 42-inch television and we didn't miss a beat. It had an old school feel to it (listening to commentary from J-Walt and Mr. Heft) but the picture was much better than I thought it would be. I know how big of a chore it was to pull that broadcast off and appreciate the fact that we were able to watch.
=== THREE DOWN ===
Steele Jantz – If you listened to Saturday afternoon's Cyclone Reaction Show on the Cyclone Radio Network, former Iowa State wide receiver Jack Whitver and I had what I thought was an interesting conversation regarding the play of Steele Jantz.
Jantz has had plenty of shining moments so far this season. The comeback against Northern Iowa was unforgettable. His four touchdown performance vs. Iowa was legendary. Leading his team to a victory while injured in the second half at UConn showed moxy.
But throughout all of those moments, Jantz never looked sharp. He was a gunslinger who thrived under pressure.
In a way, I feel sorry for Jantz, who went 17-of-32 for 161 yards (while fumbling twice) and eventually got benched for redshirt freshman Jared Barnett on Saturday.
After two games in his short career, fans were making Superman (Jantz) shirts. Seneca Wallace comparisons, fake Twitter accounts and everything else involved with the hype machine was in full force. Jantz, a humble junior college transfer out of California, had nothing to do with that.
While Jantz himself has been a walking turnover machine, He isn't the only one to blame for Iowa State's underwhelming offensive attack. Injuries at running back and offensive line along with inconsistent wide receiver play have all contributed to the struggles as well.
Iowa State is six games through the season and to the naked eye, Jantz is running for his life (the line is struggling) and things appear to only be getting worse.
Having said that, I'll be shocked if Jantz isn't the starter when the Cyclones take the field against Texas A&M next weekend.
(CLICK HERE to read Paul Rhoads' postgame comments on Iowa State's situation at quarterback)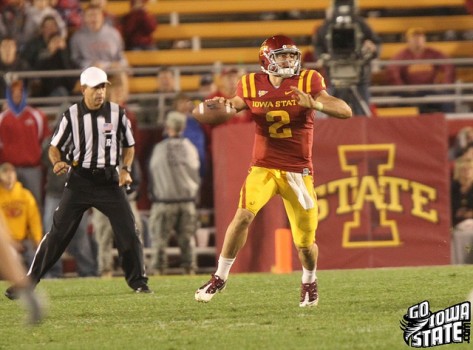 Missed opportunities – After Missouri jumped out to an early 14-0 lead in the first quarter, the Cyclones had plenty of opportunities in the first half to make it a game.
Iowa State's defense created three Missouri turnovers in the second quarter alone. A.J. Klein scored a touchdown on one of them (more on that later). But after the other two, the Cyclone offense came up with nothing.
Jarvis West returned a kickoff for 51-yards in the second quarter and the offense went three and out.
In the second quarter, Iowa State's offense had plenty of opportunities with good field position to make this a game. They failed every single time.
Ready to play? – On the Cyclone Radio Network's locker room show with Eric Heft after the game, running back Jeff Woody said something that concerned me. Woody said that at the start of the game, the offense was seeing a lot of looks from Missouri that they hadn't seen before. Either Missouri's defense was creative as all get out or the Cyclones just weren't ready to play.
HONORABLE MENTION:
First Downs – Missouri 33, Iowa State 17
Total Defense – In the last two games combined, Iowa State's defense has given up 1,186 yards of total offense. Missouri racked up 583 yards on the day and 294 on the ground. The Tigers averaged 5.2 yards per carry.
Rush Defense – (See total defense)
=== GAME BALL ===
 A.J. Klein – This might be the easiest game ball decision that I've handed out this season. A.J. Klein played his best game of the season and set a record while doing so. The junior linebacker picked off Missouri's James Franklin in the second quarter and took it to the house for 78-yards. That was the third pick six of Klein's career, which is an Iowa State record. On top of being Iowa State's best offense in the first half, Klein led the Cyclones in tackles on the day with 12.
=== HELMET STICKERS ===
Jake Knott – The shoulder was obviously bothering him. Jake Knott wasn't the same guy out there. But even so, Iowa State's best overall player forced a fumbled and snagged an interception, while collecting four tackles along the way. He earned a helmet sticker for those reasons, along with toughness of course.
Zach Guyer – As mentioned in "Three Up," Guyer didn't miss a kick in the loss. Well done.
Jeff Woody – The sophomore running back accounted for Iowa State's only offensive touchdown, a 13-yard run in the fourth quarter. Woody had five carries for 31 yards on the day.
Jarvis West – This is a guy who I'd love to see get more touches going forward. West only caught two passes on Saturday but was a stud on special teams. West returned seven kicks for 184 yards, averaging 26.3 yards per return.
Kirby Van Der Kamp – He punted six times, averaging 40.8 yards per kick. The fact that Van Der Kamp pinned Missouri inside its 20 on three of those kicks earned him a helmet sticker.
C.J. Morgan – After disappearing for a few games, Morgan recorded six tackles on Saturday. Two of them were for a loss.
Leonard Johnson – Recorded eight tackles (one for a loss), a fumble recovery and a pass breakup on the day.
Jake Lattimer – Six tackles