By Chris Williams, CycloneFanatic.com PublisherFollow Chris on Twitter @ChrisMWilliams
The Cyclones led Baylor 7-0 at the end of the first quarter. Robert Griffin only threw for 212 yards and the Cyclones held Kendall Wright to eight catches for 69 yards and one score. The Cyclones were even with Baylor on turnovers.
If I would have told you on Friday afternoon that all of those things were going to happen in Saturday night's game against Baylor, I imagine that you would have felt pretty good about Iowa State's chances to come home with an upset victory in Waco.
It wasn't the case.
The Cyclones will head to Missouri next week with a 3-2 record, as Baylor racked up 602 yards of total offense in a 49-26 win over Iowa State in game five of the 2011 season.
There were positives. Iowa State corrected many of the errors that have plagued this team through the first four games of the season, but the Cyclones had their struggles as well.
Here's my recap of the day that was on Saturday, regarding all things Iowa State football.
=== THREE UP ===
Fast start – Going into Saturday night, Iowa State hadn't scored point in the first quarter in any of its first four games of the season. After deferring to the second half on the coin toss, the Cyclone defense forced Baylor to punt right off the bat. Iowa State's offense responded like you'd hope by driving 82-yards to take a 7-0 lead into the second quarter. It was refreshing to see an Iowa State team that didn't look like a bunch of zombies in the first quarter.
Flea flicker – Offensive coordinator Tom Herman called a flea flicker on Iowa State's first offensive play of the game. It resulted in a Steele Jantz to Darius Reynolds 43-yard game. I loved it.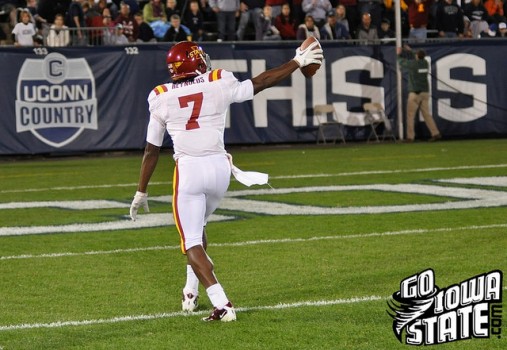 Turnovers – For the first time this season, Iowa State didn't lose the turnover battle on Saturday night. The Cyclones forced two (should have been three) Baylor turnovers. That was good. Some bad came with this stat as well, which leads us to…
=== THREE DOWN ===
Failing to capitalize on turnovers – When you're on the road playing against one of the most potent offenses in all of college football and your defense forces two turnovers, you MUST take advantage of them to come away with an upset. Iowa State didn't score a single point off of Baylor's two turnovers and to throw salt in the wound, Baylor returned Iowa State's one of Iowa State's turnovers (a Steele Jantz fumble) 78-yards for a touchdown.
Capitalize on those first half turnovers and this game would have been entirely different.
Even so, forcing two turnovers against that offense is something to build on. Iowa State's defense looked more like the opportunists that we have seen over the last two years on Saturday night. Early on, the Cyclones allowed Baylor to nickel and dime them down the field, just waiting on the Bears to make a mistake. For the most part, it worked. Iowa State's offense just couldn't stay on the field. The defense can only do so much against one of America's top offenses when they are forced to be on the field that much. Baylor won the time of possession battle in this game, 36 to 24.
Kicking – I'm not really sure what to even write about the state of Iowa State's kicking game. As Ben Bruns put it on the Cyclone Radio Network's wrap up show, it's a total mess. Senior Grant Mahoney missed two extra points in the loss. Did they cost Iowa State the game? No. But ask any player and they'll tell you that missed extra points are detrimental for a team's momentum. The biggest problem with this is that I have no idea where Iowa State can go from here. They've already given Zach Guyer a shot. He's obviously not the answer. Mahoney has proven to be an adequate kicker before but mentally, he appears to be shot. Division one (or two, or three, or NAIA or whatever) kickers should not miss two PAT's in one game. There's no excuse for it. So kicking is like a golf swing huh? Cyclone fans better hope and pray that Mahoney or Guyer finds that stroke soon, or Iowa State needs to consider going for two after every touchdown. For real. At this point, they might as well. Things have gotten that bad.
Penalties – Iowa State was called seven and 31 yards, Baylor, who went penalty free for most of the game, had two for 20. I'll be the first to admit that some of the calls we saw from the zebras on Saturday night were questionable at best. But the Cyclones still committed numerous offside penalties in crucial times that bailed Baylor's offense out. When you stop an offense like Baylor's on third down, you CANNOT afford to give them a second chance. Iowa State did that twice in the game and got burned both times.
Honorable Mention:
First Downs – Baylor 37, Iowa State 17
Redzone attempts – Iowa State's offense only got into the redzone three times in the loss compared to Baylor's seven.
=== GAME BALL ===
Jake Knott – I constantly compared Iowa State's All-Big 12 linebacker Chuck Norris for a reason. Knott was all over the field on Saturday night, recording 18 tackles along the way. Knott appeared to suffer a minor shoulder injury in the second half, but popped right back on the field and kept producing. Knott defines toughness and is well on his way to being one of the best players that Iowa State has ever seen, if he's not there already.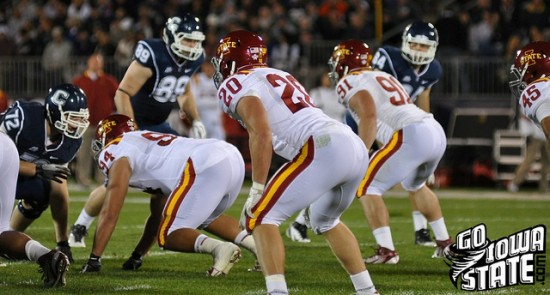 === HELMET STICKERS ===
James White – His 76-yard touchdown run with 5:32 to go in the third quarter was a thing of beauty. With Shontrelle Johnson sitting out due to injury, Iowa State's rushing offense didn't miss a beat as White carried the load and racked up 151 rushing yards on the night, averaging 9.9 yards per carry. White leads Iowa State with five rushing touchdowns so far this season.
Darius Reynolds – He's inconsistent, but Darius Reynolds was "Money" in Saturday night's loss. Reynolds looked like an all-conference performer, catching seven balls for 178 yards and two touchdowns. Reynolds is quietly on his way to having one of the top receiving years in Iowa State history. Through five games, he's produced 478 receiving yards and six touchdowns. Those numbers aren't too shabby for a guy who started the season with a broken toe.
The defensive line – From Stephen Ruempolhamer and Patrick Neal forcing fumbles, to Jake Lattimer's sack, to Willie Scott's six tackles, I thought that Iowa State's defensive line played surprisingly well on Saturday night. This statement is hard to accept when you consider that Iowa State gave up 391 rushing yards on the night but for the most part, this unit showed up in Waco.
Leonard Johnson – He bounced back from being carted off the field against Texas to record 12 tackles vs. Baylor.
Durrell Givens – This is the first CF helmet sticker of Givens' career. Givens recorded 10 tackles and recovered a fumble in the loss, where he saw a lot of playing time in Iowa State's nickel package.
Jacques Washington – Yet another member of Iowa State's secondary…Washington had nine tackles and a fumble recovery. Generally, when this many guys from your secondary have this many tackles, that isn't a good thing. That proved to be the case in the loss, but what I like about Iowa State's secondary is the way that they hit. Sure – They are the last line of defense. But Iowa State's secondary will come up and hit you. That will create more turnovers down the road. I like this group a lot.
NOTE: That I handed out helmet stickers to the majority of Iowa State's defense that gave up over 600 yards of offense. But these guys were on the field way too much. The line put consistent pressure on Griffin all night long and RG3 ran for 132 yards because of that.
Steele Jantz – Going 17-for-35 on the night didn't impress me and his redzone turnover resulted in a Baylor touchdown, but lackluster offensive line play and chucking three touchdowns earned Jantz a helmet sticker on the night. Through the first five games of Jantz's career, he hasn't been as consistent as Iowa State needs him to be. But he still shows glimpses of potentially being really good. Stay tuned.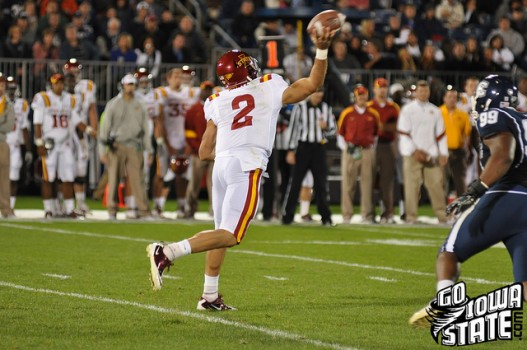 === ELSEWHERE === 
 Some thoughts on scores from around the country that concern Iowa State in one way or another…
— UConn isn't very good folks. After giving up 479 passing yards last week in a home loss to Western Michigan, the Huskies were outscored 33-7 in the second half in a 43-16 beatdown to West Virginia on Saturday. The Mountaineers racked up 469 passing yards in the win and 541 total. It seems like everybody is shredding the UConn defense these days.
— As ridiculous as it sounds, some over the top Iowa fans are actually calling for Kirk Ferentz's job after Iowa's 13-3 road loss to Penn State. Quarterback James Vandenberg threw two interceptions in the defeat, where Iowa's offense looked as bland as a vanilla sundae at Baskin Robbins. Add these first two scores together and it doesn't do much for two of Iowa State's three wins so far in 2011.
— As for that third win, Northern Iowa continued to roll on Saturday by downing Indiana State 23-9 in the UNI-Dome. The Panthers are 4-1 on the season and ranked second nationally in FCS football.
— I was disappointed that Texas didn't at least compete with Oklahoma on Saturday. You know those gadget plays that the Longhorns ran so well against Iowa State? Yeah…They didn't really work vs. OU. I like Iowa State's defense a lot this year. But if you watched the Red River Shootout, you could see the difference in speed and athleticism between the Sooners and the Cyclones by watching those plays alone.
I took more of Oklahoma being that good from this game than I did Texas being bad. The Longhorns aren't back, but the Sooners definitely are a national title contender.
— Iowa State will travel to Missouri next week. The Tigers dropped to 2-3 on the season Saturday, with a 24-17 road loss to the surprisingly unbeaten Kansas State Wildcats. Once again, Missouri's young quarterback James Franklin struggled, going 19-of-35 for only 201 yards in the loss. What's curious to me about Missouri's struggling offense is the fact that Franklin is playing behind a good offensive line with a ton of weapons to throw to. In the past, we've seen Gary Pinkel just plug quarterbacks in and maintain offensive success. Though their first five games of the season have been tough, we haven't seen that from Franklin thus far. Beware though Cyclone Nation. The talent is there. Missouri just might be the best 2-3 football team in America.