By Chris Williams, CycloneFanatic.com PublisherFollow Chris on Twitter @ChrisMWilliams
Texas didn't manhandle Iowa State. Iowa State manhandled Iowa State.
Don't get me wrong. The Longhorns deserved every bit of their 37-14 win over the Cyclones on Saturday night. But Iowa State's trend of playing foolish football finally caught up to them.
Head coach Paul Rhoads said it best during his post game interview with Eric Heft on the Cyclone Radio Network.
"We have to take care of Iowa State," Rhoads said. "We have to do a better job of taking Iowa State."
Turnovers + penalties will not = many victories.
That was the case back when Ira C. Brownlie coached the inaugural Iowa State football team to a 1-0-1 record back in 1892.
Here in 2011, it's still the situation. Take care of the football. Play smart football. Win football games.
Rhoads knows this. The players know this. The fans know this. We all know it.
For some reason, this team is having a hard time doing that.
That's the gloom. Want some good news? Iowa State is 3-1 with eight games left on the schedule. Most of you would have taken that back in July.
=== THREE UP ===
Talent – I've covered countless Iowa State games in the past where the Cyclones were clearly involved in a physical mismatch against another Big 12 opponent. I really don't feel like that was the case on Saturday night. Sure, the Longhorns were the more talented team but that will likely always be the case when Iowa State lines up against the Texas' of the world.
The most talented team doesn't always win though. Just look at Baylor's basketball program, or the Longhorn football team last year.
Iowa State won't ever have the most talent in the Big 12. In order to win games in this league, the Cyclones HAVE to play smarter and more efficient football than the opposition.
Like it has been for the last three weeks, that has to be the primary goal heading into game five of the 2011 season.
The above sentence is one of the most frustrating things about Saturday night's loss. You know that Iowa State's coaching staff stressed this during the off week. It's almost as if the players didn't understand that message.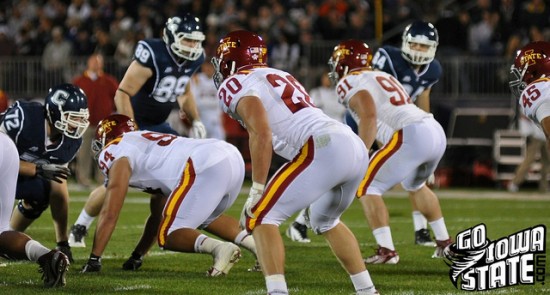 Texas' offense – The Longhorns won't win a national championship this season but this new and improved Texas offense sure is fun to watch. It isn't very often anymore that you see a two-quarterback rotation that actually works. David Ash and Case McCoy both went 7-for-12 on Saturday night. The pair combined for 255 passing yards. Texas' wildcat attack with Fozzy Whittaker taking the snaps was as slippery as snot.
Co-offensive coordinators Bryan Harsin and Major Applewhite have done a heck of a job.
Iowa State's self-inflicted wounds were a major part of the lopsided score, but it appears that Mack Brown might have this train back on its track. I loved his hire of Harsin during the offseason and it's going to pay off. Harsin is a future head coach and a good one at that.
Having said all of that, I thought that Wally Burnham had a nice game plan whipped up for the Longhorns on Saturday night. Problem is, Iowa State's defense can only do so much. I like this group a lot, but they aren't good enough to cover up all of these turnovers and stupid penalties that Iowa State continues to commit.
The Crowd – Fans were actually in their seats at kickoff. I didn't see any lines at the gates. Jack Trice Stadium was rocking. Props to everybody involved. The following tweet from ESPN sideline reporter Samantha Steele stood out to me:
"Believe it or not, this is one of the best gameday environments I've ever seen. Sooo loud in here right now!!"
=== THREE DOWN ===
Leonard Johnson – It was a horrible night for Iowa State's all-conference cornerback in more ways than one.
With just over 10 minutes to go in the second quarter, Johnson committed as bad of a penalty as I've ever seen. The Iowa State defense had just forced an incomplete David Ash pass on 3rd and 12. After the play, Johnson got called for a personal foul after butting heads with a Texas receiver. I'm not going to overreact and call for Johnson's head here. It was a stupid play. He got caught up in the moment, didn't use that head and it cost his team dearly. Ash hit Mike Davis on a 48-yard bomb on the very next play. That put the Clones down 20-0.
He looked like the Leonard Johnson of old. He messed up. But he's still the best cornerback on Iowa State's roster and one of the best in the Big 12.
Johnson is as intense of a player as Iowa State has on its defense. Johnson's greatest strength has also been his greatest weakness in his career as a Cyclone.
Things got worse for number 23, who suffered a scary head injury during the second half.
According to an Ian Smith report, "Paul Rhoads said after the game that Johnson had feeling in all his extremities and was being taken to Mary Greeley Medical Center for precautionary reasons."
Offensive line – No position on the field concerns me going forward for Iowa State more than the offensive line. Think about this. The program's starting right tackle, Brayden Burris broke a bone in his leg on Saturday night. Rhoads said that Burris will have surgery next week. Kelechi Osemele left the game with more ankle problems. Guards Ethan Tuftee and Hayworth Hicks are already dinged up, as is center Tom Farniok.
Do the math folks. Iowa State doesn't have one member of its offensive line that is 100 percent heading into next week.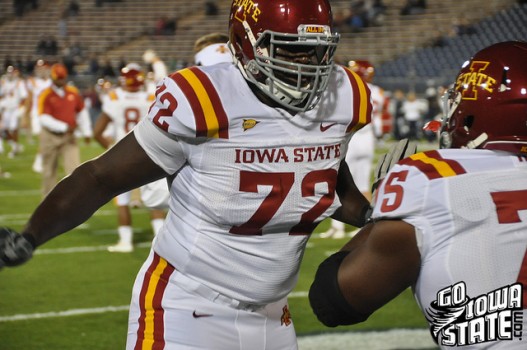 Discipline – After Saturday night, Iowa State has a legitimate chance to be the worst team in America when it comes to turnover margin. The Cyclones committed three turnovers to Texas' zero on Saturday night. After the first four games of the season, Iowa State has turned the ball over 13 times compared to its opponents' five.
On top of the turnovers, Iowa State committed eight penalties for 90 yards too.
Honorable Mention:
Kicking – It's funny how after one decent kicking game (UConn), we all quit talking about one of the most obvious holes on this football team. Iowa State doesn't have a field goal kicker. It's sad too. I still think that Grant Mahoney can get the job done. He's done it before. But some demons have crept into the senior's head and the coaching staff appears to have lost all faith in him. Fellow senior Zach Guyer missed a 29-yard attempt in the second quarter. Mahoney did not attempt a field goal on the night.
Darius Reynolds – "Money" had a rough night. He was called for two huge holding penalties. One brought back a 56-yard James White run. The other negated a 48-yard White touchdown run. Reynolds also dropped a couple of passes in the first half.
GAME BALL
James White – Poor guy. (See Darius Reynolds in Three Down). Still, White was one of the lone bright spots for this football team in the loss, ending the game with 64 yards and a touchdown. He averaged 5.8 yards per carry.
Patrick Neal – In a game without many positives, I thought that senior defensive end Patrick Neal was outstanding. Neal, who has played the best football of his career this season, tallied four tackles and a sack against the Longhorns. Neal is one of the hardest working members of Iowa State's program and has turned into a pretty respectable defensive end. I would consider Neal as my runner-up to James White for game ball honors in the loss.
Shontrelle Johnson – Despite going down with an injury in the fourth quarter, Johnson still averaged 4.7 yards per carry in the game, tallying 47 yards.
Jarvis West – Saturday night was the most that we've seen of West in his young career as a Cyclone. West, a redshirt freshman, caught four passes for 28 yards in the loss. I'll give him some props though, as he turned a catch that should have been a two or three yard gain into 13-yards in the second quarter. We haven't seen much of him, but that slippery play was only a glimpse of what West has to offer. He's had a quiet first four games, but I'm still excited about his future with this program.
Chris Young – The junior wide receiver caught the first touchdown pass of his career on Saturday, a 18-yarder with 3:50 to play in the game. Young caught three passes for 41 yards in the loss.
Jake Knott – Prediction. Knott will earn a helmet sticker in every game this season. Eight tackles on Saturday for the linebacker.
A.J. Klein – Can't give Knott props and not A.J. Klein. Six tackles for A.J. 47. Klein also recorded a pass breakup and a quarterback hurry.
Jacques Washington – Still the most surprising member of Iowa State's defense this season. The free safety tied Knott for a team-high eight tackles.
SCOREBOARD WATCH
A few notable scores from Saturday that Cyclone fans might care about…
– The UConn Huskies dropped to 2-3 on the season with a 38-31 loss to Western Michigan from the MAC. From an Iowa State perspective, that isn't encouraging. Western Michigan threw for 479 yards and five touchdowns in the win. UConn's defense isn't as good as Iowa State made them look.
Elsewhere…
– Northern Iowa 42, Missouri State 7
– Iowa State's next opponent Baylor lost to Kansas State by a 36-35 final in Manhattan. Obviously, the Bears are Iowa State's next opponent. Robert Griffin threw a crucial interception late in that game, but still chucked for 346 passing yards and five touchdowns on the day.