By Chris Williams, CycloneFanatic.com PublisherFollow Chris on Twitter @ChrisMWilliams
"I thought that we played with great energy, Iowa State head coach Paul Rhoads said after Saturday's 33-17 loss to Texas A&M. "I thought we did a lot of good things, but not enough to beat the 17th-ranked team in the country."
That quote pretty sums up my thoughts on Saturday's loss to a tee.
Here's more on the game including Three Up, Three Down, postgame awards and more.
THREE UP
Fired up – I'm anxious to hear what Rhoads' voice is going to sound like when his weekly Monday press conference rolls around. While I don't know the name of the side judge that Rhoads verbally hammered for a good 30-45 minutes during the end of the first half, I can only imagine that the man had some serious nightmares involving Iowa State's head coach on Saturday night.
I received a lot of fan reaction to Rhoads' tantrum on Twitter. Most loved it. Some criticized it as being "over-the-top."
You're free to think what you want. All I know is that it's hard to not appreciate the passion that Rhoads brings to Iowa State football. While the atmosphere surrounding Jack Trice Stadium approaching game time was flat in my opinion, Rhoads was anything but that. His team played that way too.
Rhoads said that the Cyclones went through some sort of emotional letdown last week at Missouri and despite the final score, that certainly wasn't the case against Texas A&M.
Texas A&M was just better.
Turnovers – After Steele Jantz's interception to start the game, the Cyclones didn't commit a turnover on Saturday. Because of that, Iowa State was still in the game going into the fourth quarter. What a novel concept…
Jared Barnett – In his first home series as an Iowa State quarterback, redshirt freshman Jared Barnett led the Cyclones on an 83-yard touchdown drive. Not a bad start kid.
His numbers from Saturday don't scream Heisman, but that's not what is important here. What's important is that Barnett played a smart game. For a team that was ranked 117th nationally in turnover margin going into the game, Barnett's zero turnover performance was encouraging. Overall, his numbers would have been a lot better had he gotten any help at all from his wide receivers.
Barnett ran the football 13 times and took a good beating by a physical A&M defense. But he held onto the football all day long and collected 253 total yards on the day.
Just an opinion, but Barnett looked to have a better understanding of the offense than Jantz. I'll be surprised if the zone-read isn't a major part of Iowa State's offensive game plan next week against Texas Tech's 105th ranked rush defense.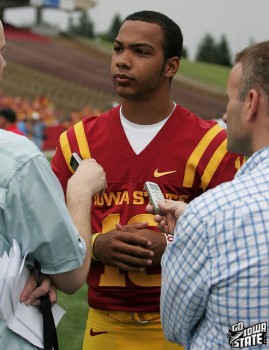 THREE DOWN
Wide Receivers – Do I really need to get into specifics here? Iowa State's wide receiver play has been subpar for years (that's putting it nicely) and missed opportunities cursed the Clones again on Saturday. You can't point a finger at one guy either. It's the entire group. Crucial drops by Darius Reynolds, Josh Lenz, Aaron Horne and Albert Gary throughout the game all contributed to the loss. Like the Missouri game last year with Jerome Tiller, Iowa State's wide receivers did nothing to help out a young quarterback. This is a trend we're seeing way too often in Ames. Wide receiver play has to get better going forward, which leads me to…
— One more thought on wide receiver play. I'm really curious as to what happened to the thought of playing Quenton Bundrage and Ja'Quarius Daniels as true freshmen. I know that was the plan before the season began. I can only assume that after the first three games, the staff thought that they possibly didn't need the pair and could save that extra year of eligibility? It's too late to burn the redshirt now, but I find it hard to believe that if those two are as good as I hear that they are, they couldn't help this offense immediately.
Steele Jantz – I'm not trying to kick a man when he is down, but Jantz was downright awful in this three series' as Iowa State's quarterback on Saturday. The junior was 0-for-4 while throwing an interception on his first pass attempt of the game.
Before you get too down on the guy, think back to some magical Jantz moments from early season wins over Northern Iowa and Iowa. While he appears to be a shade of that guy right now, it's still important to remember that Iowa State wouldn't have three wins at this point in the season without Jantz.
Tom Herman has a crucial coaching job ahead of him this week. That's to get Jantz back into the mental form we saw early in the season. Barnett will start at Texas Tech, but Iowa State still needs Jantz to be focused. With as much as Barnett ran the football on Saturday, the thought of him getting injured later in the season isn't crazy.
Iowa State needs Jantz to be take care of these mental demons as soon as possible.
Prediction: Jantz's name will be called again this season for one reason or another. Will he be ready?
Scoring offense – Seventeen points won't win you many games in the Big 12.
GAME BALL
A.J. Klein – The junior linebacker played his worst game of the season two weeks ago at Baylor. He responded by playing his best game of the season at Missouri with a comparable 10 tackle (nine unassisted) performance vs. Texas A&M. With Jake Knott being dinged up, Klein has picked up the pace for Iowa State's defense and is playing some good football right now. Klein has recorded 55 tackles so far this season.
HELMET STICKERS
Josh Lenz –Lenz had the best statistical game of his Iowa State career vs. the Aggies. Lenz totaled career-highs in receptions (eight) and yards (117). Also note that it was Lenz's first ever 100-yard receiving game. It's pretty safe to say that Lenz is Barnett's favorite target.
James White – The sophomore running back averaged 3.8 yards per carry and racked up his sixth rushing touchdown of the season for the Cyclones.
Matt Morton – How about a little love for a special teams stud? Morton, a reserve linebacker, has been a mad man on special teams all season long. Morton had two special teams tackles in the game.
Jacques Washington – He committed a foolish delay of game penalty out of frustration in the second quarter, but its hard to not be excited about this sophomore's future as a Cyclone. Washington is as intense as they come and he'll only get better with time. Washington had eight tackles on Saturday. He now has 59 on the season, which ranks second on the team.
Leonard Johnson – Solid. Solid. Solid. Nine tackles, one for a loss and a pass break up highlighted Johnson's day vs. A&M. He's one of the best tackling corners that I remember seeing at Iowa State.
Jake Knott – He only recorded three tackles on Saturday but as long as Knott keeps playing with the bad shoulder, he'll keep getting helmet stickers. With one arm, Knott is still one of Iowa State's best players.
Matt Tau'fo'ou – Iowa State's middle linebacker's improvement has given defensive coordinator Wally Burnham more options against the run. Tau'fo'ou had 10 tackles in the loss.
Jake Lattimer, Parick Neal and Jake McDonugh – All three Cyclone defensive linemen sacked A&M quarterback Ryan Tannehill. Neal force an A&M fumble.
Duran Hollis – The redshirt freshman running back notched his first career touchdown as a Cyclone with a one yard third quarter run.
Zach Guyer – As long as he keeps making kicks, this senior will keep receiving helmet stickers. Guyer converted on a 43-yard field goal in the third quarter. That's progress right?