By Chris Williams, CycloneFanatic.com Publisher
I'm starting to notice a trend within the Iowa State football program under Paul Rhoads and his coaching staff.
When you least expect it, they surprise you the most.
Last year, a battered Cyclone team went into Lincoln without their quarterback, running back and others to upset the Huskers.
After being blown out 120-27 over the past two weeks to Utah and Oklahoma, Rhoads and his warriors ventured into Austin on Saturday to beat almighty Texas (28-21) for the first time in school history, only a week after the Longhorns shattered Nebraska's national title hopes.
This game of college football is a fickle mistress isn't she?
WHAT. A. WIN.
Let's get to my weekly report card and might I add, these are a heck of a lot more fun to write on days like today.
GAME BALL
Jacob Lattimer – Don't look now, but it appears as if Iowa State has found a legit Big 12 defensive end in junior Jacob Lattimer. In his first career start at the position, Lattimer sacked Garrett Gilbert twice, hurried him four times and recorded seven tackles as well. Iowa State hasn't had a defensive end play a game like that since the Jason Berryman left town. While it was a total team victory, it ultimately came down due to Iowa State actually getting pressure on the quarterback. I don't believe that Iowa State would have won that game yesterday without superb defensive line play. I think that sacks are overrated. I like to look at quarterback hurries. Lattimer had four. Jake McDonough had two. Cleyon Laing, Roosevelt Maggitt and Bailey Johnson all had one. The result? A shaky Garrett Gilbert threw three picks and Iowa State's secondary looked like the one we anticipated to see all preseason long. A secondary can only be as good as the guys in front of them. That point was never more evident than on Saturday.
STAT OF THE DAY
In the first seven games of 2010, Iowa State's defense recorded six sacks and five quarterback hurries. Keep in mind that three sacks and three hurries came against FCS Northern Iowa. In Austin on Saturday, the Cyclones had two sacks and nine quarterback hurries.
HELMET STICKERS
The entire offensive line – By far, this was the best that Iowa State's offensive line has played this season. The Cyclones ran for 199 yards in the win, while Austen Arnaud was only sacked twice. However, it could have come at a price. We're awaiting news on senior center Ben Lamaak's injury. He was my mid-season MVP and losing him for any period of time would be a colossal loss for this inconsistent offense.
Darius Reynolds – Darius "Money" Reynolds showed me something on his 18-yard touchdown catch in the first quarter. It was that elusiveness that we've heard so much about but hadn't really seen to this point. That was a great play all the way around. Arnaud put the ball where it needed to be and with great individual effort, Reynolds gave Iowa State a 7-0 lead and most importantly, a ton of momentum.
David Sims – Sims has received a Williams helmet sticker the last three weeks according ot my very unofficial calculations. The senior safety had eight tackles against the Horns but more importantly broke up four passes in the win. I won't beat him up for it but he dropped a couple of easy interceptions too. In the end, it didn't matter. Having a strong force at that safety spot is so important, especially in stopping the run. Iowa State's most intimidating defense player is back after struggling early this season.
Become a fan of CycloneFanatic.com on Facebook!
Austen Arnaud – I was shocked during Cyclone Reaction when Jack Whitver and I actually had a caller comment on how Iowa State would have done BETTER today with Jerome Tiller in the game. Are you kidding me? What else do you want Arnaud to do man? Iowa State's senior signal caller and Ames' golden boy threw for 136 yards and two touchdowns in the win. Those aren't eye-popping statistics by any means but his team won the game! Arnaud has been much better over the last three weeks than most fans give him credit for. With an effective running game and an offensive line that gives him time, Austen Arnaud is a good quarterback. It was good to see Arnaud run for 44 yards in the win too. That told me that he's feeling much more confident with his bad left shoulder.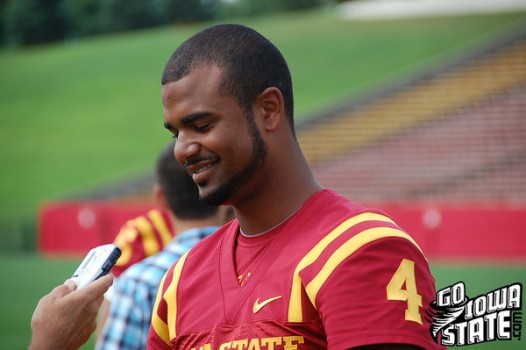 Alexander Robinson – A-Rob needs to take the offensive line out for more wings this week. Robinson had his best game of 2010 on Saturday by rushing for 120 yards and two scores. He averaged five yards a carry. How big of an idiot do I look like for writing THIS BLOG two weeks ago. Hey…What is wrong with a guy eating a little crow every now and then? A real man admits when he was wrong right?
Josh Lenz – This sophomore wide receiver only caught one pass on Saturday but it was for a 15-yard touchdown. On top of that, Lenz had one big 42-yard kickoff return in the fourth quarter that helped put the Longhorns down. This doesn't show up in the stat book but do you ever worry when Lenz is back on punt return? I don't. He's just a consistent football player that has a nice future in the slot, being a real move the chains type of receiver on this Iowa State spread offense. From now on, let's just refer to Lenz as "Steady Eddie" or "Even Steven." Sound like a good plan?
Kirby Van Der Kamp – Iowa State's true freshman punter has established himself as one of the best in the Big 12, if not the nation. Van Der Kamp punted nine times for an average of 46.6 yards in the Texas win. Four of those kicks went inside the 20 and one of them went for 74 yards.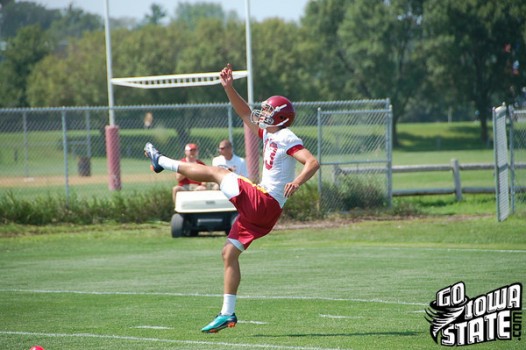 Jeff Woody – If I didn't know Jeff Woody, I'd think that he was one really mean dude. He's not though. In fact, he is one of the nicest athletes I have ever interviewed. But damn, the guy runs with an attitude. Woody absolutely punished Texas' defense eight times for 30 yards in the win. A couple of clutch runs on third down earned Woody another helmet sticker in his redshirt freshman season.
A.J. Klein – This sophomore linebacker led Iowa State in tackles AGAIN on Saturday with 11.
Patrick Neal – Six tackles were recorded in the win by junior defensive end Patrick Neal in what was arguably his best game ever at Iowa State. He didn't even start the game. My Cyclone Reaction co-host Jack Whitver seemed to believe that Neal just found his new role on this football team.
THREE UP
Play in the red zone – The Cyclones went 4-for-4 in the red zone on Saturday and most importantly, all four scores were touchdowns. As for Iowa State's defense in the red zone, the effort was just as salty. Texas was 4-of-6 in the red zone but two of those scores were field goals. Saturday's defense had "Wally Burnham" written all over it.
Third Downs – Against Utah and Oklahoma, they Cyclones combined to go 4-of-25 on third down. Yesterday, Iowa State seemed to pick up one marquee third down after another while going 7-for-17.
Coaching – Dear Jamie Pollard….Do what ever you can to extend these guys right now.
Every single one of them. Iowa State's coaching staff did a bang up job of preparing this team to play yesterday. The Cyclones weren't just coming off of two losses. They were trying to bounce back from two routs that were ugly enough to make a grown man cry. Iowa State showed up ready to play football yesterday. The team was loose. The team was focused and the Cyclones slayed Goliath.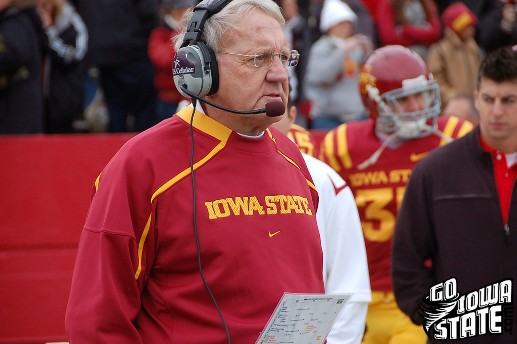 Turnovers – Put the women and children to bed fanatics. We're going "four up" today. Iowa State is now ranked ninth nationally in turnover margin. The Cyclones have forced 19 turnovers this season. More props to Wally Burnham on that statistic. On the other side, Iowa State's offense has turned the ball over 10 times.
THREE DOWN
I don't want to make a habit of this but I also want to be fair. The last two weeks, I didn't give three ups due to horrible losses. Today, I won't give three downs due to an amazing win. There are things that I could pick on but after an unprecedented win for this program, what's the point?
NOTEBOOK/FINAL TAKE
–       I was surprised with what I saw yesterday from Texas. I really didn't think that the whole "look past" game would happen for the Longhorns. Had they been unbeaten and coming off of the Nebraska game, I could have seen it. But this team already had two losses coming into the game. I figured that they would be as focused as ever with BCS bowl game hopes still very much alive. It is safe to say after home losses to UCLA and Iowa State that Mack Brown is partly to blame. His team isn't consistently ready to play and the Cyclones took advantage of that.
–       Iowa State now has two program defining wins. Last year's Nebraska game set the tone. Yesterday, Paul Rhoads proved that it wasn't a fluke.
–       If Iowa State gets to six wins this year, Paul Rhoads is a stone cold lock to win Big 12 Coach of the Year. He should be in the National Coach of the Year conversation as well.
–       What's even more amazing about yesterday's play by the defensive line is that Iowa State's most consistent lineman all season long, Stephen Ruempolhamer, didn't even have a tackle.
–       Iowa State is 2-0 against teams from Texas this year.
–       Kansas is Iowa State's next opponent. The Jayhawks lost to Texas A&M 45-10 last night. Kansas has been outscored 159-23 in their last three games to the Aggies, Kansas State and Baylor.
A few questions to ask during Monday's press conference…
–       How serious is Ben Lamaak's knee injury?
–       How important was the win for recruiting in Texas?
–       How do you avoid a team letdown vs. Kansas on Saturday?