By Chris Williams, CycloneFanatic.com PublisherFollow Chris on Twitter @ChrisMWilliams
When: Saturday, Oct. 15 at 1 p.m.
Where: Memorial Stadium at Columbia, Missouri
TV: None – An Internet stream will be available at Cyclones.comRadio: Cyclone Radio Network
Game Watch – No, the game isn't televised but the Keg Stand in West Des Moines will have it on a bunch of TV's Saturday afternoon. The Keg Stand is a great supporter of CycloneFanatic.com and I highly endorse giving them a go for this one.
————————————————————————————————————————————————–
The Telephone Trophy will be on the line Saturday when the Cyclones (3-2) travel to take on Gary Pinkel's Missouri Tigers (2-3).
The last time that Iowa State beat Missouri was in 2006.
The Cyclones are a two-touchdown underdog heading into Saturday's game. Is an upset on the horizon? Let's break this thing down.
BREAKING DOWN THE CYCLONES
Rush defense.
That's the key to Iowa State vs. Missouri in my opinion.
Heading into Saturday, the Cyclones are ranked 104th nationally in rush defense, giving up an average of 202 yards per game. Meanwhile, the Tigers currently boast the nation's 14th best rush offense, averaging 225 yards per game.
Last weekend, the Baylor Bears ran for 391 yards against the Cyclones. Defensive statistics tend to get skewed when a team lines up against Baylor, but this obviously an issue that Iowa State needs to address.
All Big 12 linebacker Jake Knott believes this will be cleaned up by 1 p.m. on Saturday.
"They are simple fixes for simple mistakes as for what we were doing wrong," said Knott. "It's stuff that we haven't done wrong all year. I think that it was Baylor taking advantage of one of our weaknesses. We saw that on film. We know what we did wrong. We'll get it fixed for this week. We're going to have to. Missouri has the same kind of spread attack."
Defensive tackle Jake McDonough points mostly at fundamentals.
"We just have to make plays and be gap sound," said McDonough. "We need to make sure that we fit in our gaps and that our zone is covered or our man is covered. We need to make the tackle."
The best way to improve Iowa State's defensive numbers is for the Cyclones to get better on offense.
According to Kirk Haaland, Iowa State's offense went three and out five times last week in Waco. In return, the Bears recorded 37 first downs in the game compared to Iowa State's 17. Does Iowa State's defense need to get better? Absolutely. But a more efficient offensive attack will only help. When you're playing a team like Baylor or Missouri for that matter, it doesn't take long for a defense to get gassed.
What to watch for:
— I had some fun with Jake Knott's crazy-tough story of popping his shoulder back into place twice (against Baylor) earlier this week, but this concerns me too. I've had a serious shoulder injury before and have the scars to prove it. Generally, when a shoulder pops out once, it is going to do it again, and again and again until something is done. Jake is the toughest athlete that I've ever covered. But I fear that this injury is going to be a factor for the rest of the season.
— I'd like to see senior wide receiver Darius Reynolds get even more touches on Saturday. "Money" is coming off of a seven catch, 178-yard and two touchdown game last weekend at Baylor. He's caught six touchdown catches on the season and good things seem to happen when he touches the football.
"That strength and explosiveness is important to a receiver when you're having to compete for a ball. It doesn't matter if you're 5-foot-6 or 6-foot-3 if you're wide-open," said Paul Rhoads. "It is hard to get wide-open in this league so when you're having to challenge and compete for a ball, it pays to be strong, explosive and big. He is that."
In five games this season, Reynolds has accounted for 488 receiving yards. Last year, Jake Williams led all Cyclone wide receivers with 404 receiving yards on the season. That's right. Get this man the ball!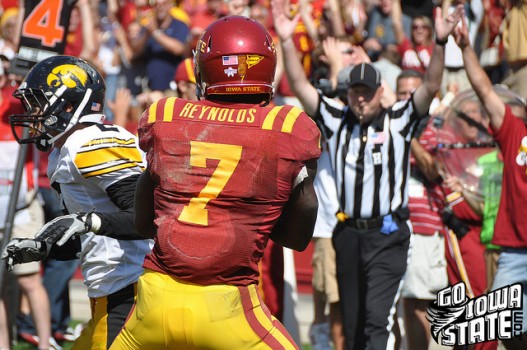 — After watching film from the Baylor game, who will see more time at right tackle in place of Brayden Burris? Carter Bykowski or Kyle Lichtenberg?
— I hate to even bring it up but will Iowa State's kicking game be any better against the Tigers? Last week's two missed PAT's were embarrassing for a Big 12 program.
— In addition to that kicking bullet, how will Paul Rhoads use his kickers on Saturday? Will the Cyclones go for it on 4th down? Will Iowa State go for two after a touchdown? Stay tuned.
BREAKING DOWN THE TIGERS
Don't let their record fool you. Missouri is the best 2-3 football team in America.
Missouri's three losses have all come on the road to ranked opponents.
The Tigers' first loss occurred in overtime at Arizona State (23). Teams from the Midwest generally don't have much success in the desert.
Missouri's second loss of the season was by 10 points at undefeated Oklahoma (1).
Last week's loss was another road game at undefeated Kansas State (20).
The Tigers offense is ranked 17th nationally and the defense comes in at 30th.
Cyclone fans also need to consider the fact that Missouri is an outstanding home football team. The Tigers have won nine straight in Columbia and Saturday is homecoming.
Now for some specifics.
On Missouri's offense…
I don't envy Missouri's sophomore quarterback James Franklin. After a 2-3 start, it's expected that the inexperienced signal caller is taking some heat. Franklin isn't Blaine Gabbert, but he actually hasn't been that bad this season. Franklin has accounted for 12 touchdowns already, seven through the air and five on the ground.
"They have got a quarterback that is just now engineering their system and I think engineering it very well," said Rhoads. "Schematically speaking, they are running the same offense that they have been."
Missouri's sophomore running back Henry Josey has made a name for himself so far in 2011. Josey is currently the Big 12's leading rusher, averaging 117.60 yards per game. A big and experienced offensive line has a lot to do with that. The Tigers start three seniors, a junior and a sophomore up front.
"They have very explosive players," said Knott. "They spread everybody out and hit a seam up the middle or go in between two linebackers. They have a great offensive coordinator who sees the weaknesses in a defense. He exploits them with the speed and athleticism of their players."
Still, Missouri has lacked an offensive identity so far this season.The Tigers are averaging 32.2 points per game on the year but if you take out a 69-0 thrashing of Western Illinois on Sept. 17, that average drops to 23. If it's Miami (Ohio) or Oklahoma, the Tigers haven"t scored a ton of points. That makes this a much better matchup for the Cyclones than Baylor was a week ago.
QUOTEABLE – Paul Rhoads scouts Missouri's offense…
"In that offense, it is a different version of the spread. They line up in a number of abnormal formations that you really have to spend extra time making sure that you're aligned accordingly. There is a lot of movement that's involved with that. It causes three to five to six of your defenders to be moving to match that. That can create problems. They've got a tight end who led the country in receptions a year ago. (T.J.) Moe is a tremendous player. They have a number of effective players on the field offensively speaking. Defensively, I have a lot of respect for them and how aggressive they play. The indecision that they create by their movement both pre-snap, and post-snap."
On Missouri's defense…
Missouri's defensive strength is its line. The Tigers start three seniors and a junior in Brad Madison who was a preseason All-Big 12 selection. In last week's loss to Kansas State, the Tigers held the Wildcats to 3.2 yards per rush. Meanwhile, they sacked Kansas State quarterback Collin Klein three times. Missouri is averaging 7.60 tackles for a loss per game this season. Iowa State's dinged up offensive line needs to step it up on Saturday.
Kicking issues…
Iowa State isn't alone. After only missing three kicks throughout the last two seasons, Missouri's kicker Grant Ressel is 7-for-13 so far this season. Ressel missed two kicks in the loss to Arizona State, which could have cost the Tigers the game. Both programs are struggling heavily in this department as Saturday nears.
=== SERIES NOTEBOOK ===
*** Here's a nice nugget for you. Missouri fears Iowa State on homecoming. Check this out. Dating back to 1914, the Cyclones are 6-2-2 against Missouri on homecoming.
*** Having said that, the Tigers have won three in a row and seven of the last eight over Iowa State. Gary Pinkel is 7-3 vs. Iowa State and 2-0 vs. Paul Rhoads.
THE PICK
Missouri 27, Iowa State 21