By Chris Williams, CycloneFanatic.com Publisher
Iowa State (14-5, 1-3) @ Missouri (16-3, 2-2)
Saturday, Jan. 22 * 8 p.m. @Mizzou Arena
ESPNU/ESPN3 – Cyclone Radio Network
Be sure to tune into the Cyclone Fanatic/Wilson Toyota of Ames Iowa State Men's Basketball Postgame Show live from Es Tas in Ames on 1460 KXNO and KXNO.com about an hour after Saturday night's game.
BREAKING DOWN THE CYCLONES
Iowa State's probable starters
G: Diante Garrett, 6-4 Sr. – 17.9 PPG, 6.1 APG
G: Scott Christopherson, 6-3 Jr. – 14.0 PPG, 3.1 RPG
G: Jake Anderson, 6-2 Sr. – 11.5 PPG, 8.0 RPG
F: Melvin Ejim, 6-6 Fr. – 11.5 PPG, 7.1 RPG
F: Jamie Vanderbeken, 6-11 Sr. – 12.2 PPG, 5.9 RPG
How close is close? Iowa State has lost five basketball games so far this season. In four of those contests, the Cyclones either had the lead or were tied with under a minute to play.
Ouch. Zing. Whatever. That hurts.
Iowa State will attempt to bounce back from its latest kick to the junk (a 96-87 OT loss to Oklahoma State) on Saturday night with a daunting road trip to Columbia.
Just so you know, this will be a bit of a watered down "Breakdown." Due to a nasty ice storm, the Cyclones never made it back to Ames from Stillwater. The Cyclones spent Wednesday night in Tulsa and then proceeded to travel to Columbia on Thursday afternoon. Because of this, I wasn't able to interview any players or Fred Hoiberg in preparation for Saturday night's tussle with the Tigers. Regardless, I have put together a few things to think about/notes for the game.
– Two of the most balanced teams in America will go head-to-head on Saturday night. Iowa State and Missouri are two of only four teams in the country that have five players averaging double-figures in scoring (Wake Forest and Long Beach State are the others).
– Diante Garrett made a little bit of history on Wednesday night. With his six assists, Garrett moved into at tie at No. 9 all-time on the Big 12's career assist chart with 531.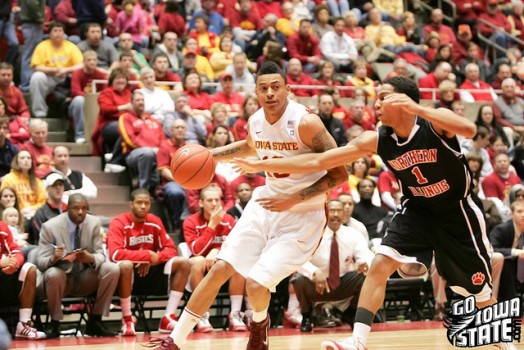 – Freshman Melvin Ejim has been struggling during Big 12 play. To read about my thoughts on this topic, CLICK HERE.
– For a complete preview of this weekend's Big 12 basketball games, CLICK HERE to listen to this week's CycloneFanatic.com podcast.
– All 6-foot-2 of Jake Anderson accounts for the Big 12's third leading rebounder. "Uncle Jake" is averaging 8.0 boards per game.
– Over his last six games, Jamie Vanderbeken is 27-of-51 (52.9 percent) from 3-point range.
– Since Big 12 play began, Iowa State is an 86 percent free throw shooting team. That is best in the Big 12.
BREAKING DOWN THE TIGERS
Missouri's probable starters
G: Kim English, 6-6 Jr. – 10.6 PPG, 3.0 RPG
G: Marcus Denmon, 6-3 Jr. – 17.5 PPG, 3.9 RPG
G: Michael Dixon, 6-1 So. – 10.7 PPG, 4.7 APG
F: Ricardo Ratliffe, 6-8 Jr. – 11.7 PPG, 4.2 RPG
F: Justin Safford, 6-9 Sr. – 7.1 PPG, 4.2 RPG
The 13th-ranked Missouri Tigers will welcome a thin Iowa State bench into Columbia on Saturday night by implementing their "40 minutes of hell" style of ball from the tip. Here is a snapshot at what the Tigers have done so far this season.
– All three of Mizzou's losses came to quality teams in Georgetown, Colorado and Texas A&M. Missouri's best win was probably against Vanderbilt early in the non-conference season. The Tigers also spanked Kansas State by 16 on Monday night but we all know of the issues that are currently surrounding Frank Martin's program in Manhattan.
– Marcus Denmon is the straw that stirs the drink for the Tigers. The 6-foot-3 junior is averaging 17.5 points per game. Denmon ranks fifth in the Big 12 in 3-pointers made and is third in 3-point accuracy.
– Missouri's front line isn't massive, but it is solid. Ricardo Ratliffe and Justin Safford weigh in at 230 and 240 pounds. I'm not worried about these guys physically beating Iowa State up. Athleticism and depth is where Mizzou has the edge here.
– Missouri averages 84.9 points per game as a team. That's good for fifth in the country.
– The Tigers are tough to beat at home. Missouri has won 47 of their last 49 games in Mizzou arena.
– Missouri junior Laurence Bowers is the Big 12's leader in blocked shots at 2.3 per game.
PREDICTION
The Cyclones haven't slept in their own beds since Monday night. Missouri hasn't played a game since early Monday evening. Chalk that up to another freshness edge for the Tigers on Saturday night.
Iowa State's recent travel issues could end up being a blessing in disguise though. What is the best way to get over a brutal loss? How about handing out with the boys for nearly a week away from home?
Here is why I think Iowa State will at the very least keep this game close. This is a tough team to guard. I thought that the Cyclones really proved that on Wednesday night. Watching Oklahoma State chase JVB around the perimeter was laughable at times.
Still, Iowa State has to keep hitting shots. Can they keep up that 39 percent 3-point pace in Columbia? It will be tough. I'm not calling for a blowout, but I do think that the Cyclones will come home from this two-game road trip empty handed, with Texas Tech an Oklahoma on the docket next week.
THE PICK
Missouri 77, Iowa State 72