By Chris Williams, CycloneFanatic.com PublisherFollow Chris on Twitter @ChrisMWilliams
The 3-3 Iowa State Cyclones are a banged up unit. That was the main story that I took from Paul Rhoads' weekly press conference that took place on Monday in Ames.
After losing to Missouri by 35 points last weekend, the Cyclones are now forced to prepare for 17th ranked Texas A&M.
Here's an Iowa State football notebook that you read every Monday right here at CycloneFanatic.com.
A quarterback competition?: Is Iowa State's starting quarterback spot up for grabs? According to Paul Rhoads, maybe.
"We are going to practice through and see by the end of the week who we think has the best chance to lead our football team to victory vs. Texas A&M," said Rhoads.
This became a story when redshirt freshman Jared Barnett replaced Steele Jantz during the fourth quarter of Saturday's loss. Barnett went 3-for-8 for 25 yards while throwing an interception in that span.
Rhoads did allude to something that surprised me though. That's the fact that Jantz's foot has been bothering him much more than anybody has known about since spraining it during week three against UConn.
"I haven't talked much about it. I don't want to talk about it and he wouldn't use it as an excuse," said Rhoads. "But he's been playing on a very sore foot since that UConn game. I think that it has affected his performance."
"It's his left foot so it is his plant foot so as he goes to make every throw and a lot of our throws are on movement with sprint passes and things like that, when you're moving you're coming forward on that front foot."
My advice to fans is to not get too amped up about this quarterback controversy talk.
"Without him, we don't win those first three football games," said Rhoads. "We're going to need him down the stretch to continue to compete and meet the expectations of this football program."
My guess is that Jantz will start on Saturday against Texas A&M.
"I can't use it (the injury) as an excuse," said Jantz. "I just have to figure out a way to execute and maybe not be as fast as I'd like to be. I've had it for a while not. If it's not going to get any better, I have to learn to play with it."
For more on Iowa State's quarterback competition, CLICK HERE to read the latest from Andrew Logue of the Des Moines Register.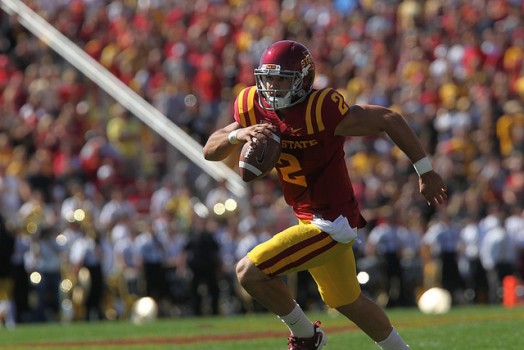 Johnson out for the season: As the Iowa State Daily's Dan Tracy reported on Sunday night, Iowa State's sophomore running back Shontrelle Johnson will likely miss the rest of the season due to a neck injury that he suffered during the Texas game.
"Any time that you lose a starter, it hurts your football team, said Rhoads. "When you lose your starter at the tailback position it is a negative for your football team."
Fellow sophomore James White has filled in admirably for Johnson so far. White has accounted for five rushing touchdowns on the season. But as Rhoads pointed out, you never want to lose a player the caliber of Johnson, especially when your offense is struggling to move the ball the way that Iowa State's is right now.
"Shontrelle is a big time running back," said Barnett. "He is a great leader on and off the field. Not having him is going to hurt us, but then we have a lot of depth with James White, Jeff Woody and Duran Hollis. They can make up for what we lose in him."
Rhoads said that more research needs to be done on Johnson's injury before he can or will elaborate on it more.
Knott now practicing: Rhoads did deliver a little bit of good injury news on Monday. While All-Big 12 linebacker Jake Knott was a shade of himself in Saturday's loss thanks to a shoulder injury, the junior practiced on Sunday for the first time in two weeks.
"It showed Saturday by his inability to match some of the things that they did in the passing game and his physical inability to get off of some blocks without proper use of his shoulder and so forth," said Rhoads. "I'm encouraged by the fact that he practiced yesterday and will be out on the practice field this week which will bring his game back where it is accustomed to."
One of the worst: Rhoads was very honest about his team's lackluster performance in Columbia. In fact, he referred to the 52-17 loss as one of the two worst during his two and a half years as Iowa State's head coach.
"We went down there and laid an egg," said Rhoads. "We played in my estimation our poorest football game of the year certainly and one of two in our tenure here, Utah being the other. You take the importance of what that game was and what our performance was mashed with it and build on it how we can't repeat those kinds of weeks and those kinds of Saturdays"
=== QUOTEABLE ===
Defensive end Jake Lattimer on Texas A&M prep…
"We might not have as many professional prospects or be as talented but we are going to work as hard as we can and we pride ourselves on that. We are going to continue to work harder than we have before to prepare for them."
=== JOTTINGS ===
*** Wide receiver Darius Reynolds entered Saturday's game against Missouri with 488 receiving yards and six touchdowns. "Money" only caught two passes for 45 yards in the loss. Paul Rhoads isn't blaming Reynolds for those statistics though.
"I don't know if that is as much Darius as it is the effectiveness of our offense and the play calling of our offense and working hard to get him the ball," said Rhoads. "There were a couple of other passes that he would have had opportunities to catch had certain things gone right on those plays."
*** Iowa State's Oct. 29 game at Texas Tech will kickoff at 6 p.m. and be televised on FOX Sports Net.