By Chris Williams, CycloneFanatic.com PublisherFollow Chris on Twitter @ChrisMWilliams
Want some good news in relation to Iowa State's two game losing streak?
The Cyclones are a very coachable football team right now.
"Sometimes it is easier to coach your football team after a loss than it is after a victory because of their intent," said Paul Rhoads in his Monday press conference. "I believe that is true of our football team right now. They see the improvement they are making but they also know that they need to do more things better and more things right if you're going to win in the Big 12 Conference. That's exactly what we have to do."
Iowa State will travel to Missouri (2-3) this Saturday.
Here are more notes from Rhoads' Monday press conference, plus player interviews as well.
JOHNSON LIKELY OUT VS. MIZZOU: Iowa State's offense had to go at it against Baylor without its starting running back last Saturday. Sophomore Shontrelle Johnson suffered a stinger in the Texas game and surprisingly, was still feeling symptoms related to that late last week.
Rhoads said that Johnson will likely be out against Missouri this weekend too.
"He is still undergoing tests on his neck. But he is probably doubtful for Saturday's game," Rhoads said.  "It's a product of a stinger and the type of pain that goes along with a stinger. We're trying to figure out what it is, hence the testing."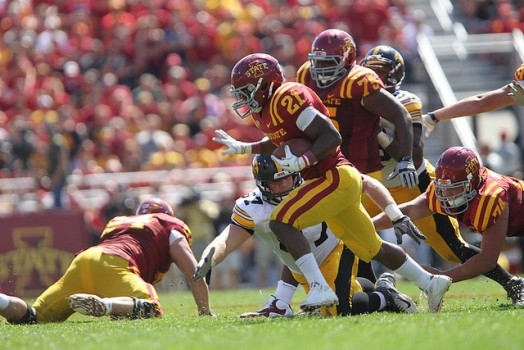 Other than Johnson, Iowa State doesn't have any other notable injuries that might keep somebody out of the Missouri game.
Linebacker Jake Knott dislocated his shoulder twice during the game and was in a sling Monday. Knott assured members that he'd be good for Saturday though. I'll write more about this later int he week.
=== JOTTINGS ===
I've got a bunch of them today…
THE ONSIDE KICK: Iowa State's successful onside kick midway through the fourth quarter of Saturday's loss was negated by an offsides penalty. Problem is, nobody was actually offsides.
"It's not a penalty for the kicker's plant foot to be across the line," said Rhaods. "The offsides penalty was not called on our kicker."
Obviously, Rhoads has to be careful with his words in reference to officiating. But if the penalty can't be called on the kicker, video and photos clearly show that nobody else was breaking a rule.
This Big 12 officiating crew blew the call. There's no other way around it.
KICKING COMPETITION: This is as bad as I've ever seen Iowa State's situation at kicker.
Seniors Grant Mahoney and Zach Guyer are a combined 2-for-6 on field goals this season, while Mahoney missed two PAT's in Saturday night's loss to Baylor.
What's the game plan for this weekend's game against Missouri?
"Mahoney clearly outkicked Zach last week in practice. It was a no-brainer decision for me," said Rhoads. "It is also a no-brainer decision that we'll compete again beginning on Tuesday."
Rhoads added that he'll consider going for it on fourth down instead of kicking field goals in certain circumstances throughout the rest of the season.
FLEA FLICKER: To everybody's surprise, Iowa State began Saturday's game at Baylor with a flea flicker that Darius Reynolds caught for a 43-yard gain. Offensive coordinator Tom Herman actually told the offense that he'd call that play first at the hotel before the game.
"I was kind of surprise that we actually ran it," said Reynolds. "When it comes down to it, you know that you have to make that play. It's a special play that is designed to pick up a lot of yards."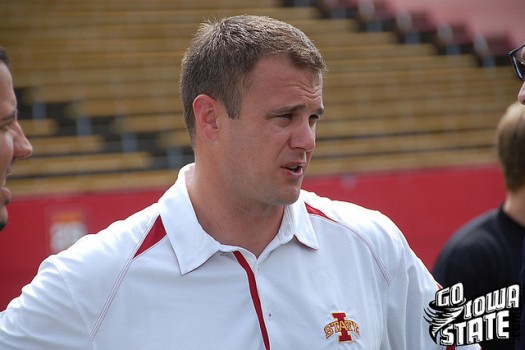 MENTAL ERRORS: Iowa State's defensive line was called for four offsides penalties against the Bears. That got me wondering if quarterback Robert Griffin was doing something different or tricky with his snap count.
According to defensive tackle Jake McDonough, that wasn't the case.
"They would go on two. Sometimes you get so lost in the zone and you slip up. It is a mental error," McDonough said. "It's frustrating when it is third and five and you keep the drive alive. We have to cut back on those penalties and the foolish mistakes. We need to clean is up so we aren't in those situations."
OFFENSIVE LINE REVIEW: Rhoads described the play of Kyle Lichtenberg and Carter Bykowski replacing the injured Brayden Burris at right tackle as "adequate."
"I wouldn't say that they were above average or poor," said Rhoads. "We think the depth in our offensive line is something that is a positive for us. It is shown by the number of snaps that our backups have had to play. I think that they play in a manner that has allowed us to be successful. The more they play, the better they will continue to get."
=== QUOTEABLE ===
Paul Rhoads on Jake Knott's toughness…
"I worry about what he's going to feel like when he's my age."
Darius Reynolds on if Saturday's game is a "must win"…
"Every game is a must win, so yeah."
Paul Rhoads on Saturday's kick time…
"I'm anxiously excited to play a game in the daylight at 1 o'clock."