By Chris Williams, CycloneFanatic.com PublisherFollow Chris on Twitter @ChrisMWilliams
When Paul Rhoads became Iowa State's head football coach after the 2008 season, the Cyclones were one of the worst tackling teams in America.
In Saturday's 41-7 rout of Texas Tech, Iowa State only missed three tackles in the entire game. Three!
I asked linebacker Jake Knott what is normally considered as a good number for missed tackles in a game.
"It is close to like 10 or something. If you get three, that's awesome," said Knott. "That's like what a defensive coordinator dreams of."
After those three missed tackles, Texas Tech only gained 27 yards.
Those numbers of three and 27 were both three year lows during the Paul Rhoads era of Iowa State football. It's especially impressive when you factor in that Texas Tech's entire offensive game plan is to get receivers open in space.
"We were in the right spot. We made the tackles. Finally," said Knott. "We made the tackle right away. That was huge in getting the win."
A NEW CHALLENGE: Rhoads referred to Saturday's win as the most complete game that one of his teams has played since he got to Iowa State.
"Offense, defense and special teams all played at a high level," said Rhoads. "We did that on the road. We did that against a Big 12 opponent. We did that against a Big 12 opponent that was ranked in the nation's top 20."
What's next is a new challenge for the Cyclones, who will actually be a two touchdown favorite when 2-6 Kansas comes to town on Saturday at 11:30 a.m.
"The challenge that we talked about yesterday is now that we've played a complete game, how good can we get in the last four games here of the regular season? I think that our team is excited about that challenge," said Rhoads. "They had fun on Saturday night. They saw the success of a great, week long of preparation. They are excited to see what we can add to that as we push forward."
Tune into the CycloneFanatic.com/Wilson Toyota of Ames Pregame Show on Saturday at 8:30 on Des Moines' Sports Station 1460 KXNO.
CAN'T SLEEP ON KU: The biggest lesson that Rhoads can teach his Cyclones this week is to not do what Texas Tech did last week. Cap off a big road win with a disappointing home loss against a team that you supposed to beat. Iowa State's situation compared to Tech's a week ago are almost identical.
"Everybody knows that we have to get this win," said quarterback Jared Barnett. "We just have to go into the game ready, knowing that they will come out playing us as hard as they can."
Knott chimed in…
"They have played so many good teams. They played Oklahoma tight. They are really solid. Watching their offense, they have a bunch of athletes out there."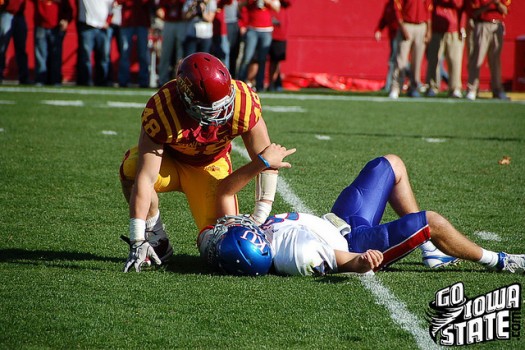 === QUOTEABLE ===
Paul Rhoads on Jared Barnett's leadership abilities…
"I bet if you as mom and dad, they'd tell you that he had those qualities as a leader and showed it organizing hide and seek in the back yard or something of that nature."
Jake Knott on Iowa State winning the time of possession battle on Saturday…
"I feel like I didn't even play in the second half. Our offense was out there for so long. It was ridiculous. When you get that as a defense, it's huge. When you do go back out there you are completely fresh and completely ready to go. That was really big especially for a team like Texas Tech that goes so fast."
=== JOTTINGS ===
*** Running back Shontrelle Johnson is scheduled to have neck surgery at some point during the month of November.
"He saw the doctor on Thursday," said Rhoads. "We are moving forward now trying to set surgery dates. It should take place here in the month of November, right around Thanksgiving break."
*** Quarterback Jared Barnett hails from Garland, Tex., the same hometown of former Cyclones (and brothers) DeAndre Jackson and Devin McDowell. Here's a worthless nugget for you. McDowell's father was Barnett's barber back home.
"I worked out with Devin the summer before I came up here. I was really close to his dad," Barnett said. "I've been close to those guys."
***Steele Jantz only took a few snaps in Saturday's win, but Iowa State's former starting quarterback still impressed his coach.
"I wanted to see how he reacted to that position and make sure he was deeply involved as a team football player and he certainly did nothing to do to disappoint me in that," said Rhoads. "He was ready to go at the end of the half when Jared went down. He was ready to go at the end of the game. He was a little stiff with that foot after warming up and then standing there on the sidelines. He still has not recovered from that. He was limping yesterday while running. We're aggressively working to get him back healthy. We are going to need both of them. I'm pretty sure of that by the time these final four games are done."
*** On Sunday night, Ames Tribune sports editor Bobby La Gesse tweeted that both Duran Hollis and Ethan Tuftee practiced with the team on Sunday.