By Chris Williams, CycloneFanatic.com PublisherFollow Chris on Twitter @ChrisMWilliams
Increased productivity and efficiency on offense appears to be the primary focus for the Iowa State football team this week.
The Cyclones are currently prepping  for a match-up against a surging Texas Tech squad that will go down at 6 p.m. on Saturday in Lubbock, Tex.
As head coach Paul Rhoads announced after Saturday afternoon's 33-17 loss to Texas A&M, redshirt freshman Jared Barnett start his first career game as a Cyclone.
Rhoads confirmed that statement during his press conference on Monday. Steele Jantz's declining play over the last month left him with no choice.
"We've lost four games in a row. We have not played productively as an offensive football team and part of that is your quarterback play," said Rhoads. "Steele has not played at a level that we would see him continuing on as the starter for this team based on especially what Jared did coming off of the bench vs. Texas A&M and Missouri for that part. It is a relatively easy decision for me to see the need for a change and put Jared in that position."
Jantz led Iowa State to a 3-0 start that included a magical 4th quarter against Northern Iowa, a four touchdown performance against Iowa and a gutsy showing on the road at UConn, where he played the entire second half with a foot injury.
That's a foot injury that is still hindering the junior.
"He played on that and I think that his confidence has been taken away from him," said Rhoads. "Combine those two together and no, I'm not surprised with where he is at right now. I'm also confident that as he continues to grow in our program and understand what it takes to be successful at this level, he'll bounce back and be in a position to help us win football games."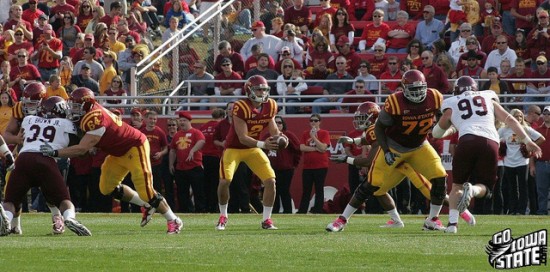 The next man in is Barnett, a rookie who threw for 180 yards and ran for 66 in relief of Jantz on Saturday. Barnett's stats weren't eye-popping, but a zero turnover performance was encouraging to Rhoads.
"He certainly made more good decisions than he did bad decisions over the course of that football game," said Rhoads. "The fact that he is so inexperienced and remained so calm I think is a little bit surprising to myself as well as our staff. He is probably calmer on the outside than he is on the inside and he has admitted to that. With that in mind, he really stepped in against a football team that can be very confusing with their three-man front and zone pressure."
Barnett has earned the start for Saturday's game with Texas Tech, but he realizes that now isn't the time to get complacent. With Jantz still in the mix and a young Sam Richardson currently taking a redshirt year, Barnett realizes that there's plenty of competition within the Iowa State football program at quarterback.
"I have to keep working," said Barnett. "There are guys coming in who are obviously going to be good. I am going to have to maintain the way that I play to keep my position. I have to take it one year at a time and one game at a time."
DROPPED PASSES PROBLEM: Barnett's 16-for-36 day against the Aggies doesn't completely do him justice. As Iowa State fans have gotten accustomed to recently, dropped passes by wide receivers plagued the Cyclones.
"There were not only first downs left out there but there were big plays that were left out there," said Rhoads. "That's their role. Their role is to catch passes and to gain yards. Half of the front row dropped passes on Saturday when you look at the numbers. It wasn't just this guy right here. It was spread out amongst the group. Eyes being taken off the ball, lack of concentration, being worried about a hit. All of those things played into it. All of those things that you can't do at any level to be successful."
=== JOTTINGS ===
*** Remember that before he became Iowa State's head coach, Paul Rhoads worked as Tommy Tuberville's defensive coordinator at Auburn in 2008. Tuberville is currently Texas Tech's head coach.
"He is a great football coach," said Rhoads. "I'm very appreciative of the opportunity that he gave me. He allows his coaches to coach, which I think is a fantastic trait in him."
*** A handful of Cyclones tuned in to watch Texas Tech shock then third ranked Oklahoma on Saturday night.
"I watched that whole game," said linebacker Jake Knott. "It was interesting when they had the lead at halftime. I had to stay up and watch it."
"I watched a little bit of it," running back James White said. "I was really focusing on OU. I wanted to see if they could come back against them."
*** Junior wide receiver Josh Lenz had a career day in Saturday's loss. With Barnett at the helm, Lenz racked up career-highs by catching eight passes and tallying 117 yards.
"Josh is a great route runner. He was able to get open," said Barnett. "He found my eyes and once he did get the ball in his hands, he was able to make the explosive play and make guys miss him, break tackles and stuff like that. He did that himself. He did a great job on Saturday."
*** Iowa State's Nov. 5 game against Kansas will kick off at 11:30 a.m. and be televised on FOX College Sports.