By Chris Williams, CycloneFanatic.com PublisherFollow Chris on Twitter @ChrisMWilliams
Good day Cyclone Nation.
This Monday will be a little bit different than most of them here at CycloneFanatic.com.
Iowa State's weekly press conference will take place on Tuesday this week instead of today.
Tuesday will be a busy one here on the site, as it's also Iowa State women's basketball's version of Media Day. Yes, yes. Hoops season is nearly upon us. That isn't where I'll begin this installment of Monday Musings though.
Let's hit the gridiron.
THOUGHTS ON CYCLONE FOOTBALL…
— How about starting this puppy off with some good news? Iowa State's senior cornerback Leonard Johnson is okay. No. 23 scared the 'blankity blank blank' out of what was left of a sold out Jack Trice Stadium in the fourth quarter of Saturday night's loss to Texas when he went down with an apparent head injury. Johnson was carted off of the field and Trice was as quiet as a statue. I was glad to see Iowa State post THIS STORY on Cyclones.com late Sunday night.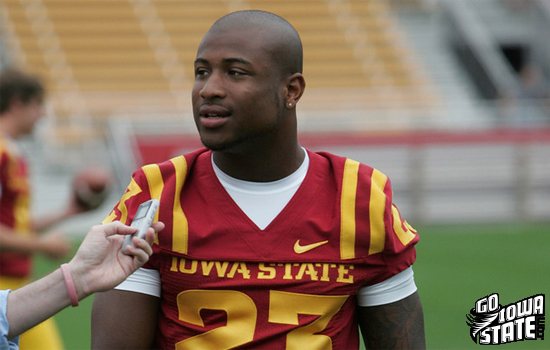 — As far as the rest of the injuries go, I don't have much of an update for you at this time. We'll likely learn a lot more at tomorrow's press conference. I'm worried about Iowa State's offensive line going forward. With Brayden Burris already out and everybody else seemingly dinged up, a team strength has turned into a major concern.
— The Baylor Bears opened as a 14-point favorite over Iowa State for next Saturday's game in Waco.
— It's hard to fault Vegas for that spread. As I speculated in my postgame column Saturday night, Iowa State is now tied at dead last in division one football (with East Carolina and Western Kentucky) in turnover margin at -2.0. The Cyclones are fortunate as heck to be 3-1 right now. The good thing? They ARE 3-1 and in a much better spot heading into the Baylor game than most people thought they'd be in.
— Baylor will enter Saturday's game ranked fifth in total offense and second in pass efficiency.
— As most of you know by now, I'm a big fan of the Minnesota Vikings. The men in purple are a totally opposite football team than Iowa State. The Cyclones can't start a game. The Vikings can't finish one. But again, Iowa State is 3-1. The lowly Vikings are 0-4.
— While I haven't yet gone back to watch Saturday night's game via my DVR yet, I got to experience the Gus Johnson, Charles Davis and Tim Brewster broadcasting trio while taking in Sunday's Vikings/Chiefs game. For three hours, this crew kept me entertained. During that pathetic excuse for a football game, that's saying something. In my opinion, Brewster is a tad bit over the top with his sideline reporting, but Johnson and Davis are two of my all-time favorites. I could watch them broadcast a "Magic The Gathering" tournament and enjoy every second of it.
REALIGNMENT THOUGHTS…
— Sick of this story yet? The very thought of realignment makes me feel the urge to vomit. Don't sleep on this never-ending story now though. It's only starting to get juicy. It looks like it is going to be another eventful week. I wouldn't read too much into those quotes from the TCU official. What are they supposed to say at this point? Listen – Money talks. If the Big 12 wants TCU, the Big 12 will get TCU. The Big East offers TCU more travel, less money and believe it or not, less stability than the Big 12. When it comes to realignment, talk is cheap.
— I noticed that Boise State and the Big 12 chatter picked up some steam over the last week. I've got a few thoughts on this topic.
When talking strictly football, this would be a home run. "Cinderella," in this case the Boise State Broncos, is a national brand now days. Let me pose this question to you all.
Is Boise, Boise if they're in an AQ conference? That football program has been built on being the underdog. If the Broncos are members of the Big 12, that's all over. In fact, I have a hard time believing that Boise wouldn't be perennial favorites to win a new look Big 12 North. Don't get me wrong. It'd be a nice add from a football perspective. The Broncos would still win a lot of football games. But they'd lose that underdog appeal. That's all I'm saying.
Who knows? If/when the Big 12 expands, I hope that it looks east instead of west.
At the end of the day though, I'll just be happy with the Big 12 being around. Add Hawaii if you want. If Iowa State has a home, I'm cool.
— I enjoyed reading this blog entry by ESPN.com's David Ubben earlier today. Basically, Ubben says this.
"Hey Missouri…You're Missouri. WAKE UP!"
— While we're on the topic of potential future Big 12 programs, what in the world happened to TCU's defense? The Horned Frogs gave up 460 yards in a 40-33 overtime loss to rival SMU on Saturday. I realize that June Jones is an offensive genius and all, but that's not a very Gary Patterson like statistic. Even so, is there really a better geographic and athletic addition that the Big 12 can make than TCU? Nope. Having said that, I'd selfishly like to keep to keep the Horned Frogs out of the Big 12. It's just one more Texas school that Iowa State will have to recruit against.
WEEKEND THREE UP
Kickoff return – Through four games, the Cyclones rank second in the Big 12 in kickoff returns, averaging 30.58 yards per return. That number is good enough to rank Iowa State 34th nationally. Courtney Messingham has done one heck of a job with Iowa State's special teams units this season. The Cyclones are also 26th in net punting. Now, if Iowa State could only kick a field goal…
Beavis and Butthead – Yeah. That's right. They're baaaaaaaack. Oct. 27. Mark it down. Be there.
Iowa State Women's Basketball – The Cyclones began practice on Sunday. I love me some hoops season!
WEEKEND THREE DOWN
Mike Sherman – Texas A&M's Atlanta Braves like choke job for the second weekend in a row made me look smart on Saturday. During the CycloneFanatic.com/Wilson Toyota of Ames Pregame Show, I went on a tangent about how the only way that the Aggies will ever have sustained success in the SEC is if they get rid of Mike Sherman as the program's head coach. My four-year old niece is mentally stronger than this Texas A&M football team. Nuff said.
This guy –
Really?
Kansas' defense – I feel sorry for Kansas quarterback Jordan Webb. I don't think he's that bad of a player. Problem is, Kansas' defense can't stop ANYBODY. The Jayhawks gave up 530 yards in a 45-34 loss to Texas Tech on Saturday. Opponents are averaging 545 yards of offense against Kansas on the season. That ranks the Jayhawks 119th in the country in that category. Things won't get any easier for Turner Gill's crew, as Oklahoma State and Oklahoma are next up on the schedule.
MONDAY MUSINGS FURRY FRIEND OF THE WEEK
Per last week's edition of Monday Musings, we're going to start trying to find some animals nice homes going forward here on the blog.
CeCe…Meet the Cyclone Nation.
Cyclone Nation, meet CeCe.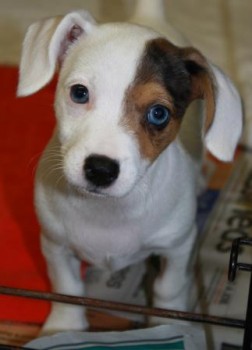 Come on fanatics. You want this puppy. No. You NEED this puppy.
Interested? Contact Furry Friends Refuge by CLICKING HERE.
Let's do two this week.
We're weeks away from Halloween. Why not award one of your kids with the addition of a black kitty to your family?
If I was in the market for a black cat, I'd be all over Ace!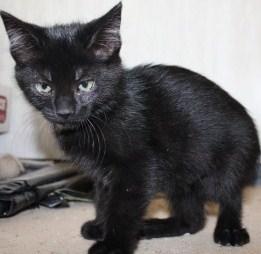 RANDOMS
— In case you missed it last week, former Iowa State basketball coach Larry Eustachy was given a three year contract extension at Southern Miss. Larry led that program to a 22-10 record last year, the best since he became Southern Miss' head coach in 2004.
— My little girl (well, she's actually a dog) Paisley attended her first Iowa State game this weekend. She must be bad luck.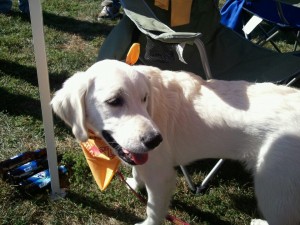 — I was honored when Atlanta Braves great Dale Murphy re-tweeted me last week. Props to @CoachDags for that. Unfortunately, my Braves were a complete and total joke during the month of September. I'm not sure what is worse. Being forced to watch the Braves die a death of one tiny paper cut after another or the many Minnesota Viking choke jobs in NFC Championship games of the past. The Viking games end in three short hours. I had to watch that junk baseball for 30 straight days…