By Chris Williams, CycloneFanatic.com PublisherFollow Chris on Twitter @ChrisMWilliams
Yesterday was way to manic of a Monday to muse.
My bad Cyclone Nation.
I've got plenty of catching up to do today though so here goes…
On Iowa State/Big 12 basketball…
I'll be heading down to Kansas City later this week for Big 12 basketball media day. A few quick thoughts before we move onto football…
— Things just won't be the same this year without my three favorite coaches not named Fred Hoiberg in Tad Boyle (Colorado), Pat Knight (formerly of Texas Tech) and Doc Sadler (Nebraska). I'm not kidding. Those were my three favorite interviews in the league.
— The good news is that I have a new number one guy. That's Oklahoma's Lon Kruger. It isn't a matter of if, but when Kruger will turn Oklahoma's basketball program around. Just look at his track record. Kruger has been the head man at Kansas State, Florida, Illinois and UNLV and turned all four programs around in a rather short period of time. When it comes to rebuilding a hoops program, there aren't many coaches in Kruger's league.
He's a top 10 coach in America in my opinion.
— Speaking of coaching, everywhere a guy looks, Baylor is being picked to win the Big 12. That's everywhere except the Big 12's Preseason Poll. The league's coaches voted Kansas and Texas A&M to be tied at the top, with the Bears coming in third. With all of that talent, how can Baylor be third you ask? Maybe I'm reading into things too much, but it seems to me like the league's coaches don't have a ton of faith in Scott Drew as a coach.
Have you stopped by the new and improved CF Store that's powered by Sigler on Main? CLICK HERE to check it out today.
On FOOTBALL, FOOTBALL, FOOTBALL
— Iowa State's Steve Malchow's blog today was telling. Malchow writes that five of the nation's top 10 offenses in college football hail from the mighty Big 12. CLICK HERE to check it out.
— I think that Jared Barnett starting over Steele Jantz at quarterback for Iowa State on Saturday against Texas A&M is a long shot. Having said that, Barnett really impressed me during one of his first meetings with the media on Monday morning. The redshirt freshman out of Texas was asked some tough questions and handled himself like a crafty veteran.
— I don't think that fans are making a big enough of a deal about sophomore running back Shontrelle Johnson being out for the season due to a neck injury. James White is solid and the Cyclones still have depth in Jeff Woody and Duran Hollis, but the "Rabbit" was Iowa State's number one back heading into the season for a reason. Plus, you never like to hear that somebody is suffering from a neck injury, especially one that will keep him out of the game for an extended period of time. I have no clue what is going on right now with Johnson, but I'm genuinely concerned for his future. Hopefully the football program can give us good news sometime soon.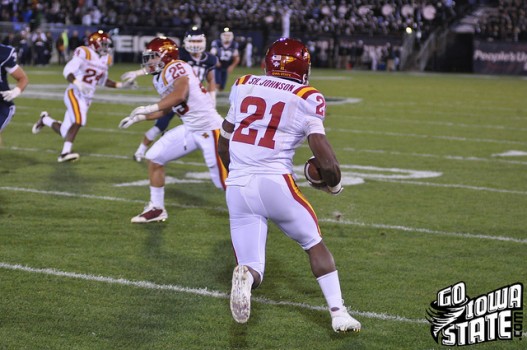 — Texas A&M has some wicked defensive statistics to their name. The Aggies are ranked fifth nationally in rush defense, but DEAD LAST against the pass (keep in mind that A&M's last four games were against Baylor, Texas Tech, Arkansas and Oklahoma State). Texas A&M's 99th ranked total defense is deceiving. The Aggies are averaging 4.33 sacks per game (tops in the country) and 7.33 tackles per loss. That A&M defensive front four is nasty. I fear that whoever Iowa State's quarterback on Saturday is will be constantly running for his life.
— TRAP GAME ALERT.
Oklahoma State @ Missouri. I smell an upset.
— Fearless prediction. Kansas State will beat Kansas on Saturday (that's not the fearless prediction). Then, Bill Snyder's crew will drop four straight to Oklahoma, @ Oklahoma State, Texas A&M and @ Texas before hosting the Cyclones on Dec. 3.
— Did you know? That the Stanford Cardinal are 6-0 against the spread this season. The Cardinal are 20-point favorites over Washington on Saturday. Get this. The Huskies are 5-1 against the spread on the year. They've covered in their last five. Something has to give…
FURRY FRIENDS PET OF THE WEEK
Halloween is just around the corner.
For real. How excited would your kid, wife, husband or whatever be if you brought him/her home a beautiful black cat for the holiday?
Okay. Maybe that wasn't the best way I could pitch this week's Monday Musings' Furry Friend of the Week.
But in all seriousness, we've got a handful of black kitties on board at the Furry Friends Animal Refuge this week.
Fanatics, meet Chance.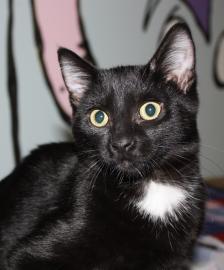 Isn't he a hoot?
More into female kittens?
I introduce you to Julia.
Want to view more adoptable animals? Maybe you're not into actually taking one of these furry friends' home with you but you'd like to donate to a great cause?
CLICK HERE to visit West Des Moines' Furry Friends Animal Refuge's website for more information today.