By Chris Williams, CycloneFanatic.com Publisher
Follow Chris on Twitter @ChrisMWilliams
When: Saturday, Sept. 3 at 6 p.m.
Where: Jack Trice Stadium in Ames
TV: None (Online stream available at Cyclones.com)
Radio: Cyclone Radio Network

REMINDER: To tune into the CycloneFanatic.com/Wilson Toyota of Ames pregame show on 1460 KXNO and KXNO.com from 3-4 on Saturday.
—————————————————————————————————————-
BREAKING DOWN THE CYCLONES
A new era of Cyclone football will begin on Saturday.
This is Steele Jantz's time.
Jantz, a junior who threw for 3,075 yards and 23 touchdowns while rushing for 601 yards and 14 touchdowns last season at City College of San Fransisco has the physical tools.
But he has never played in front of a Big 12 crowd.
Still – Nobody in Ames seems to be too worried about this.
"He is the same guy every day. I think that is a large showcase of what I reiterate about why we think he'll be just fine in that first game and playing under the lights as a division one starting quarterback," said Iowa State head coach Paul Rhoads. "He is the same guy every day. Never too high, never too low. A one play at a time type of guy who learns from his mistakes and rarely repeats mistakes."
Let's just start referring to Steele as "Steady Eddie."
"You go from one level of football to the next and as the competition increases and the level of play increases, there is that unknown factor," said Rhoads. "But he has that personality that everything he has shown to us so far that he'll be unflappable in front of 55 thousand screaming fans, under the lights at the next level of competition."
What to watch for:
*** On Monday, Paul Rhoads said that he was confident that four running backs would see action for Iowa State on Saturday. Will that actually happen? If so, what percentage of carries will each back get? Will they always line up at running back? Will we see these guys in the slot every once in a while?
*** Who kicks for Iowa State? Zach Guyer has been pushing Grant Mahoney all through camp. At this point, it is still unknown as to who Iowa State's starting kicker will be against the Panthers.
*** Who catches the most passes for the Cyclones? The biggest question mark regarding Iowa State's offense lies at the wide receiver position.Darius Reynolds has a broken toe. Josh Lenz and Darius Darks are the other listed starters. How big of a factor will guys like Aaron Horne, Jarvis West, Quenton Bundrage, Albert Gary, Chris Young and Ja'Quarius Daniels be?
*** How will Tom Farniok look in his debut as Iowa State's center?
Those are just a few of the many questions that surround this football team heading to week one.
INJURY REPORT –  Brought to you by the Iowa Clinic
BREAKING DOWN THE PANTHERS
The following Paul Rhoads quote from Monday's press conference should tell you everything that you need to know about the Northern Iowa Panthers.
"They probably have better team speed overall than we do."
Was that coach speak or the truth? After working with Rhoads for two years, he isn't very good at option number one.
Northern Iowa really does have Big 12 speed.
"It is ridiculous, especially their quarterback," said Iowa State defensive tackle Jake McDonough. "He is really athletic. The key for the defensive line is to try to contain him."
That quarterback that McDonough mentioned is senior and preseason All-American Tirrell Rennie, who ran for 15 touchdowns last season, while rushing for 1,291 yards.
Rennie arguably played his worst game of the season last year in Ames. As a junior, Rennie threw two interceptions that Iowa State returned for touchdowns (Jeremy Reeves for 94-yards and A.J. Klein for 25-yards). Jake Knott also picked off a Rennie pass.
In total, the Cyclones forced four Northern Iowa turnovers in the game, which turned out to be the difference. Iowa State won the game 27-0 but only totaled 210 yards in total offense.
The key to an Iowa State victory on Saturday is simple. That's to make Tirrell Rennie as uncomfortable as possible.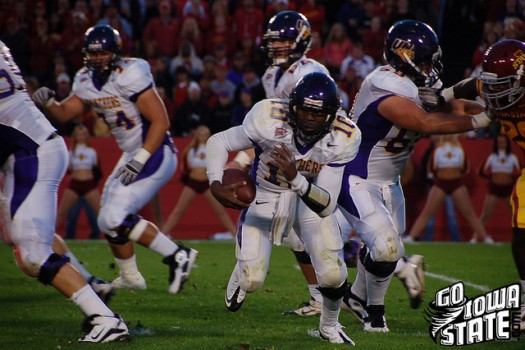 High expectations: The Panthers are being picked by just about everybody to win the Missouri Valley Conference in 2011. Northern Iowa received 29 of 36 first place votes in the league's preseason poll.
On top of that, the Panthers are ranked No. 7 in the preseason FCS Coaches Poll.
Northern Iowa also had seven players who were selected to the All-MVFC prseason team, including quarterback Tirrell Rennie, offensive lineman Jay Teply, defensive lineman Ben Boothby, linebacker L.J. Fort, defensive back J.J. Swain, punter Kyle Bernard and return specialist Carlos Anderson.
=== FCS SUCCESS ===
*** FCS programs like Northern Iowa knock off the big boys all of the time. There is data to prove it. Take last year for instance. Four BCS programs got beat by FCS teams. James Madison topped Virginia Tech, Jacksonville State defeated Mississippi, South Dakota was victorious over Minnesota and North Dakota State ruined Turner Gill's coaching debut in Kansas.
*** Over the last five seasons, an FCS program has beaten a BCS program 13 times.
*** Of course, one of those happened in Ames in 2007, when the Panthers beat Iowa State by a 24-13 final.
=== NOTEBOOK ===
*** Northern Iowa head coach Mark Farley is 1-5 in his career vs. Iowa State. As mentioned above, that victory went down in 2007.
*** Iowa State is 84-31-4 in season-openers. Over the last 10 seasons, the Cyclones have gone 8-2 in openers. Paul Rhoads is 2-0 in season-openers as Iowa State's head coach.
*** Remember the name Will Eilert? Northern Iowa's senior defensive lineman originally committed to Iowa State out of Grinnell.
*** Darius Darks is on the verge of making history at Iowa State. The senior wide receiver currently has 106 career receptions. That's eight shy of cracking Iowa State's top 10 all-time list. Chris Anthony (1997-2000) currently sits at No. 10.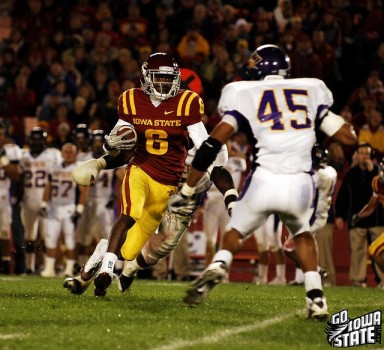 *** Steele Jantz (QB), Tom Farniok (C) and C.J. Morgan (SLB) are all schedule to make their first career starts for Iowa State on Saturday.
=== PREDICTION ===
After a close first half, Iowa State will dominate the second half due to its depth advantage over the FCS Panthers.
Iowa State 31, Northern Iowa 10