By Chris Williams, CycloneFanatic.com PublisherFollow Chris on Twitter @ChrisMWilliams
When: Saturday, Sept. 10 at 11 a.m.
Where: Jack Trice Stadium
TV: FOX Sports Net
Radio: Cyclone Radio Network

REMINDER: To tune into the CycloneFanatic.com/Wilson Toyota of Ames pregame show on 1460 KXNO and KXNO.com from 8-9 on Saturday.
———————————————————————————————————————
Cy-Hawk week is always nutty.
I've never seen anything like this one though. The game itself has played second fiddle to a much larger story. Forget about that for a few minutes.
I come now with good news fanatics.
Throughout the rest of this column, you won't have to read a single thing about conference realignment.
Sound good? Let's break this thing down.
BREAKING DOWN THE CYCLONES
The following quote from Paul Rhoads' Monday press conference speaks volumes.
"I think that we have gotten manhandled at the line of scrimmage both years and if we are going to change the outcome, that's where it is going to start."
Over the last two seasons, the Hawkeyes have outscored the Cyclones 70-10.
If Iowa State's offensive line plays the way that it did in last week's 20-19 win over Northern Iowa, that stat could get even uglier.
What's Iowa State's number one key to victory on Saturday? Improved offensive line play is a good place to start. Good news – Help is on the way.
Two future pros, right guard Hayworth Hicks and left tackle Kelechi Osemele are back. Hicks is coming off of a suspension and Osemele is mostly recovered from an ankle sprain.
"Those are significant guys," said Rhoads. "Kelechi spent a good deal of training camp on a sprained ankle. He tweaked it again. He'll be playing not at 100 percent again this Saturday. Having Hayworth Hicks back in the lineup will be awfully important to our football team. I think he is a great leader on our team."
As for the rest of Iowa State's line, things weren't as bad as they seemed.
"Ethan Tuftee and Tom Farniok will continue to get better and better with each game," said Rhoads. "That was their first time playing at this level. I didn't think that either one of them played terrible but there is always room for improvement. Not only with them, but for everybody else."
What to watch for:
*** Iowa State absolutely must be better on first down this Saturday against the Hawkeyes. Last week, Iowa State averaged 3.8 yards per play on first down. That number itself isn't terrible. But 11 times in the game, the Cyclones failed to gain even a yard on first down.
*** Which Steele Jantz will show up? The one we saw during the first three quarters of the Northern Iowa? Or 4th quarter Jantz?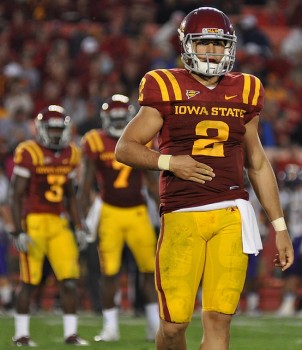 *** What kind of "interim" Cy-Hawk Trophy will the folks at Iowa Corn roll out on Saturday? For all of you wise guys reading, I realize the featured photo of this article is dated. I wanted to kick it old school for the final time.
*** Will Aaron Horne lead the Cyclones in receptions for the second week in a row? After missing week one, what will Darius Darks' roll be in the offense?
*** Against Northern Iowa, Shontrelle Johnson had nine carries for Iowa State, compared to five by James White and four by Jeff Woody. Will that trend continue in week two?
*** CYCLONE NOTEBOOK***
*** Iowa State's junior defensive end Roosevelt Maggitt will miss the rest of the season after tearing his ACL in week one.
*** With his 15 tackles last week, Jake Knott is ranked eighth in America in that category.
*** Kirby Van Der Kamp averaged 51.20 yards per punt last week. That ranks Van Der Kamp fifth in America.
*** Steele Jantz ranks 35th in America in total offense. Iowa State's starting quarterback racked up 267 yards in last week's victory.
*** INJURY REPORT – Brought to you by the Iowa Clinic ***
BREAKING DOWN THE HAWKEYES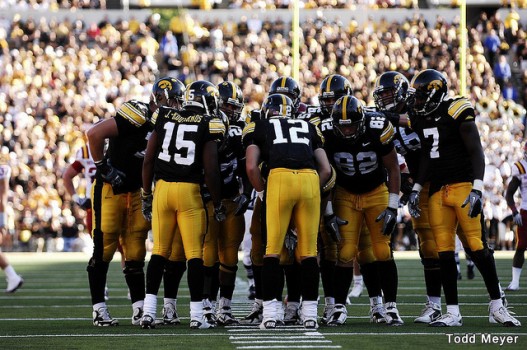 Ricky Stanzi is gone.
As are guys like Adrian Clayborn and Derrell Johnson-Koulianos.
Big deal.
Iowa is going to do what Iowa does.
Kirk Ferentz's Hawkeyes have been doing the same thing for over a decade. There aren't a lot of mysteries when it comes to playing Iowa.
"They are a very sound and smart football team," said Rhoads. "They have had tremendous coaching continuity that lends itself to not making mistakes as a football program. They are led by great coordinators. Kirk's record speaks for itself. They are not going to do things that they're not capable of. They're going to go out there and play their game and execute and play it very well."
All true.
Even so – Learning any specifics about the 2011 Iowa Hawkeyes was a tough thing to do last Saturday.
Iowa pasted lowly Tennessee Tech by a 34-7 final in a rain-soaked Kinnick Stadium.
First-year starting quarterback James Vandenberg was sharp, going 13-of-21 for 219 yards and a touchdown.
"I don't think that they'll have much drop off at the position as the season goes along," said Rhoads in reference to Iowa's play at quarterback.
Receiver Marvin McNutt had a field day, catching six passes for 140 yards and two touchdowns.
Surprisingly, it was on the ground where the Hawkeyes had hiccups. Marcus Coker fumbled on his first two carries of the season.
Freshman running back Mika'll McCall replaced him and averaged nearly seven yards per carry. That's until McCall broke a bone in his leg later on.
Will Coker be over his case of fumblitis by Saturday? Who knows? But it's a good place to start if your Wally Burnham and Iowa State's defense that has ranked in the top 40 nationally in turnover margin in both of the last two seasons.
Coker is a good running back. It's doubtful that he'll fumble the first two times he touches the ball this week. But at the very least, this recent issue is probably in his head after all the attention that has been paid to it over the last week.
——————————————————————————————————————–
It's a cliche', but it's true.
Traditionally, Iowa doesn't rebuild at defensive line.
"They reload at that position," said Rhoads.
"They continue to get good push in the pocket and pressure on the quarterback. You're just never going to have much success running the football against them. They did lose some great players. Are they as good right now? Probably not. But they are a very, very good defensive line."
The matchup of Iowa State's offensive line vs. Iowa's defensive line will be crucial in this one.
PREDICTION
Cyclone fans talk about it all of the time. Check that – Iowans talk about it all of the time.
The Iowa game was "Dan McCarney's Super Bowl."
Beating Iowa five years in a row (1998-2002) helped kick start McCarney's program in Ames. It's a fact.
In two years at the helm, Rhoads hasn't had much success against the Hawks.
Has Iowa State been that bad? Or has Kirk Ferentz finally gotten a handle on "Cy-Hawk week?"
"It's a credit to them," said Rhoads. "I think that last year, I imagine that they graded out pretty well. There weren't many mistakes made by that football team a season ago. Our football team has not performed well in this game. You over prepare coach and put too much into it? No. I wouldn't say that is the case. I think that we have gotten manhandled at the line of scrimmage both years and if we are going to change the outcome, that's where it is going to start."
I think that you'll see a heck of a football game on Saturday. A Cyclone upset wouldn't surprise me at all. But after what I saw in week one, I'm not confident enough to call for it.
THE PICK
Iowa 20, Iowa State 14