By Chris Williams, CycloneFanatic.com PublisherFollow Chris on Twitter @ChrisMWilliams
When: Friday, Sept. 16 at 7 p.m.
Where: Rentschler Field in East Hartford, Conn.
TV: ESPN2
Radio: Cyclone Radio Network
———————————————————————————————————————
BREAKING DOWN THE CYCLONES
— After last weekend's 44-41 triple-overtime win over Iowa, a woman called into "Cyclone Reaction" to tell me that she was changing her kitten's name to "Steele."
After his four touchdown, Hawkeye slaying performance last Saturday, it's safe to say that Cyclone quarterback Steele Jantz will never have to buy a beer in the city of Ames again.
But in life, all good things must come to an end. In football, one game will only get you so far. The key question as we head into week three of Iowa State's 2011 season is a simple one.
Can Houdini keep it up?
"I think that he can. He has shown in two games that he is capable of doing it," said junior wide receiver Josh Lenz. "A lot of it is just natural for him. He is a natural quarterback. He has a knack for making plays when he needs to."
Making plays in clutch situations has been what Jantz is all about during his two games as a Cyclone.
As CycloneFanatic.com's very own Ian Smith said to me in the press box during the third overtime of Saturday's win, "I feel more comfortable with him on third and fourth down than I do first or second."
The following numbers prove Smith's point. Iowa State has converted on 51 percent of its third-down conversions so far this season. For comparison's sake, UConn has been successful 26 percent of the time.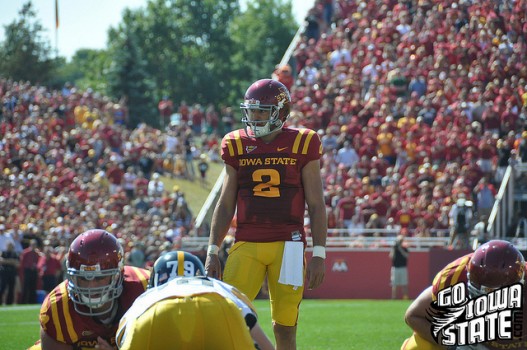 What to watch for?
—  Can Iowa State put more pressure on the opposing team's quarterback? The Cyclones have only recorded one sack in the first two games combined this season, which ranks Iowa State at a tie for 100th nationally.
— Is the kicker position cursed at Iowa State? Grant Mahoney and Zach Guyer combined to go 1-for-3 on field goals against Iowa. Who will kick on Friday night? Will the two continue to split the duties?
— The Cyclones are 2-0, but when you look at turnover numbers, they shouldn't be. Iowa State currently ranks 114th nationally in turnover margin at -2.50 per game. Going on the road Friday night, that line won't cut it. As Whitver it after Saturday's win, this team is 2-0, but they are also two plays away from being 0-2.
— That brings me to my next point. This 2011 team found ways to win its last two games. Iowa State teams of the past would have invented new ways to lose.
*** THE IOWA CLINIC INJURY REPORT ***
*** CYCLONE NOTEBOOK ***
*** Senior wide receiver Darius Darks is on the verge of making some history. The man they call "DD" is five receptions away from cracking Iowa State's all-time top 10 list.
*** Believe it or not, UConn is 3-1 all-time vs. Big 12 teams. The program's first win was in Ames back in 2002. I don't really need to elaborate on that one do I? Thought so. UConn picked up wins over Baylor in 2008 and 2009. UConn's one loss to a Big 12 team was in last year's Fiesta Bowl to Oklahoma, by a 48-20 final.
*** Josh Lenz is currently the Big 12's leading punt returner, averaging 7.0 yards per return. Lenz is notably ranked fourth in the Big 12 in kickoff returns and fifth in all-purpose yards.
*** Iowa State currently ranks sixth nationally in net punting. Sophomore Kirby Van Der Kamp has been outstanding through two games, averaging over 50 yards per punt.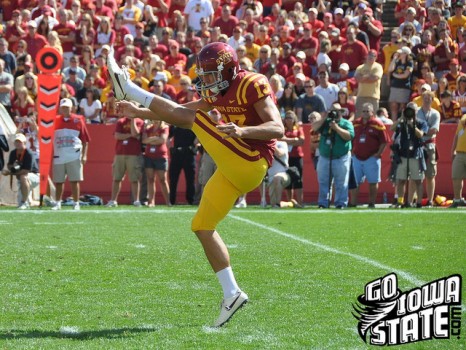 UConn head coach Paul Pasqualoni on the Cyclones…
"Iowa State, from an offensive stand point, their quarterback is really mobile, I am very impressed with their offensive line, I think their left tackle and their right guard could play for anybody in the country. For our defensive line, this will be a real challenge in our opinion. Defensively they are very sound in what they do, their linebackers are very smart. They play a lot of press game and they play a lot of one-on-one coverage out there. They are a very good team, obviously they had a big win against a very tough and physical Iowa team."
BREAKING DOWN THE HUSKIES
— There's an old saying in football that goes not exactly, but something like this.
"If you're playing two quarterbacks, you really don't have one."
Okay…What if you're playing three quarterbacks?
That's what UConn has done in its first two games of 2011 – A win over 35-3 win Fordham and a 24-21 loss at Vanderbilt.
"We're going to go into this with three quarterbacks ready to play," UConn head coach Paul Pasqualoni recently told the Hartford Courant. "They've all played. Each has played in the first two games. We anticipate no change there. And then we'll make decisions based on how we're doing and what kind of production we're having and how the game is going."
Heading into the season, none of UConn's quarterbacks had ever started a collegiate game. Only senior Johnny McEntree had ever played in a game, twice last year. You might know McEntree as the "trick shot" guy from YouTube. He was 8-of-12 for 113 yards vs. Fordham and an ugly 10-of-27 for 99 yards with three interceptions against Vanderbilt.
Behind McEntree, there's redshirt freshman Scott McCummings and true freshman Mike Nebrich.
CLICK HERE for a more in-depth look at the UConn quarterback situation.
Whoever gets the bulk of the snaps against Iowa State on Friday needs to do better. UConn only collected 193 yards of total offense last week against Vanderbilt. To make things worse, the UConn offense didn't score a point in the loss.
— You'll likely hear the name Lyle McCombs quite a bit on Friday night. McCombs, freshman running back, ran for 141 yards and four touchdowns in his collegiate debut against Fordham. That wasn't a fluke, as the rookie ran for 118 yards against Vanderbilt. Behind Mike Ryan, a 6-foot-5, 335-pound first-team All-Big East senior left tackle, UConn's offensive line is formidable. Expect the Huskies to attempt to establish the run early vs. Iowa State.
— UConn likes throwing to its tight end, junior Ryan Griffin. Griffin has seven of UConn's 23 receptions so far this season for 144 yards. Griffin is also responsible for UConn's only passing touchdown.
— This is a defensive led football team. The numbers prove it. UConn ranks 20th or better nationally in five defensive categories including total defense, rush defense, pass efficiency defense, sacks and tackles for a loss. The Huskies are giving up an average of only 214.0 yards per game, which is best in the Big East.
"They are a physical group. They pursue all over the field," said Paul Rhoads. "The reason they are allowing just over 200 yards per game is because everywhere the ball carriers have gone against the first two opponents, they've been there. They are turning the ball over. Having experience going against this team coming from the Big East Conference, they will look as good as any football team that we play."
It all starts up front. UConn's defensive line features a group that has started 93 career games.
"Anytime that you put those kind of numbers on the boards for negative yards, it starts with the guys up front," Rhoads said. "They get off the ball. They penetrate. They get up field and they are making plays right now."
PREDICTION
Vegas opened this game with Iowa State being a 6.5 point underdog. The line is now down to 4.5. America likes the Cyclones in this one and so do I. I've loved Iowa State's chances in this one for months.
UConn isn't the same UConn that won the Big East last season.
Fear of a Hawkeye hangover huh? It's certainly possible, but I wouldn't bank on it. Paul Rhoads, a master motivator, has too much tape to show his team from letdowns of the past, three in the last two seasons to be exact.
A 3-0 record is on the line and oh yeah, the entire country will be watching on ESPN2.
How can the Cyclones not get up for this one?
In a close, defensive dominated game, I'm picking a Cyclone victory and a 3-0 start to 2011.
THE PICK
Iowa State 24, UConn 10