By Chris Williams, CycloneFanatic.com PublisherFollow Chris on Twitter @ChrisMWilliams
News, notes & quotes from Paul Rhoads' weekly press conference…
=== PERSONNEL UPDATES ===
Some quick injury/personnel notes…
— Junior defensive end Roosevelt Maggitt will not play in Saturday's game against Iowa, after suffering a knee injury in Saturday night's 20-19 win over Northern Iowa.
"We don't know what extent the injury is at this point," said Rhoads.
— Rhoads is "hopeful" that defensive tackle Stephen Ruempolhamer, who had knee surgery 10 days ago, will be close to full strength on Saturday. "Dutch" played sparingly in the win over Northern Iowa.
— Offensive tackle Kelechi Osemele "tweaked" a bad ankle early on Saturday night. Rhoads said that Osemele ran well at practice on Sunday evening and will likely play this week against the Hawkeyes.
"He knows that with a little bit of a bum ankle, it will take some grit on his part to play through pain and bend like he has to, to get that executed. Especially against this defensive line."
— Iowa State will have more depth across the board in week two. Darius Darks (WR), Hayworth Hicks (OG)  Cleyon Laing (DT) all missed the season opener for disciplinary reasons. All three players will be back in the lineup against Iowa.
— Due to Roosevelt Maggitt's injury, Stephen Ruempolhamer's knee status and Cleyon Laing coming back from a suspension, Patrick Neal will move back to defensive end on Saturday. Neal was asked to play inside against Northern Iowa, to fill those holes. Neal is listed as Iowa State's starting right defensive end this week, with junior Rony Nelson as his backup.
— Freshman SLB C.J. Morgan will be able to play a full game against Iowa, after being ejected in Saturday's win over Northern Iowa. During his press conference, Rhoads was under the assumption that Morgan would have to miss the first half. That is not the case.
=== GRADING STEELE JANTZ ===
Steele Jantz's numbers from game one won't impress anybody.
The junior went 18-of-40, while throwing three interceptions along the way.
Jantz wasn't exactly Tom Brady.
But after watching the tape, Paul Rhoads was "pleased" with the way his quarterback performed.
"He made some mistakes uncharacteristically that he hasn't made. He rolled outside and threw back against his body to the middle of the field for a bad interception," Rhoads said. "My wife Vikki knows not to do that."
"He hadn't done that in all of training camp. First game jitters. Trying to make a big play when it wasn't there. Those are the big things that he needs to make sure he doesn't do in the future."
"I thought that he was a shining star as far as the offense is concerned. He made big, clutch plays at the end of both halves and certainly when the game was on the line. Certainly when he was tired from a physical standpoint."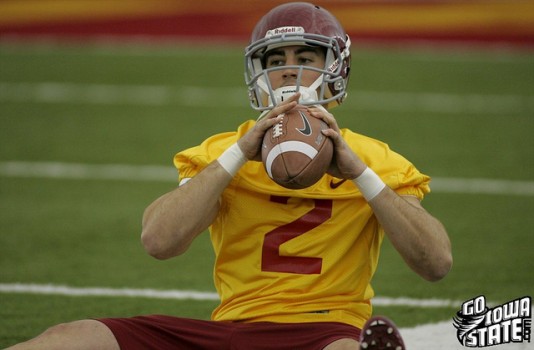 === QUOTES OF THE DAY===
Paul Rhoads on the last two games against Iowa…
"I think that we have gotten manhandled at the line of scrimmage both years and if we are going to change the outcome, that's where it is going to start."
Paul Rhoads on Kelechi Osemele's sprained ankle…
"His ankles are ones that you can't tell if they are swollen or not, they're so big."
Paul Rhoads on the current state of the Big 12 Conference…
"Is there something going on with the Big 12?"
=== JOTTINGS ===
*** The Iowa State coaching staff will have a tough time doing much scouting of Iowa, after the Hawkeyes defeated an undermanned Tennessee Tech team in a soaked Kinnick Stadium on Saturday.
"It certainly affected play," Rhoads said about the rain. "In a game like that that they had where they manhandled their opponent and was always in complete control and had the weather to deal with, you don't get a true picture of what a team is or what a team is capable of."
*** The Cyclones aren't taking their last two uneven losses to the Hawkeyes lightly.
"This is a big game. There are bragging rights. There are recruiting ramifications that go along with it. But maybe more importantly, it is a game that we got whipped in the last two years. Nobody likes to get whipped. We look forward to playing better as a football team ourselves. Bottom line."
*** The interim Cy-Hawk Trophy isn't even Rhoads' radar this week.
"I'd just like to take it home with me. That's all."