By Chris Williams, CycloneFanatic.com PublisherFollow Chris on Twitter @ChrisMWilliams
The Iowa State (3-0) football team had three goals to complete during its first bye week of  the 2011 season.
Rest, rehab and recruit.
"We got all of those things accomplished," head coach Paul Rhoads told the media during his weekly press conference.
Another "R" word can be thrown into the mix as well.
Reflect.
That's what the Cyclones did last week, specifically quarterback Steele Jantz who has looked like a Heisman contender at some points, while appearing to be an inexperienced junior college transfer at others.
"Our coaching staff, our players and certainly Steele included, we able to sit back and take a deep breath last week," said Rhoads. "They learned from what has been accomplished thus far and see a clear picture of what we need to do better moving forward."
Up next is the 17th ranked Texas Longhorns. More notes from Monday's press event are listed below.
PERSONNEL UPDATE
— Kelechi Osemele (OL), Ethan Tuftee (OL) and Stephen Ruempolhamer (DL) all received significant time off last week to recover from lingering injuries. All three big men padded up and practiced with the team on Sunday night and expect to play this weekend.
"We are as healthy as we can be at this point, other than the three ACL's that are out and Shaban Dika (OL), who is out for probably another four or five weeks with his knee injury," said Rhoads.
I specifically spoke to Ruempolhamer, who had knee surgery a week before the Northern Iowa game.
"I had to get my knee right," said "Dutch." "It felt a lot better yesterday."
How close is the defensive tackle from being 100 percent?
"Pretty close."
— There's no need to worry about Jantz's sprained foot. Along with wide receiver Darius Reynolds (toe), Iowa State's bye week came at the perfect time for Jantz, who should play at near 100 percent vs. the Longhorns.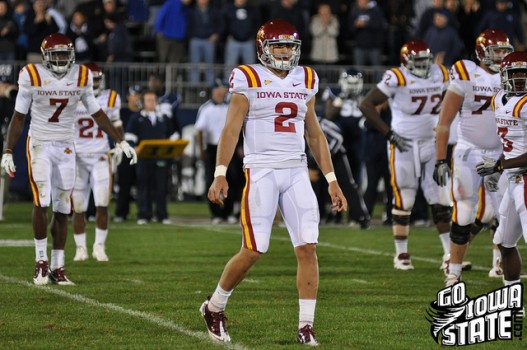 JOTTINGS
— Rhoads began Monday's press conference by delivering some sad news. Fred Bleil, the brother of Iowa State's offensive line coach Bill Bleil, passed away on Sunday evening after battling cancer.
"I got my start under Fred Bleil," said an emotional Rhoads. "I was a graduate a graduate assistant under him and Chuck Shelton at Utah State back in 1989 and 1990. He's a guy who had a very large influence in my coaching career."
— Iowa State has right around 20 scholarship players from the state of Texas on its current roster.
Not a single one of them was offered a scholarship by the Longhorns.
"Does that mean anything from a motivational standpoint and that they'll play off of their feet? No," said Rhoads. "All that goes out the door when that first ball is kicked off. It really comes down to who is going to execute better
for the entire length of the game."
— Last year's 28-21 win in Austin was 2010's trademark victory for Iowa State. What went right on that big day?
"A full 60 minutes by our football team," said Rhoads. "We had just gotten our rear ends kicked for the past two weeks. That was upsetting to us. That was surprising to us. So to go back out after that and play a full 60 minute football game was very pleasing to our program at that point and something to build on."
— Through the first four weeks of the college football season, the Big 12's non-conference record is 27-2.
— Iowa State's game at Baylor on Oct. 8 will kick off at 6 p.m. and be nationally televised on FOX Sports Net.
QUOTEABLE
Steele Jantz on critiquing himself…
"I like to be hard on myself so I think it is impossible to play a perfect game."
Paul Rhoads on WR Josh Lenz…
"I still believe that he could play on either side of the ball."
Paul Rhoads on the big game ahead…
"The neat thing about our football team is that they realize this is the most important football game on the schedule because it is our next game."