By Chris Williams, CycloneFanatic.com PublisherFollow Chris on Twitter @ChrisMWilliams
Tempo.
That was the word that kept coming off out of Paul Rhoads' mouth after Iowa State's mini scrimmage on Wednesday.
Offensive tempo is at a pace that Rhoads hasn't seen during his two previous seasons at Iowa State.
"Offensive success comes a lot of times because of poor defensive alignment," Rhoads said. "If you get the ball snapped before 11 guys get to the line, you've got a chance for success at the start of a play."
"When we got here, there were certain components of our spread offense that were unique. As we've moved on, it is something that we are adding to make it more unique. There are a bunch of spread offenses in our league that do different things. If you were in Norman last year, you saw how fast that they operate. That is a weapon."
To put things simply, the Cyclones are snapping the ball at a quicker pace this year.
" It is impressive to watch them execute it," Rhoads said. "It is fun to watch them get into football shape because of that. It is fun to look at our defense and picture opposing defenses having to scramble a little bit to match that tempo. It's not as fun when it is our own defense trying to get lined up and execute. On these days when it is just playing football, it's not segmented into a schedule, that's the number one thing that I come away with, is impressive tempo."
RHOADS' RECAP
In addition to the comments above regarding offensive tempo, Rhoads had this to say about Wednesday's scrimmage.
"It started off with the defense really playing well. We started goal line and the defense had a really nice start, a physical start. They tackled well and stopped the offense. Then the offense got rolling a little bit when we got into some longer field situations. The defense finished well in two minutes. It was a split practice as far as success goes."
INJURY UPDATES
*** Third-string senior tight end Ricky Howard recently tore his ACL and underwent what Rhoads called a "successful surgery" on Wednesday. Howard still has a redshirt year available so the plan is for him to be eligible for 2012.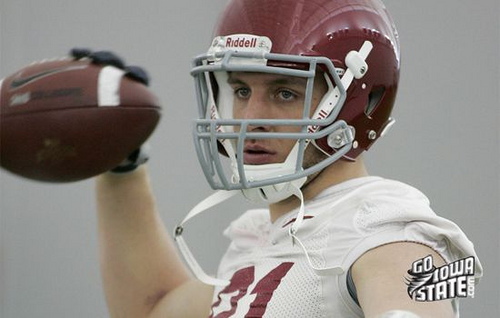 *** Other than that, Iowa State has avoided major setbacks so far in August.
"We have got typical camp ankles, hamstrings, hips but nothing that has got anybody on the shelf beyond probably the end of training camp this weekend."
Rhoads specifically mentioned that offensive tackle Kelechi Osemele has missed a couple days of practice this week due to a "tender ankle."
In addition to Osemele, Rhoads mentioned Jeremy Reeves, Jake Knott, Jake McDonough and Stephen Ruempolhamer as Cyclones who have missed days.
"I could have played any of those guys today," Rhoads said. "I just chose because of my title not to."
A POSITION SWITCH
Iowa State's search to find more depth at defensive tackle has taken yet another twist.
Junior Jon Caspers entered fall camp as the program's second-string right guard. He's now a defensive tackle.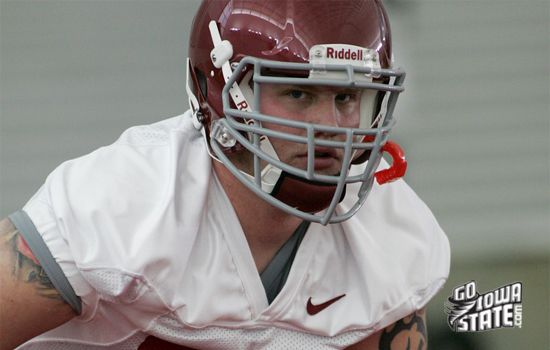 "He's a big body who can run in there," Rhoads said. "You can't have enough depth on the defensive line because of the offenses on our schedule."
A couple of factors led Iowa State's coaching staff to making this decision. The first is that JUCO signee Henry Simon still isn't on campus due to academics.
The second is the lingering knee issue that has traditionally plagued Stephen Ruempolhamer. While it's nothing serious, the staff wants to be prepared if "Dutch" is forced to miss practice from time-to-time during the season. This move is about building more depth.
"I wanted a fifth guy that would be capable," Rhoads said. "We needed to start training him now if that was the case. The offensive line depth is strong enough that we can afford to do that."
Iowa State will scrimmage again on Saturday. That's when Rhoads plans on naming his starting quarterback for Sept. 3's season opener against Northern Iowa.