By Chris Williams, CycloneFanatic.com PublisherFollow Chris on Twitter @ChrisMWilliams
Chalk one up for the offense.
That's according to head coach Paul Rhoads, who spoke with media members after Iowa State's 160 snap scrimmage on Saturday evening in Ames.
"To get through that many snaps at this stage, when everybody is fatigued and come away with no serious injuries, you come away a happy man," Rhoads said. "That's what I am."
The fact that Iowa State's offense looked better than the defense wasn't a surprise. Rhoads said that the defense was down a few men to "tender things, ankles and hamstrings" on Saturday.
"They were a little outmanned to begin with," Rhoads said. "The tempo of this offense favors the offense. At a time when they were down a little bit more, I was making guys stay on the field to try to get into football shape instead of rotating players. I told Tom (Herman) this morning that I expected the offense to play better today. And they did. You come away satisfied with that."
More explosiveness?
*** Ever since spring football began back in April, Rhoads and his coaching staff have been vocal about the offense producing more big plays in 2011. I asked him if he saw any of that in Saturday's scrimmage.
"We did with both the passing game and the running game. I think that we've got very dynamic running backs as I have said multiple times. Shontrelle Johnson had a good day. James White continues to impress in camp. Year round, I don't know if there is a harder worker on our football team than James White. It is starting to show up on the football field. Jeff Woody broke tackles today, as his physical style usually dictates. "Duck" (Duran) Hollis performed well. We hit a big pass in the 2-minute and a couple of others down the field effectively."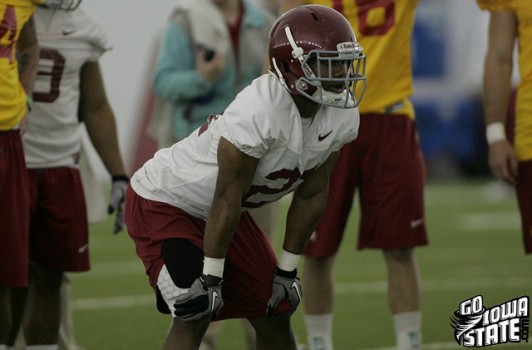 Quarterback update…
*** On media day, Rhoads warned reporters that he would be "very vague" in discussing his quarterback competition throughout training camp. The head coach wasn't kidding. Even so, Rhoads offered up a few nuggets on Saturday.
On Saturday's performance…
"I thought that the quarterbacks threw the ball fairly accurately today and on time. Two important things in this offense."
On the quarterbacks so far in camp…
"I'd say this. We started slow and have really started to progress and improve, which is very encouraging."
Rhoads said that next Saturday, Aug. 20 is still the date where he hopes to name a starting quarterback.
"That's still the target date," Rhoads said. "The thing about today's scrimmage with who performed better, you've got so many fatigued legs out there. There is a little bit short of reality as to where we are at as an offensive and defensive football team. We will scrimmage a little bit more on Wednesday – not like this or next Saturday. By next Saturday, we hope to be a little bit more of a fresher football team than we are right now."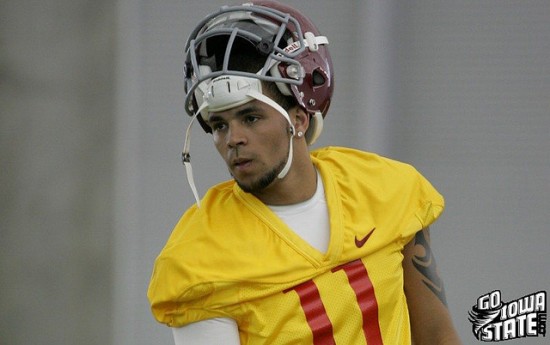 Defensive front four report…
*** I asked Rhoads about what he's seen from his defensive front four thus far in training camp…
"They are getting tired. That's been my observation right now," Rhoads said. "That pleases me because the offense is creating that. It isn't that these guys came into training camp out of shape or didn't work hard this summer. The offense is getting after them. We have rested Steven Ruempolhamer a couple of days so that depletes their numbers a little bit. They are having to take a number of reps"
In addition to Ruempolhamer's absence, junior college transfer Henry Simon still hasn't made it to campus due to academic reasons.
"We counted on him being here in the rotation with practice," Rhoads said. "Brandon Jensen and Walter Woods are running with the twos and are probably not quite ready to run with the twos."
That's up the middle. Rhoads seemed encouraged by the play of his defensive ends so far in camp.
"The defensive ends, I have been impressed," Rhoads said. "They are bringing great speed off the edge. Rony Nelson has showed up. He showed up today. You're looking at five potential ends that we can put on the field."
A kicking comptition
*** This nugget surprised me. According to Rhoads, senior kicker Zach Guyer is making a serious run at taking the starting spot away from three-year starter Grant Mahoney, who converted on only eight of his 17 field goal attempts a season ago.
"I have seen it (consistency) from Zach Guyer, which is very encouraging," Rhoads said. "We talk about the quarterback position and I have emphasized that you want competition at every position to make it better. Zach Guyer in year three is finally pushing Grant Mahoney and at this point, has been more consistent. If I was picking tomorrow, Zach Guyer would be our kicker."
Blanton leaves program
— One quick roster note – Rhoads announced that sophomore wide receiver Keith Blanton has left the program due to personal reasons.
"He has got some personal matters back home, some family issues and he thought that it was important that he got back to the state of Texas and closer to home to handle it."