By Chris Williams, CycloneFanatic.com PublisherFollow Chris on Twitter @ChrisMWilliams
Training camp is upon us. The Cyclone men's basketball team leaves for Italy this week. I've got plenty of things on my mind…Let's roll.
ON ALL THINGS HOOPS…
— I've changed my mind as to what I believe Iowa State's basketball starting lineup will look like next season. This comes after a few conversations I've had since the team began practicing for its big trip to Italy. If I was a betting man, which I'm not of course, I'd now tab the top five like this.
G – Chris Allen
G – Scott Christopherson
G – Chris Babb
F – Melvin Ejim
F – Royce White
— I think that Tyrus McGee is clearly Iowa State's sixth-man in this scenario and a good one at that.
— I know that we've all seen video of Royce White running the point, but I'll be shocked if that happens much during the season.
— It sounds like Iowa State is back into the mix for former Louisville commitment and 2012 prospect Negus Webster-Chan.
ON CYCLONE FOOTBALL…
— I might as well begin with the hot topic, which is Iowa State's quarterback competition. I've got to give some props to the Cyclone coaching staff. Normally, information leaks to me and other members of the media or general public for that matter about pretty much anything. That isn't the case with this quarterback competition. I haven't heard a thing about who, if anybody, is leading the chase. In fact, I believe Paul Rhoads 100 percent when he says that he flat out doesn't know. The next few weeks should be interesting. That's for sure.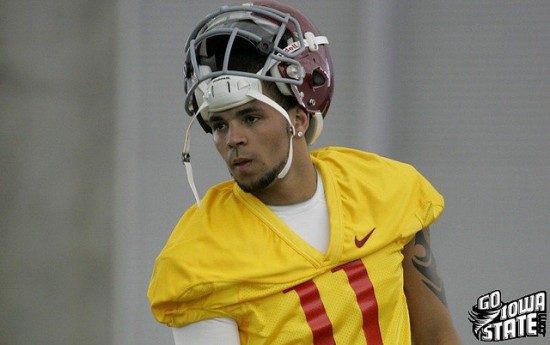 — When I heard about the commitment of Creston, Iowa defensive end Collin Bevins last week, I couldn't help but think about one thing. Bevins, a 2012 prospect, is already 6-foot-5, 230-pounds. Combine that frame with current Iowa State freshman David Irving, who is listed at 6-foot-7, 261-pounds. That's some nice size at the defensive end position. While it is impossible to know how these guys will eventually turn out, there's reason to be optimistic when discussing the future of Iowa State's defensive line.
A MUST READ…
— Do yourself a favor. Take 10 minutes out of your busy day to read the latest blog entry by realignment guru "Frank the Tank." Step by step, Frank spells out exactly why the Big 12 will be together for quite some time.
RANDOMS…
— I spent all day Sunday painting the brand new CycloneFanatic.com home office. What do you think?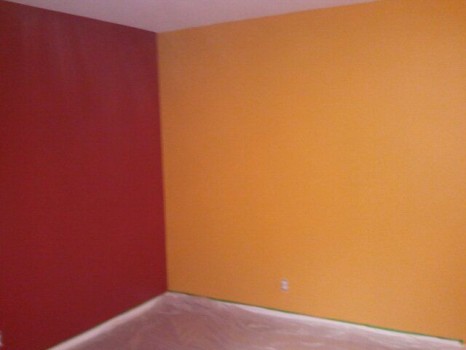 — The strangest thing happened to me at the Altoona Wal-Mart on Sunday. A guy can't even make crap like this up.
I'm walking, a man comes up to me and says, "Those damn hospitals."
I responded with a blank look on my face and nothing more…
The man went on to say, "I got a shot in my butt (he actually said a different three letter word to describe his butt but this is a family site) today. It is numb."
I was dumbfounded. I wished the guy luck with that and moved on.
This is more proof that the Altoona Wal-Mart is one of the most interesting places in the world.
— I'm going to the big Jason Aldean show at the state fair on Friday night. Will any other fanatics be in attendance?