By Chris Williams, CycloneFanatic.com PublisherFollow Chris on Twitter @ChrisMWilliams  
Fred Hoiberg was right…
After Iowa State's 87-71 loss to Kentucky on Saturday night, Hoiberg thanked his team for making Cyclone basketball exciting again.
I had a personal experience on Sunday morning that proved Hoiberg's gratitude was spot on.
I have this friend. He's an Iowa State grad but what I would call a casual Cyclone basketball fan at best. Don't get me wrong. He cheers for the Iowa State. He doesn't support any other school. He's just your ordinary, casual fan and not what I would consider a fanatic like the majority of you who are reading this.
This friend called me up on Sunday morning.
"When Iowa State made that run in the second half, it made me more excited about a basketball game than I have been in years," he said. "I'm getting goosebumps just talking about it."
He went on and on. To hear this guy make these comments proved to me that the passion is back. The magic is back.
It isn't very often when an Iowa State season ends and a slew of complaining isn't going down on our forums. After Saturday's loss, even the most negative posters we have were quiet. In a world where everybody always seems to have something to gripe about, the naysayers were speechless.
Now how about a Fred Hoiberg contract extension? It makes sense to me…
MORE HOOPS MUSINGS…
— I'm not going to dwell too much on Saturday's game today. It's in the past and Iowa State shouldn't have any regrets for the way that it played. I just can't get over the fact that Iowa State went 3-for-22 from 3-point range and still scored 71 points. I'll give credit where it is due. A lot of those were contested 3-point shots and yes, there is a difference. Even so, if Iowa State would have had even a decent shooting night, that game would have come down to the final minutes.
— Here's something to be somewhat concerned about for next year. Iowa State had three players in double-figures on Saturday night. Those men were Royce White, Scott Christopherson and Chris Allen.
We know for a fact that Christopherson and Allen have played their final game an Iowa State uniform. We're up in the air on White. The point is, the only pulse of offense from that game came from guys who might not be back next year. Korie Lucious and Will Clyburn (among others) are on the way. But the Chris Babb's, Tyrus McGee's and Anthony Booker's of the world need to be prepared to step up in 2012-13. I'm pretty confident in what Melvin Ejim and Percy Gibson will bring to the table.
Guys graduated/go pro in college basketball all of the time. This is not an out of the ordinary problem. And also, please do not read into the Royce White discussion. White said it himself after Saturday's loss that he's currently weighing his options. I'm only looking ahead from a hypothetical standpoint.
— Speaking of Will Clyburn, why is he never in the conversation regarding next year's team? Before the season, Fred Hoiberg told me that Clyburn was potentially the top NBA prospect inside of his program…
— Hoiberg and his staff need to get Chris Babb's offensive game back on track. The Penn State transfer was phenomenal on defense this year and nobody can take that away from him. Behind White, there's a good argument that he was Iowa State's most valuable player…
Even so, Babb went 1-for-5 and scored two points in Iowa State's two NCAA Tournament games. Babb went 1-for-6 from the floor in the Big 12 Tournament vs. Texas. In Iowa State's last six games of the season, Babb went 6-for-31 from the field.
I'm not trying to pile on. Again, what Chris Babb did on defense this year was remarkable. But those offensive stats aren't very Chris Babb like. He's a much better offensive player than those numbers would lead you to believe. He can do better and after an offseason to take it all in, I think that he will be better in 2012-13.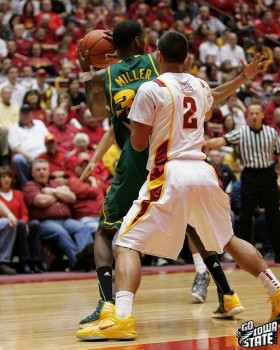 — For the sake of my sanity, it's probably a good thing that basketball season has come to an end. I don't think that my brain can take any more tweets or threads about officiating. Did anybody else that ref hate was at an all-time high this year? Enough already!
— I've written a lot about one of Iowa State's top 2013 recruits, Matt Thomas, over the last year. On Saturday, Thomas led his Onalaska team to a WIAA Division 2 state championship with 30 points. For more details on Matt's big game, CLICK HERE. 
ON ISU WOMEN'S HOOPS…
— Somebody please tell me that the NCAA Tournament selection committee was joking around about Wisconsin-Green Bay… Wait…They weren't?
You're telling me that the nation's 10th ranked team with a record of 30-1 really was a 7-seed? AND, you sent them TO AMES to take on Iowa State?
Things that make you go hmmm….
Is that not the absolute biggest screw job draw in the history of the tournament? Unfortunately, Iowa State took the brunt of Green Bay's frustration on Saturday evening at Hilton Coliseum.
Like the men's team though, the Iowa State women's basketball program shouldn't have any regrets from this season. Combine Coach Fennelly's health problems with a freshman point guard, the lack of a fourth year senior in the program and one of America's most brutal schedules, even reaching the NCAA Tournament was a major accomplishment in my opinion.
I've said this before on our radio show and I'll go this route again. I wasn't around much during the beginning of the Bill Fennelly era at Iowa State, but because of all of those circumstances listed above, I don't remember a better coaching job than what he did this season.
RANDOMS…
— Let's all take a moment to thank the basketball Gods that Kansas beat Purdue last night…I don't know about you all, but I couldn't even begin to imagine a world in which Baylor (is Baylor is Baylor is Baylor) was the Big 12's only representative in the Sweet 16. Props to the Bears though. Those uniforms are siiiiick and they're playing some damn good ball right now.
— If you're one of those Twitter holdouts, you really should reconsider and join everybody else in the year 2012. Twitter made this year's opening weekend of the NCAA Tournament significantly more enjoyable for me. It's like hanging out in a cyber sports bar with millions of folks who are just like you.
— Leading up to this weekend, my No. 1 pet peeve in the world was when people talk about their pet peeves (nails on chalkboard). Something new has surpassed that though…
Can we please get rid of those fancy non-traditional camera angles during NCAA Tournament games CBS? Do you guys/gals know what I'm talking about? Ahhhh. Just the very thought makes me want to scream!
— Spring football begins tomorrow. Like that lame Jock Jams song that the basketball team is introduced to, y'all ready for this?