By Chris Williams, CycloneFanatic.com PublisherFollow Chris on Twitter @ChrisMWilliams  
Chris Williams' Monday Musings are now being brought to you by Adam Gray Insurance – a Nationwide Insurance agent based out of Johnston. Did you just graduate from college? Everybody needs insurance. Why not support a Cyclone Fanatic? Give Adam Gray a call today at 515-299-0536. 

Happy short, Forth of July week Monday Cyclone Nation. How goes it?
I surprisingly have quite a bit on my mind today regarding Iowa State athletics. Also, be sure to check out our front page later today for an announcement regarding the future of our website. I'll start with last Thursday night's NBA Draft…
ON IOWA STATE BASKETBALL…
Did you know that Fred Hoiberg has every NBA GM's cell phone number?
That quote was originally given to win over the media as well as a growingly cynical Iowa State basketball fanbase. Fred is good on his feet as a speaker no doubt – but something tells me those words were carefully pieced together by a public relations professional. If that isn't the case, then damn, Hoiberg better at talking than I thought he was (which shouldn't surprise anybody due to the fact that the man has never really been bad at anything in life).
The words turned out to be true though. We saw glimpses of it two summers ago with Craig Brackins. No, Hoiberg never coached Craig, but Iowa State's head man was instrumental behind the scenes during the pre-draft process.
The Mayor gave it his best go with Diante Garrett. But connections can only get you so far. Having said that, Garrett will be playing summer league ball with the Suns in a few weeks.
Onto Royce White. Heading into last season, I heard multiple times from multiple people that in a best-case scenario for Royce was a two-and-done situation. Obviously, Royce's game said otherwise.
From the start of Big 12 play on, I was hearing that White would likely go pro after his one and only season in Ames. Even so, heading into the NCAA Tournament most "experts" said that he needed another year. Then White blew up in the NCAA Tournament, made some lottery picks look silly at times and was selected 16th (which was higher than pretty much anyone expected) in last week's draft.
Pessimists have asked why Houston would draft a guy with "character issues," an anxiety disorder and no jump shot at No. 16? Two reasons…
1) White's unbelievable skill set at 6-foot-8, 270 pounds and…
2) Those higher ups, most importantly Rockets head coach Kevin McHale, trusted the hell out of "Freddy" Hoiberg.
During a post-draft interview last Thursday, Hoiberg went in-depth with reporters as to how this draft process played out for White, the first of hopefully many Hoiberg-coached first round picks in Ames. Hoiberg admitted that he was a bit relieved that the process was finally over. Hoiberg said that over the course of the last month, he was sometimes spending 3-4 hours on the phone EVERY DAY going to bat for Royce.
But the GM/I'll get you to the pros line was just that – a line right?
At one point – yes it was. At one point, bringing in four transfers at a time was some crazy experiment that was destined to blow up in the face of the rookie coach. Uh huh…
Just like Hoiberg's NCAA Tournament run last season validated his blueprint to winning at Iowa State, White going 16 last Thursday validated the entire "I'll get you to show" recruiting pitch.
Up next? Finding homes for Chris Allen and Scott Christopherson. Those are Hoiberg's words. Not mine.
DTA: I written a little bit about this some but wanted to elaborate today. Royce White's "war room," aka Fred Hoiberg's office, was one intense place to be at about 7:30 last Thursday night. As assistant coach Matt Abdelmassish told me after the draft, there was a point in the night where it appeared that pretty much every team from pick 14 to the end of the first round was potentially going to pass on Royce. That's what they were saying at least…There was a chance that if Houston wouldn't have taken him that Royce could have gone to Memphis at No. 25 but nothing close to a guarantee.
Draft night is a crazy thing. It's all one big game. This guy says this thing. That guy says that thing. It's like the great Stone Cold Steve Austin used to say.
"Don't trust anybody."
None of that matters now though. Royce White is as Abdelmassih put it, playing for an extended member of the family – Fred Hoiberg's family that is. The fit is perfect and for the first time in over a decade, I honestly can't wait for the NBA season to begin.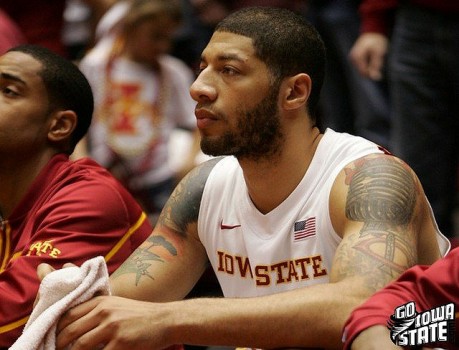 — Iowa State has had two first round NBA Draft picks in three years. Both men chose to hold their draft parties in Ames. That says something about the Iowa State community does it not?
TOP TARGETS COMMITTING: A hoops recruiting nugget for you…
You always like to see a staff hitting on their first targets for any given class. Hoiberg and Co. did that last year with Georges Niang. Hoiberg and Co. have done it again for 2013 with Matt Thomas and Monte Morris.
If these players turn out how I think they'll turn out, that's one heck of a nucleus for the post-transfer era of Iowa State basketball.
— I threw this out on Twitter late last week but I'm hearing that BYU will come to Ames for a non-conference basketball game in 2012-13. My source is also telling me that the Cyclones will then travel to BYU the following season for a return bout. Michigan is already slated to come to town (in a return game) that season, while a power-packed holiday tournament could also be a possibility.
Point is – Iowa State could have one of the toughest schedules in America in 2013-14 with a very inexperienced basketball team.
RANDOMS…
— At this point in my life, I do not have a child. However if I ever do have a son, he will NOT be allowed to sport the trendy Justin Bieber haircut. Ever.
— I took in a fireworks display on Saturday night. I assume that many of you reading this have, or will be doing the same over the next few days. Heck, maybe you're even in charge of one? Here's a simple rule to follow if you have any control over music during a fireworks display:
It is never acceptable to play a Katy Perry song to fireworks, even if the song is called "Firework." Like the Bieber due, that's just not cool.
And that's a good note to end things on today. Stay cool Cyclone Nation.