By Chris Williams, CycloneFanatic.com Publisher
My boss Jason called me on Sunday morning.
"IT'S GAME WEEK," he yelled.
Jason was as excited as me, the the first time I saw George Strait in concert.
Football season is here folks. You want to know how I know this?
Yesterday was a zoo. I'm not talking about that tiny zoo in Des Moines either. I'm talking about a real life jungle here. Crazy. Crazy. Crazy.
That's why your Monday musings, are well, the day-after-Monday musings this week.
Let's roll…
— This looks to be a crazy (or should I say historic?) week ahead of us within the Big 12 Conference. Unfortunately, I doubt that actual games are going to be the cause of this.
I'll stay away from conference realignment in this week's musings. For my thoughts and constant updates on that front, CLICK HERE to visit our running realignment blog that I'll keep adding to throughout the week. Refresh that page often, as things appear to be on the verge of getting very nutty.
ON CYCLONE FOOTBALL…
— True freshmen Quenton Bundrage and Ja'Quarius Daniels will play for Iowa State this season. This story intrigues me.
Is it because the rookies are that good, or that the other wide receivers are well, not so good?
If you've listened to our podcasts or read my blogs throughout the offseason, you know that this has been a giant concern of mine. I just don't trust Iowa State's wide receivers. That doesn't mean that they won't produce in 2011. Paul Rhoads seems to be confident in them. I just need to see it with my own two eyes.
Fool me once, shame on you. Fool me twice, shame on me. Fool me three times? That ain't gonna happen.
Having said all of that, I love the staff's decision to play these guys right away. Options are a beautiful thing.
Both men bring immediate size (Bundrage is 6-foot-1, 176, Daniels is 6-foot-3, 225) to a group of receivers that lacks it. Add to that – Darius Reynolds is already fighting an injury (broken toe), Keith Blanton quit the team and this was a group that didn't have a "sure thing" within it to begin with. Donnie Jennert is ineligible.
If those boys are ready for the big show, by all means, let them play. Talent does a program no good on the sideline.
A first year quarterback needs as many weapons as possible at his disposal.
— Iowa State's latest football commitment, kicker Cole Netten of Ankeny, is one of the neatest kids I have ever interviewed. Netten told me numerous times how much "passion" he has for Iowa State. That's so important. Guys like Netten are who you build programs around. Even if he is "only a kicker," that type of attitude is contagious.
Signed,
Jake Knott
— Put me down as a proud supporter/endorser of the "Corn Belt" to be awarded to the winner of the Iowa State-Iowa football game every season. Not sure what I'm talking about? Check out my boy Andrew Downs' latest blog entry.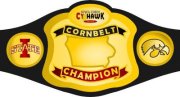 — Games I am most interested in watching this weekend (that don't include the Clones).
5 – SMU @ Texas A&M
4 – Rice @ Texas – How do the new look Horns play?
3 – Boise State vs. Georgia
2 – Oregon vs. LSU – For obvious reasons.
1 – TCU @ Baylor – Upset city? Many are calling for it.
RANDOMS…
— The wife and I wanted to get  away this past weekend, being that football season is just around the corner. We don't get much "together time" from September-April. On Friday night, we went to Council Bluffs to watch Eric Church in concert. I'm two-for-three on concerts this summer. On a scale of 1 to 10, I gave the Big Country Bash a minus-17. Those people should be ashamed of themselves for ripping fans off like that. The Jason Aldean concert at the Iowa State Fair was a 7. This Church show was a 9 ½. Fantastic. I never thought that I'd ever like an artist as much as George Strait. While he's not there yet, Church is gunning for the "King."
— I felt like I was 13-years old on Monday night when Kevin Nash walked out to the ring on WWE's RAW to the old nWo entrance music.
That's it. That's all. Enjoy game week everybody.