By Chris Williams, CycloneFanatic.com PublisherFollow Chris on Twitter @ChrisMWilliams  
Monday Musings are now being brought to you by Adam Gray Insurance – a Nationwide Insurance agent based out of Johnston. Did you just graduate from college? Everybody needs insurance. Why not support a Cyclone Fanatic? Give Adam Gray a call today at 515-299-0536. 

As most of you know, I was on vacation last week.
As all of you know, vacations freaking rule. You eat and drink whatever you want. You wake up when you want. Go to bed when you want. You are relieved from the majority of life's stresses for that time being. Sun, family and fun are your top priorities.
But eventually, we all know that the real world is waiting for you. I'm cool with that. I love my job. I have an amazing wife. I missed my dog. I don't have much to complain about at all. But I didn't really time this year's summer getaway very well. On my first day back, we're eight days away from launching the new and improved Cyclone Fanatic and bam, Big 12 media days are here (the reason I'm not in Dallas is because of the new site by the way – A guy can't be in two places at once).
I knew today wouldn't be busy but sure enough – no less than an hour after firing up my computer this morning, Iowa State announced that running back Shontrelle Johnson is good to go in 2012! That's good news. That's very, very good news.
Guess what fanatics? After month after month of bickering on our forums, as of today, football season is unofficially here.
That's where I'll begin this week's Monday Musings brought to you by Adam Gray Insurance.
ON IOWA STATE FOOTBALL…
— Shontrelle Johnson is the best running back on Iowa State's roster.
My partner in crime here at CF, football analyst Austen Arnaud says it all of the time. I'm pretty sure that running backs coach Ken Pope would agree too. When healthy, the explosiveness factor that Johnson brings to the table cannot be matched by any other player from within Iowa State's very deep group of running backs.
So he's medically good to go. According to doctors, Johnson can do everything in 2012 without risk of re-injury (which is especially important when you're talking about a neck).
And now comes the obvious question.
If you're Paul Rhoads, do you use Johnson's redshirt (remember that he played as a true freshman in 2010) year this season since you are so deep at the position? Maybe you want to give Shontrelle even more time to get his body ready for Big 12 football again.
Or since you know he's you're best guy, do you play Shontrelle in 2012? In my mind, the answer is pretty simple.
Iowa State has ranked 103rd, 97th and 90th in scoring offense over the last three years.
If you know that Shontrelle Johnson is the most explosive offensive player on your roster, you play him. Period.
— Speaking of running backs, it was great to see a guy who is constantly overlooked (see what I just did with the Shontrelle Johnson thoughts?), Iowa State's James White land on the Doak Walker Watch List for 2012. White is known as one of the hardest workers inside of the Iowa State locker room. Regardless of Johnson's role, James White will be an impact guy for Iowa State in 2012. Courtney Messingham will find a way to get him involved. As is also the case with Jeff Woody. You really can't ever have too many solid running backs.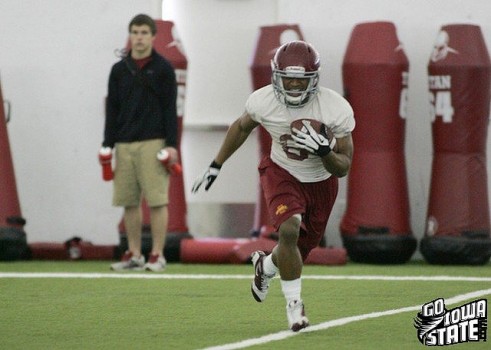 *** Mark August 18 on your calendar for the first annual CYCLONEFANATIC.COM KICKOFF PARTY. Details here. ***
— Iowa State released an updated depth chart on Friday. Some additional football notes…
– As many of you noted in THIS THREAD, I found it interesting that redshirt freshman wide receiver Quenton Bundrage is currently listed as a starter at wide receiver. When it comes to Iowa State desperately needing some playmakers to emerge at that position, this is a good sign. In general, coaches don't just put freshman at No. 1 on a pre-camp depth chart if there isn't an abundance of confidence there. Remember that Rhoads and former coordinator Tom Herman nearly played Bundrage (along with Ja'Quarius Daniels) a season ago as true freshmen. The talent is there.
Note that Bundrage is listed at 6-foot-2, 184 pounds. Daniels pre-fall camp measurements are 6-foot-3, 227 pounds with fellow freshman Tad Ecby at 6-foot, 201 pounds.
– I was not surprised when I saw junior wide receiver Justin Coleman on the depth chart at wide receiver. He reminds me a lot of former Cyclone Jake Williams.
– I've recently heard some very positive things about two true freshmen, those men being wide receiver Dondre Daley and Charlie Rogers at defensive back. Think about Rogers for a minute. He's listed ast 6-foot-1, 193 pounds. When I look at Iowa State's roster of cornerbacks, I currently see only one player listed at 6-foot or taller (Cliff Stokes). If Charlie Rogers can develop the way that the staff believes he can, him being a 3-4 year starter isn't crazy.
— I started working for Cyclone Fanatic in October of 2009. Since then, I've taken two vacations. The first was for my honeymoon in May of 2010. Off the top of my head, Iowa State picked up four commitments (combining football and men's hoops) during that time. Last week while I was gone, Iowa State gained three football commitments. I need to leave town more often.
— Looking to go on a Cyclone road trip this fall? The Cyclone Gridiron Club is hosting a road trip to TCU on Oct. 6. CLICK HERE for all of the details.