By Brent Blum, CycloneFanatic.com ColumnistFollow Brent on Twitter @BrentBlum
The wait is finally over. It has been roughly 287 days since Iowa State's last football game against Missouri. Or enough time for Katy Perry to make about thirteen No. 1 songs that all sound the same.  "Last Friday Night, I was having a Teenage Dream with an Extra Terrestrial about a Firework." (And yes I unfortunately know the lyrics to most of these songs. I'm not proud of this knowledge. She has an ability to infiltrate your mind better than Jason Bourne could ever do.)
It has been an interesting off-season for the Iowa State football program. You knew things were going to take a turn for the bizarre when the most popular topics over the summer involved the "erection" of a new scoreboard, the peculiar Cy-Hawk Trophy and Texas A&M's little man syndrome.
It's become comical how off-the-field events lead to more discussion and controversy than the play on the football field. But then again we live in a world where there are several different TV shows centered around the ex-wives of has-been basketball players, so nothing should surprise us at this point.
Luckily, it will be the play between the lines that matters most for the next four months. (Until Iowa State breaks out the white helmets.)
On Saturday, the pilgrimage to Jack Trice commences. People descend back on Ames from all corners of the Midwest. It's right out of a scene from Field of Dreams:
"This is college football Ray. America has rolled by like an army of steamrollers. It has been erased like a blackboard, rebuilt, and erased again, but football has marked the time. This field, this game, it's a part of our past, Ray. It reminds us of all that once was good and could be again."
Opening night at Jack Trice always has a different vibe to it. The nervous excitement is palpable. Tailgate gear is packed. The iPod playlist is ready. Beverages are on ice.
The Cyclone Family is back together.
In many years past, the season opener has given us a sneak peek into what was to come.
In 1995, Troy burst onto the scene with a then school record 291 yards in a 36-21 victory over Ohio. Little did we know he would rush for over 200 yards EIGHT more times in his next 21 games as a Cyclone. A number that gets more staggering by the year. (For comparison sake, Iowa State hasn't had a ball-carrier go over 200 yards since September 18, 2001 when Ennis Haywood rushed for 219 yards at Ohio. A stretch of 119 games.)
In 1999, there was a quarterback controversy in fall camp between a highly-touted JUCO transfer in Derrick Walker and a little-used fourth year junior named Sage Rosenfels. On the second play of the season opener against Indiana State, Sage executed a boot leg to perfection and scampered 52-yards down the west sideline for a touchdown. Walker was eventually moved to linebacker. Sage is still in the NFL. The Cyclones rolled the Sycamores 33-7.
In 2000, the Cyclones were struggling to put away a scrappy Ohio club. In his first start as a Cyclone, Ennis Haywood busted through the middle of his massive offensive line for a 73-yard touchdown score to put the game out of reach. (Tony Yelk then missed the ensuing PAT in his first kick in Cardinal and Gold. A bit of foreshadowing as well.)  Haywood would go onto lead the Big 12 in rushing in 2000 and 2001.
In 2001, the Cyclones debuted their eclectic, but diminutive junior college quarterback. Nobody knew how good this kid that Oregon State signed to be a cornerback was. By the end of the first quarter, the question marks were answered. Seneca Wallace scrambled for a 27-yard touchdown on his first drive as a Cyclone. He followed that with an option play that he took 60 yards to the house. By the second quarter, Iowa State had a 31-0 lead and Cyclone fans had seen the opening chapter of a memorable two-year career.
In 2004, the Cyclones were coming off a grueling 2-10 season. But there was promise in the program with redshirt freshman stand-outs Bret Meyer and Todd Blythe entering the fray. Both had stellar debuts against Northern Iowa. Meyer threw for the first of 50 career touchdowns and Blythe caught the first of 31 career touchdowns. It also was the first time we witnessed the solid play of the man they called, "Big Daddy Dobbins." Dobbins anchored a Cyclone defense that gave up just 99 yards in a shut-out of UNI. He turned into one of the most underrated Cyclones in history. With Dobbins, the Cyclones finished in the top 35 in total defense in 2004 and 2005. They haven't been in the top 65 since.
What will the opening chapter be on Saturday? Which future Cyclone legend will begin their legacy?
Perhaps it will be Steele Jantz. I can hear John Walters (aka Johnny Jams) now: "Here's Jantz pumping left now rolling right, Jantz on the move…fires deep down the right sideline for Reynolds at the goal-line…and it is CAUGHT! TOUCHDOWN IOWA STATE! AN IRON ROPE BY STEELE!  (…there are too many easy puns for Jantz…have to be careful Walters doesn't turn into Chris Berman…)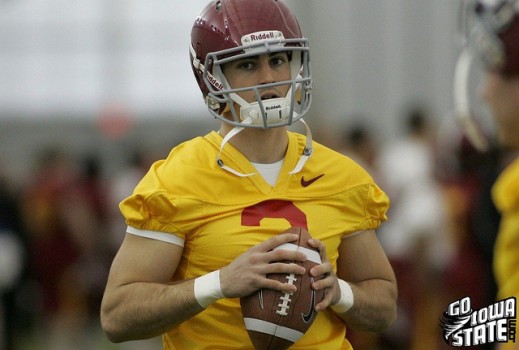 There are so many possibilities. The Cyclones haven't had a touchdown pass of over 50 yards since a Meyer to Blythe connection in 2007. That may change Saturday. In won't be long until we find out.
In mere hours, the sirens will fire. The sound system will rumble. All eyes will be on the scoreboard as Paul Rhoads leads his team down the Jacobson building stairs. All business.
For 12 days during the year, Cyclone football takes center stage. 50,000 plus gather in the place that is a 2nd home for all of us.
For 12 days, we are one.
The anticipation is building. Saturday is almost here. Forget the off-season soap-opera.
The real party is about to begin.
See you at the Jack.