By Brent Blum, CycloneFanatic.com ColumnistFollow Brent on Twitter @BrentBlum
Many national pundits have taken a look at this 2011 Iowa State football team and written them off as merely a speed-bump. It' s hard to blame them. The Cyclones are coming off a 5-7 season a year ago that saw them drop their last three games. A year where they were 99th out of 120 teams in total offense. And 87th in total defense. (The only other BCS schools to finish behind them in both total offense and total defense were Vanderbilt, UCLA, Kansas and Wake Forest. Not exactly the Royal Family of college football.)
Not to mention, the schedule isn't exactly a walk down easy street. If you were to create the schedule Iowa State faces this season on EA Sports' NCAA Football, the computer's artificial intelligence would say you are crazier than that dude who sat on a Tulsa radio tower for six straight days.
It doesn't exactly set up for a season of resounding success. But if you take a closer look, the Cyclones have some qualities that are flying under the radar. Don't write these guys off yet.
To get a grasp on some of the possibilities of the 2011 football season, let's hit the DVR button back to 2006. Prior to the start of that season, Iowa State and Nebraska were the consensus favorites to win the Big 12 North. The Cyclones returned the entirety of their weapons on offense. They had a preseason first team quarterback in Bret Meyer, a first team wide receiver in Todd Blythe, three-year starting running back Stevie Hicks and complimentary pieces in Austin Flynn, Jon Davis, R.J. Sumrall, Milan Moses and Ryan Kock.
On defense, they had two more first team Big 12 selections in Brent Curvey and DeAndre Jackson. It was the first and only time in Iowa State's Big 12 history that the Cyclones had more than two players on the preseason Big 12 first team.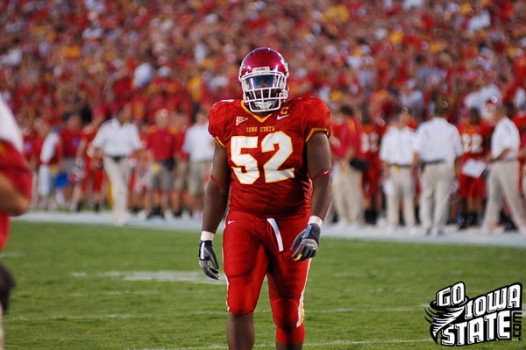 The 2006 squad appeared to have a whole lot of flash, but as we found out they lacked a whole lot of substance.
They were built like a Ponzi scheme. The big names grabbed your attention, but the team was woefully short on depth. It was especially apparent on defense. A few games and key injuries into the season and Iowa State was rolling out inexperience all over the field. It was downright Bad News Bears-like. Chris Brown, Steve Johnson,  Nick Frere, Josh Raven, James Smith, Stephon Dale, and Travis Ferguson were all serviceable players, but it was hard to hide that many under-classmen on one defense.
It was no mystery the Cyclones gave up over 30 points per game that year. Graham Harrell and Todd Reesing treated that defense like one of those also-rans in the TV show Bachelor Pad. Lots of scoring and crying.
The offense had similar issues. Stevie Hicks was riddled with injuries all season long, forcing the likes of Josh Johnson and Jason Scales to carry the burden. The offensive line was also hit with the injury and thus inexperience bug.
An excruciating 4-8 season followed. So did Dan McCarney's job. It was arguably the most painful season in recent memory.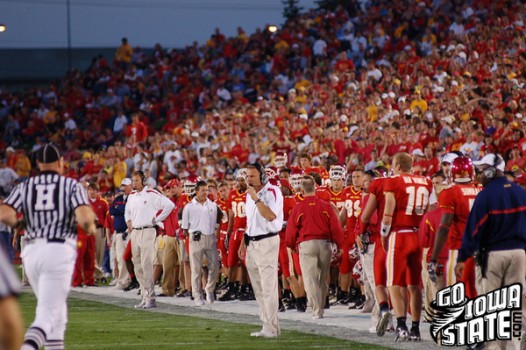 Take a peek at the Cyclones five years later and Paul Rhoads' group is built in a completely different direction.
They are the opposite of sizzle.
Amongst the headlining players are an offensive tackle with a name that Harry Caray would have a ball with, a linebacker from Waukee that Gene Chizik neglected to give a scholarship to, and a defensive tackle who is originally from the Netherlands.
I would venture a guess that nobody outside of the Cyclone Nation could name Iowa State's starting quarterback and running back.
And that's exactly how Iowa State wants it.
Look at the two-deeps and you can see the foundation that Paul Rhoads and his staff are building.
Fifteen different players on the defensive depth chart have starting Big 12 experience. Not just experience. These men have started games.
If the Cyclones can generate any semblance of a pass-rush (they had only 11 sacks last year, good for 115th in the nation), the defense has a chance to be sneaky good.
Under Wally Burnham, the Cyclone defense has been an opportunistic bunch. In the last two years, they have forced 55 turnovers, good enough for third in the conference over that time. In comparison, Kansas has forced a meager 29 turnovers. (Cue a Jay Leno bad joke: Mark Mangino ate that many turnovers in his last trip to the Sizzler…..)
It may have been tough to notice considering Iowa State lost three of their last four games, but the defense held the final four conference opponents to under 400 yards of total offense. That is only the second time in 20 years the defense has had such a streak. The other coming from the salty defense of 2005.
The defense kept getting better throughout the 2010 season.  In the last five games, they gave up a total of 109 points, a marked improvement from the horrendous shellackings at the hands of Utah and Oklahoma, where the Cyclones surrendered an atrocious 120 points in two games.
Throw in a couple fresh faces and an offseason for the returnees to marinate and get stronger and I think we could be in for a surprise from Wally's crew.
The defensive line and safety positions still have some question marks, but Iowa State hasn't had this much talent and returning experience on the defensive side of the ball since that solid '05 squad. (The caveat being Wayne Bolt's defenses in '07 and '08 were about as aesthetically pleasing as a butter sculpture of Lady Gaga. Not tough competition.)
Unlike the '06 squad, the defensive unit is fortified at several positions. A nice change from previous years.
The same can be said for the offense. Yes, there is some nervousness at the greenness at the quarterback position. But the Cyclones aren't rolling out a freshman like they did with Austin Flynn in back in '03. Steele Jantz has been through a battle or two in his time in junior college and everyone has raved about his leadership qualities in fall camp.
But he won't have to do it alone. Iowa State has perhaps their most talented and seasoned offensive line since Ben Bruns, Marcel "The Cell Block" Howard and crew were the preeminent big-uglies in town in the year 2000.
Kelechi Osemele (30 straight starts), Hayworth Hicks (24 straight starts) and Brayden Burris (12 straight starts) provide a solid foundation. Osemele has a good chance of being picked in the first round of next spring's NFL Draft. It would be Iowa State's first opening round selection since 1973, when George Amundson was selected by the Oilers.
And there is some depth on the line as well. Offensive line coach Bill Bleil has given high marks to his back-ups and feels the Cyclone front is a legitimate 9-10 deep. Depth on the offensive line has traditionally been a foreign concept for the Cyclones. Too often after an injury or two, they would be throwing a guy that looks like Gary from Teen Mom on the field (For what it's worth, the Fisher twins–offensive linemen circa '05-'06–have a strong resemblance to Gary from Teen Mom).
Fortunately, depth shouldn't be an issue this season.
Jantz will get the headlines but it will be the 'fellas in the trenches that could be the difference maker. A strong line equates to consistent production.  And that would be a big step for Tom Herman's offensive attack.
Once again nobody is expecting much of the Cyclones. They are an afterthought in the Big 12 Conference. But be prepared. They have a clandestine quality about them to jump some unsuspecting foes. Substance over flash.
If we've learned anything over the past two years it is this:
Underestimate Paul Rhoads at your own peril.