By Chris Williams, CycloneFanatic.com PublisherFollow Chris on Twitter @ChrisMWilliams
It's been a while since I threw a roundup together. There's a lot to get to today so here we go.
Texas A&M trouble?: Are we on the verge of another episode of "Big 12 Armageddon?" Some think that.
I don't believe so. But I do agree with this piece that was written by John Taylor of CollegeFootballTalk.com.
At the very least, the NCAA needs to address the prospect of the UT Network (which is run by ESPN) putting high school football games on the air. Otherwise, stories like this are going to keep popping up. That's a guarantee. If I was an Aggie faithful, I'd be concerned about this as well. I'm actually surprised that Oklahoma hasn't been a little bit more vocal about it too.
From an Iowa State/money perspective, I don't view the story as that big of a deal…Yet. We've all discussed this before here at CycloneFanatic.com. The financial difference between Texas and Iowa State is already astronomical.
On the recruiting front, Iowa State rarely competes with Texas for top-end recruits that this network. Should this all go down, Iowa State and the rest of the conference would be at a disadvantage. But everybody should have known about this scenario a year ago. Why is Texas A&M all of the sudden so fired up?
But the thing is, if you're Iowa State, you need Texas. Without the Horns, you're probably not in a BCS league, which means that you're money situation just went from bad, to really really bad.
Five months from now, I think that we'll all look back and view this story as a hiccup. Even so, the NCAA needs to provide some clarification in a hurray. The network is scheduled to launch in August.
Regardless, this little spat just made next week's Big 12 media days much more interesting.
CycloneFanatic.com will be in Dallas covering the event courtesy of The Iowa Clinic.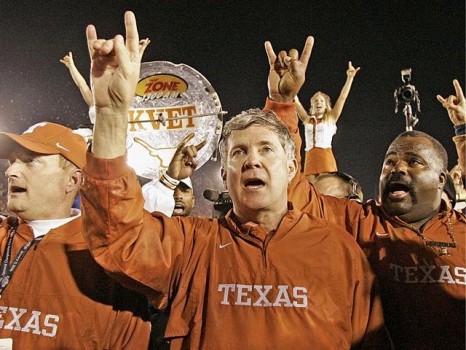 Rohach at Elite 11: Here's what ESPN's Tom Luginbill had to say about 2012 Iowa State football commitment Grant Rohach'sperformance at day one of the prestigious Elite 11 quarterback camp.
He showed real flashes on Monday of being a guy who is going to be accurate, concise and smooth in his methods. He has good feet and showed some anticipation skills, too. You could see he spent some time taking in the surroundings and seeing how he measured up. On Day 2 we expect him to just let it all out.
Italy practice underway: On Monday of this week, the Iowa State men's basketball team began its preparation for the big trip to Italy that will go down in August. Right now, it is fairly hard to follow what's going on at these practices. I've been using the Iowa State men's basketball Facebook page as a guide. I'll be sure to get some interviews before the team leaves on Aug. 9.
Tomorrow on 1460 KXNO: Austen Arnaud and I will broadcast live from the Cyclone Gridiron Club's golf outing tomorrow at the Talons of Tuscany golf course in Ankeny. Tune in from 6-7 as we'll talk Cyclone football and hopefully be joined by head coach Paul Rhoads and others. If you're not in the area, feel free to listen online at KXNO.com. I'll also try to get a podcast from the event to post on CF.
Knott nominated for Good Works team: Chalk up another preseason nomination for Iowa State junior linebacker Jake Knott. Here's a press release from Iowa State.
NORTHBROOK, Ill. – First-team Preseason All-Big 12 linebacker Jake Knott is one of a record 132 nominees chosen for the 2011 Allstate American Football Coaches Association (AFCA) Good Works Team. This is the 20th year Allstate Insurance and the AFCA have given the award, which recognizes selfless contributions made by college football student-athletes across the country.
In order to meet the criteria required by Allstate and the AFCA, each player nominated must be actively involved and committed to a service group or charitable organization while keeping a good academic standing.
"Jake Knott is a well-rounded individual and a true ambassador of our football program," said Iowa State head football coach Paul Rhoads. "He not only accomplishes things on the field, but he takes care of business in the classroom. He serves the university community, the community of Ames and the state of Iowa and does everything in the right way to represent himself, his teammates and his family."
Knott, a junior, has already made the national watch lists of the Bednarik Award (top defender nationally), the Butkus Award (nation's most outstanding linebacker), the Lombardi Award (top college lineman or linebacker) and the Nagurski Trophy (national defensive player of the year).
Knott's community service began in August of 2010, as Ames and other Central Iowa communities suffered from major flooding. Knott and nearly half the Cyclone football team placed 50-pound sand bags around the Jacobson Athletic Building the morning the water began to rise. Knott also helped in moving athletics training equipment and furniture to the second floor, before receiving a call to assist Ames residents with sandbagging their homes.
Knott has serviced a variety of organizations during his Cyclone career. The 20-year-old visited Mary Greeley Hospital to meet patients, worked with the Ames Boys and Girls Club and traveled across Iowa to meet fans on Iowa State's tailgate tour. The Waukee, Iowa native visited his alma mater (Waukee High School) to speak about sportsmanship and promoted literacy by reading to elementary school students in Central Iowa.
Knott has achieved highly in academics. The 6-foot-2-inch, 243-pound Cyclone earned first-team Academic All-Big 12 honors and Big 12 Academic Commissioners Honor Roll recognition for fall of 2010 and fall of 2009.
Knott plays a vital role in Iowa State's defensive game. In his sophomore season he made a team-best 130 tackles, forced four fumbles and snatched four interceptions. The management major's 10.8 tackles per game ranked second in the conference and 12th nationally in NCAA Division I for the 2010 season.
Knott's on-field accomplishments were recognized by his teammates as he was selected co-captain for his junior season and received votes from Big 12 Coaches for 2010 Big 12 Defensive Player of the Year. Off-the-field, being recognized by Allstate and the AFCA is considered the gold standard for character and leadership amongst college football student-athletes.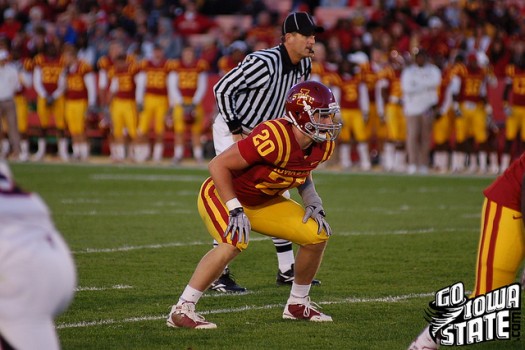 LINKS GALORE
— SLAM Magazine recently listed Tyrus McGee as one of its 15 JUCO's to watch next season. The magazine also lists former Iowa Hawkeye Anthony Hubbard in the article. We all know how that turned out.
— Networks are a big deal right now. Here's the latest on Oklahoma's attempt to create one from the Daily Oklahoman.
— In the same publication, Berry Tramel dives deeper into the issues surrounding a potential Oklahoma Network.
— ESPN.com's David Ubben recently ranked Iowa State's offensive line as the eighth best in the Big 12 for 2011.
— Ubben also recently tallied up all of the preseason watch lists. Iowa State is tied for sixth with Baylor.
— One more link from Ubben. He mentions Jake Knott and Kelechi Osemele in his Big 12 Media Days preview.
— An article from the Missourian regarding voluntary workouts and the Missouri Tigers.
— T.J. Moe says that so far, James Franklin has done a nice job of taking control of Missouri's offense.