By Chris Williams, CycloneFanatic.com PublisherFollow Chris on Twitter @ChrisMWilliams
WATCH LIST: Here were are on the eighth day of May and already, the preseason watch list season has begun. Get ready for a lot of this over the coming months fanatics. Yesterday, Iowa State sent out the following press release regarding all-everything linebackers Jake Knott and A.J. Klein.
AMES, Iowa – Iowa State linebackers Jake Knott and A.J. Klein have been named to the 2012 Lott IMPACT Trophy Watch List. The award is presented annually to the college football Defensive IMPACT Player of the Year. IMPACT is an acronym for Integrity, Maturity, Performance, Academics, Community, and Tenacity. An individual's character and off-the-field excellence are considered along with their play on the field.
A total of 42 of the most accomplished student-athletes have been nominated. The only other schools with two players on the list are Wisconsin, Texas, LSU and Florida State. Iowa State returns the best linebacker duo in the nation in Klein, the 2011 Big 12 Conference co-Defensive Player of the Year and Knott, a 2011 first-team All-Big 12 honoree. Klein was second in the Big 12 with 116 tackles last season and was at his best against the best, posting 14 tackles in Iowa State's win over No. 2 Oklahoma State. Knott was third in the league with 115 stops.
GODFREY: Former Cyclone hoopster Calvin Godfrey will attend LSU next season.
NEW TV DEAL: It's a topic that has hindered the Big 12 Conference since I can remember…It's now a topic that shouldn't be an issue going forward. Not officially that is, but we're getting close. Yesterday afternoon, Dennis Dodd of CBSSports.comreported that the Big 12 Conference had verbally agreed to a television contract worth $200 million annually. That's $20 million per school through the year 2025 for you non-math majors out there.
The best part of Dodd's report is when he writes that the league will also extend its grant of rights from six to 13 years. That means that it will be damn near impossible for a school to leave the conference.
Stability rules. I wrote quite a bit about the state of the Big 12 yesterday in Monday Musings. CLICK HERE to check it out if you haven't already.
— Now that the league has a new commish and the announcement of a new television deal seems imminent, is expansion next for the Big 12?Blair Kerkhoff investigates in this piece from the Kansas City Star. 
COACH RANKINGS: Ninth. That's where Matt Hayes of the Sporting News has Paul Rhoads in his Big 12 coach rankings that were recently published. Here's how the list looks. I'll let you form your own opinions.
1 – Bob Stoops, Oklahoma
2 – Gary Patterson, TCU
3 – Mike Gundy, Oklahoma State
4 – Bill Snyder, Kansas State
5 – Mack Brown, Texas
6 – Charlie Weis, Kansas (wait, what?)
7 – Art Briles, Baylor
8 – Dana Holgorson, West Virginia
9 – Paul Rhoads, Iowa State
10 – Tommy Tuberville, Texas Tech
Ranking that group of coaches isn't an easy thing to do. There are a lot of good ones…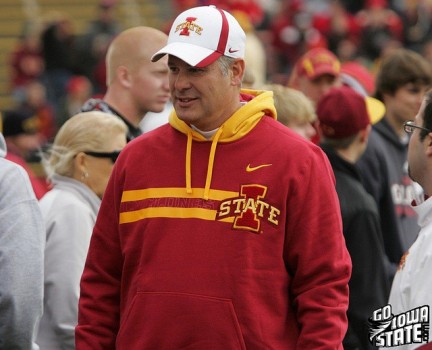 SOME EXTRA READING MATERIAL…
— The new commish is a big fan of the Big 12's round-robin scheduling writes. Berry Tramel — The Oklahoman 
— I found this column written by Mike Casazza on the state of West Virginia's program to be especially entertaining. — The Charleston Daily Mail 
— If you missed it yesterday, John Marinatto resigned as the Big East's commissioner. 
— What's next for the Big East? — USA Today
— Does all of this realignment chatter make your head hurt? Here's a cheat sheet from Stewart Mandel. — Sports Illustrated 
— For the first time since 1999, the Iowa State men's golf team is heading to the postseason. — Cyclones.com
— Former Cyclone Leonard Johnson is already doing good things with the Tampa Bay Bucs. — Tampa Bay Times