By Chris Williams, CycloneFanatic.com Publisher
Follow Chris on Twitter @ChrisMWilliams
It's been over two weeks since I've posted a musings column here at CycloneFanatic.com. Just a heads up – I have a lot on my mind today. Read on if you dare.
Coaches Cookoff
Before I get into a few more newsworthy topics, I wanted to take a minute to invite you all to this Saturday's Gridiron Club Coaches Cookoff at Coldwater Golf Links in Ames. I'm jacked up for this year's event, as John Walters, Austen Arnaud and a professional competitive griller are set to be the judges. Tron Smith and I are going to emcee this thing. For 60 bucks, you get an awesome meal, all the beer you can drink and a night to mingle with the Iowa State football coaching staff. What more could a guy ask for?
CLICK HERE to visit the Cyclone Gridiron Club's website to sign up today.
Leonard will be tested

— Athlon recently seeded Iowa State cornerback Leonard Johnson as a first-team All-Big 12 player. The more I study the Big 12 in 2011, the more I realize how pass dominant this league is going to be. The majority of last year's running backs are gone, while as strong core of quarterbacks and wide receivers are being set up to dominate the conference.
I'm excited to watch Johnson go up against the Justin Blackmon's and Ryan Broyles' of the world. We'll find out in a hurry exactly how far Leonard's game has come over the last four years and if he is a future NFL player or not.
Hopefully Iowa State's big boys up front can at least put a little bit of pressure on Brandon Weeden and Landry Jones in those games to keep the fight fair.
Rhoads = Best Interview
— The Sporting News recently named Paul Rhoads as the Big 12's "best interview." The Sporting News nailed it.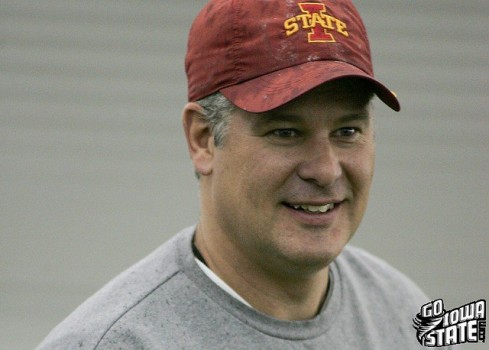 Leaving out Lindy's
— In the past, I've never been a big fan of the Lindy's preseason magazines. However, I think that they have produced the strongest magazine this year. Props.
A prediction
— 2012 Iowa State football commitment, quarterback Grant Rohach will be greatly underrated on a national scale this year. His skills have nothing to do with it either. The fact that Rohach committed to Iowa State in March does though. Have you seen this movie before fanatics?
NBA Finals
— I am a diehard Chicago Bulls fan. When the Mavs beat the Heat on Tuesday night in Game 3 of the NBA Finals, I was cheering as if the Bulls were on the court. Yeah that's right. I'm a Heat hater. And I'm damn proud of it.
What I'm reading…
— I read the first four chapters of Bobby's Bowden's book, "Called to Coach," last night. Say what you want about the guy. Bowden is one of my favorite sports figures of all-time. He's exactly what you want your grandpa to be like. It's weird too because when I read this book, I can hear Bowden's southern accent in my head the whole time. It's pretty cool actually. If you like football and you are a Christian, I highly recommend this book as we lead up to the season.
— This is the first book that I've ever read on a Kindle. I must say, I've been pleasantly surprised so far. In the past, I've always been a guy who liked to hold the actual book in my hand. I'd much rather print out a long article or journal than read it on a computer screen. This has been a pretty awesome experience though. My wife is a HUGE Kindle fan. I am quietly becoming one myself. Props to you Amazon.
Paisley Update
— My wife taught our 11 month old golden retriever Paisley (below) how to shake the human hand yesterday. I've never been more proud. The dog is quickly becoming smarter than I am. What should I have expected though? She is named after one of the top five greatest musicians of all-time. (I'm saving the name "George" for the day we get a chocolate lab).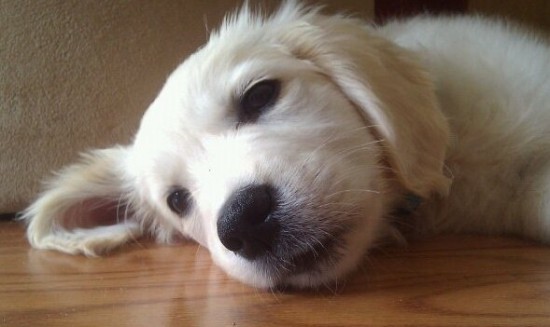 — Naming our dog Paisley has created plenty of reaction from our family and friends. The obvious follow up question we're getting is, "When are you going to have kids?"
Well, I'm barely mature enough to take care of a dog (even that is up for debate). I'm not sure Chris Jr. would be a smart addition to the family quite yet…
I was thinking about this the other day though. What would I name my first born son?
George would be a front runner, but I'm not sure the wife would go for it. I've always been fond of "Cash." I came up with a new one the other day. How about the name "Conway?"
"Hank" will be a strong contender.
Behind every good man, there is a woman rolling her eyes. That's the case right now fanatics.
Can you imagine if I actually named my future son Hank Williams?
Priceless. Carry on.
Underrated Seinfelds
— I happened to stumble onto two VERY underrated episodes of Seinfeld last week. The one where Donna Chang turns out to not be Chinese is priceless. Also, the episode where Elaine dates the communist and converts Kramer (Santa Claus) might be my favorite of all-time. Kramer is fantastic.