By Chris Williams, CycloneFanatic.com PublisherFollow Chris on Twitter @ChrisMWilliams
If you hang out on this site much, you've likely picked up on my infatuation for Chris Babb's superb defensive production throughout the 2012 Big 12 basketball season.
Yet somehow, some way, Babb was left off of the Big 12's All-Defensive Team yesterday. When I first read the news via the Big 12's Twitter feed, I immediately thought that it was some sort of misprint or lame joke. Surely this couldn't be the case. I mean, all season long, Babb consistently held the Big 12's best scorers well below their season averages when going head-to-head with the Cyclones. For a specific look at some of what Babb has done defensively this season, CLICK HERE to read a story that I wrote a couple of weeks ago.
But the news was true. No, Babb didn't make the league's top 15 in steals or blocks but that doesn't mean that he wasn't smothering the opposition on the defensive end of the floor every night for Iowa State.
Babb wasn't honored for his defensive play yesterday but something tells me if you ask J'Covan Brown, Rodney McGruder, Steven Pledger or Marcus Denmon, they might disagree. Who knows though? Maybe I'm just a Cyclone Kool-Aid swilling hack who knows nothing about the sport? Maybe.
It's just a real shame that every member of Iowa State's starting lineup was honored in some way yesterday…Except Babb. That's just not right. In fact, I think that an argument can be made that Babb has been one of Iowa State's two or three most valuable players this season.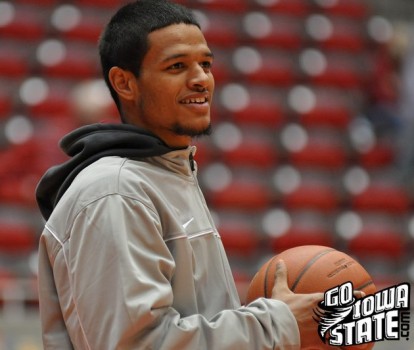 Now, onto some more positive musings in the world of Cyclone basketball…
— I don't think that anybody can make a legitimate argument against Fred Hoiberg being co-coach of the year with Bill Self. Does Missouri's Frank Haith have an argument to be in the conversation? Yes. But so do the other two. Hoiberg took and Iowa State team that was picked to finish eighth in the league and placed third. That's a jump that nobody other than the guys in Iowa State's locker room saw coming. You can say that Haith should have been included, but you can't say that Hoiberg wasn't deserving.
— If you ever pondered how valuable Melvin Ejim is for the Iowa State basketball team, you saw in the first half on Saturday night against Baylor. The Cyclones went into the break down six on the glass and seven on the scoreboard. Ejim only played four minutes in that half. We all saw what happened in the second period…Ejim went 5-for-6 from the field, the rebounding numbers flip-flopped like a modern day politician and Iowa State won by eight.
Ejim's production is comparable to Babb's in my opinion. These two guys don't always drop the largest numbers, but their contributions to the team are priceless.
— Since the Big 12 gave out all of its awards yesterday, here's a CycloneFanatic.com award (the most prestigious of them all you know) for Scott Christopherson. It's for quote of the year and no, I don't need to let the rest of the calendar year play out. No quote will top this. Period.
On kissing the court as he exited Saturday's game…
"Hilton has been good to me. Just like in real life, any time that a girl is good to you, you've got to let her know that you appreciate her. I was just telling her thanks."
Awesome. Just plain awesome.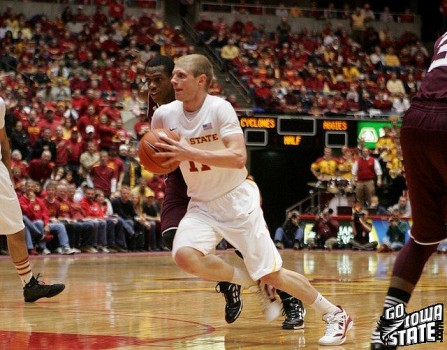 — I didn't think I'd ever seen anybody replace former 1460 KXNO talk show host Matt Perrault for being the most despised man on our message board. That's until the 2012 Cyclone hoops season and CBS Sports bracket guru Jerry Palm came along…
Wowsers. Thanks for the pageviews Mr. Palm! Threads with your name on them have popped up at an alarming rate over the last month.
— I've heard a lot of talk about this over the last couple of weeks so I thought I'd take a moment to provide some clarification on the status of future Cyclone hoopster Naz Long. When Long committed last fall, he was a member of Iowa State's 2011 class so Hoiberg and the rest of the staff was allowed to talk about him. When Long didn't make it to campus for the second semester of this school year, he became a recruitable athlete once again and his paperwork was voided. Long is still committed to Iowa State and will officially be a member of the 2012 class and will sign in the spring. Hence, the staff can no longer talk about him. Make sense?
— I have no problem at all with Iowa State's students storming the court on Saturday. So you were one of those folks who had your nose up in the air? Lighten up. Have some fun. The Cyclones defeated a top 10 team on an emotional Senior Night and Iowa State is going to go dancing for the first time since 2005. Charge away.
— I'm not a big numbers guy. I don't study the RPI. I'm not into the KenPom.com stuff. While those tools are certainly valuable for predicting who may or may not be an NCAA Tournament team, I'm more of an eye-test type of guy. According to my eye-test, Iowa State will not be an 8 or 9 seed in the NCAA Tournament. I'm thinking 6 or 7 with 5 as a long shot. Next week's performance in Kansas City will likely go a long way in deciding Iowa State's NCAA Tournament fate.
— REMINDER: To tune into the CycloneFanatic.com/Wilson Toyota of Ames Big 12 Tournament Preview Show this Tuesday night from 6-7 on 1460 KXNO. Tron Smith, Austen Arnaud and I will broadcast live from Buffalo Wild Wings in Ames and we'll be joined by guests from both the men's and women's basketball programs to get you set for the 2012 Big 12 Tournament.
ON CYCLONE WOMEN'S BASKETBALL…
— I wish that I had a picture to show you all but I don't. Bill Fennelly's suit/tie combo on Saturday at Baylor was ballin'.
— I want to give a special shout out to CycloneFanatic.com's Ian Smith who has once again done a phenomenal job of covering women's basketball this year for the site. I cannot put into words how lucky we all are to have a writer as talented as Ian helping us out. Also, here's another big thanks to our partners at Wilson Toyota for their sponsorship of our coverage. Being that we are a free site, we couldn't do it without them!

— Just a heads up. Ian will have a Big 12 women's tournament preview for you all here in the next day or so. The Cyclones will tip against at 11 a.m. on Thursday. Ian will be basking in the Florida sun later this week, so we'll go to the bullpen and bring Brent Blum along to help me out.
RANDOMS…
— And then there were two.
Yes. That's right Cyclone Nation. We're down to two in "The Bachelor." Don't roll your eyes. You know you watch it….
The only thing that this Ben guy has consistently done throughout this season is prove over and over again how big of an idiot that he actually is.
Kicking off Kacie B. might have been the worst decision in "Bachelor" history. God forbid he actually picks a real human being…Plus, look at that face…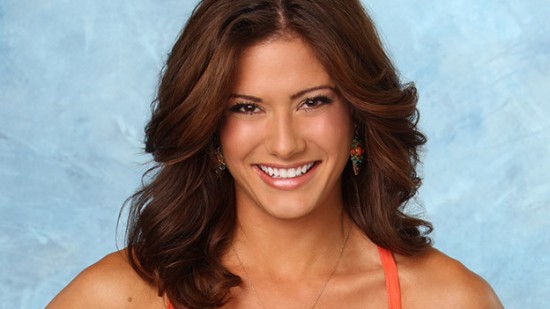 This Courtney gal is a real piece of work (aka. the psycho) in my opinion and Lindzi seems to be a bit of a weirdo. Is she ever not smiling? On that same note, Lindzi does have nice teeth.
Lindzi's big fault for me personally is the fact that she appears to be obsessed with horses. Don't get me wrong. Horses are fine animals, but anybody who has known me a for a long time knows that my greatest fear in life is a horse (I refer to these beasts as the "devil's dog"), which complicates things as one of my biggest passions is country music.
I know…None of this makes any sense.
It's prediction time. He'll go with the least crazy of the two, Lindzi. He has to…Right?
— Speaking of the dating game, I'm happy that I no longer have to do this. My wife Ashley is a veterinarian who is passionate about fixing the major problems that we have today in pet overpopulation. If you or somebody you know is suffering from a financial hardship and need help with spaying or neutering your animals, please download the flyer I've linked before. Dr. Ashley is the best in the business and the team at Furry Friends Community Spay Clinic in West Des Moines can help. Please help spread the word.
— Before Saturday's basketball game, a little birdie told me that football season ticket renewals have been off the charts for Iowa State.
— So the New Orleans Saints formerly had a bounty program? No crap. Anybody who watched their NFC Championship game victory over the Vikings a couple of years ago could have told you that.
Signed,
Brett Favre's ridiculously swollen ankle
I'm out.