By Chris Williams, CycloneFanatic.com Publisher
Let the countdown begin.
We're 93 days away from kicking off the 2011 Iowa State football season and preview magazines are already on newsstands.
Athlon's annual was the first to come out last week. The publication picks Iowa State to go 4-8 (2-7) in the upcoming season.
On Tuesday, CycloneFanatic.com caught up with Athlon editor Steven Lassan to discuss the publication's thoughts on not only the Cyclones, but the entire Big 12 Conference as 2011 is right around the corner.
Follow Steven on Twitter @AthlonSteven
CW: I read in Mitchell Light's Editor's Letter that choosing a No. 1 team in America for the upcoming season had never been so difficult for the Athlon staff. Who did you vote for and ultimately, why did your publication go with Alabama over Oklahoma to win the national championship?
SL: This was easily the toughest debate we've had at No. 1 in my six years at Athlon. The only situation that compares was picking Florida No. 1 in 2008 after a 9-4 season. Alabama and Oklahoma eventually emerged as the top two teams through a lot of discussion, although there was support for Florida State and Oregon. The Florida State-Oklahoma non-conference matchup in mid-September could decide a lot in the national championship picture, especially if the Seminoles win that game and run the table the rest of the way. Boise State received some consideration, but we didn't think they would get past Georgia in the opener.
I think the biggest reason for picking Alabama over Oklahoma was defense. The Sooners can certainly put up points, but we had some concerns about this defense. The interior of the line is a question mark, and cornerback Jamell Fleming may not return to the team. Alabama's defense is arguably the best in the nation and while they are breaking in a new quarterback, the rushing attack and offensive line should be very strong. If Oklahoma's defense has the same question marks at the end of the year, it will have a hard time trying to slow down Alabama running back Trent Richardson.
CW: How exactly does the magazine compile its final rankings? Can you elaborate on the process?
SL: The process to begin ranking teams starts in early January, after the draft deadline has passed and we have a chance to start reviewing some of our notes from the previous season. From January until April, we build packets of information on each team – who each team has back and loses, last year's results, upcoming schedule, recruiting information and a ton of statistics. Once all of that information is compiled, each of the editors begin to sift through that data and develop their own predictions. After everyone has a chance to sort through the information, we gather in a conference room for usually an entire day and debate all of the conferences and the 120. Sometimes we are unable to reach a consensus after a day of voting and will pick it up the next day. Much of the emphasis on picking teams where we do is largely based on looking forward. Although last year is important to the overall health of the team, we place a lot more emphasis on what is returning.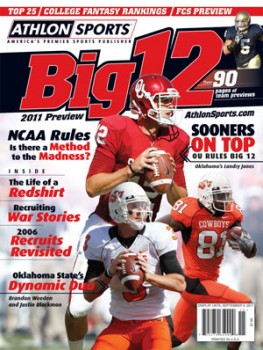 CW: Athlon listed Robert Griffin as its First-Team All-Big 12 quarterback over Landry Jones. Why did you all come to that conclusion?
SL: The Big 12 presented the most difficult debate in terms of all-conference quarterbacks this year. Brandon Weeden is the returning first-team All-Big 12 passer, but loses coordinator Dana Holgorsen. Landry Jones had his share of struggles on the road early in his career, but cut down on his mistakes last year and has a shot to throw for 5,000 yards in 2011. The decision to go with Robert Griffin first-team All-Big 12 was largely due to how important he is to Baylor and how much he has elevated that team in his time there. Take Griffin away from Baylor and the Bears are probably picked in the cellar in the conference. Take Jones away from Oklahoma and the Sooners are probably in good shape to be a top 15 team. Jones may have the best overall numbers this season, but if Griffin leads Baylor to another bowl, it's hard to argue that he is one of the most important players to his team in the nation.
CW: In your mind, is Oklahoma the only national championship threat in the Big 12 or could Texas A&M and/or Oklahoma State potentially sneak into that conversation?
SL: I think Oklahoma is probably the Big 12's only national championship threat. The Sooners have an opportunity for a huge non-conference win early in the year against Florida State (a potential national title contender) and will face likely top 10 foes in Texas A&M and Oklahoma State later in the season. I also think not having a Big 12 title game makes Oklahoma's path to finish No. 1 or No. 2 a little easier.
I'd be surprised if Texas A&M or Oklahoma State got into the conversation, but as we saw last year, Auburn came from outside of the top 20 to win the national title. Both teams should be very good and I would not be surprised if one makes an appearance as an at-large team in one of the BCS bowls. However, I don't think either is on the level of Oklahoma this year.
CW: Was any thought given to listing Jake Knott as a first-team All Big 12 linebacker ? The same goes to Kelechi Osemele on the offensive line (both are second-team selections).
SL: Absolutely. Both players got some heavy discussion to be on the first team, particularly Osemele. The Big 12 has an interesting mix of offensive linemen, with proven names like Dan Hoch and Levy Adcock returning to battle younger players like Luke Joeckel and Gabe Ikard for first team spots. I would not be surprised if Osemele earns first-team All-Big 12 honors at the end of the year, especially when you consider he has 30 straight starts. One thing that could help Osemele's cause is if Shontrelle Johnson breaks out like we think he can.
Knott's battle to get on the first team had more obstacles, as we felt Travis Lewis and Emmanuel Acho were locks for the first team. Deciding between Keenan Robinson and Jake Knott was a tossup, with two very good players vying for one spot.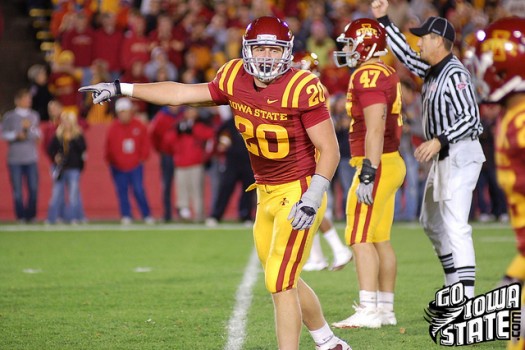 CW: Leonard Johnson is listed as a first-team All Big 12 cornerback? Why so much love for Leonard?
SL: When putting together our All-Big 12 teams for 2011, cornerback was one of the most difficult positions to fill out. Coryell Judie from Texas A&M was easy selection as one of the two corners, but Jamell Fleming's situation at Oklahoma didn't leave many proven options to pick at the second spot. After earning second-team All-Big 12 honors last year, Johnson is one of the conference's top returning defensive backs and when trying to decide which player to slot opposite of Judie, we went with the proven commodity. Although Oklahoma's Demontre Hurst may have more upside, Johnson has been steady and looks to have a good senior year to impress the pro scouts.
CW: A quote from a Big 12 assistant coach that was included in the magazine says that the Cyclones could be better without Austen Arnaud. I found that interesting. How does Athlon view Iowa State's quarterback situation?
SL: The staff was really surprised to see that quote from an opposing Big 12 assistant. Although Arnaud wasn't an All-Big 12 quarterback, he did start for three seasons and led the Cyclones to a bowl game. Although Arnaud may have had his share of struggles, going into a season with an unknown at quarterback is one of the biggest obstacles for any team to overcome.
Jerome Tiller has some experience, but overall we viewed this as a question mark going into 2011. Steele Jantz could certainly provide a spark, but junior college transfers are hit or miss. Until someone steps up and solidifies this role, Iowa State has one of the bottom three quarterback situations in the Big 12.
CW: Iowa State has another brutal schedule in 2011. What has to happen for this team to get to six wins and play in another bowl game?
SL: The one thing that has been shown by the Cyclones over the last two years is that you can never count out this team with Paul Rhoads at coach. Rhoads has this team believing they can consistently get a bowl game and nearly did once again last season. Rhoads has shown he can coach, but that won't be enough in 2011 to get to a bowl. The offense is really the Iowa State's biggest question mark. Either Jerome Tiller or Steele Jantz needs to step up at quarterback and improving the passing attack. We really like Shontrelle Johnson to break out at running back and he should be running behind a solid offensive line. The schedule is definitely tough, which means the Cyclones need to steal a win or two. Games against Kansas and Kansas State are must-win scenarios, while Connecticut and Iowa are winnable. I think four victories is reasonable considering the schedule and offensive question marks, but would not be surprised if Rhoads finds a way to squeeze five in 2011.