By Chris Williams, CycloneFanatic.com PublisherFollow Chris on Twitter @ChrisMWilliams
RECORD DEAL FOR PAC-12: Jackpot! That's what our friends out west are thinking today as the new Pac-12 is about to strike it rich. Numerous media outlets are reporting that the Pac-12 is on the verge of signing a 12-year contract with FOX and ESPN, worth nearly $3 billion. Not too shabby my friends.
CLICK HERE for an ESPN.com blog on the topic.
CLICK HERE for a New York Times report.
While this news doesn't directly impact Iowa State or the Big 12, it will in the future.
Here's a quick comparison to the Big 12's new deal, where the league is set to make $1.7 billion over 13 years, while the Pac-12 will get $2.7 billion over 12.
Yes, as of now, the west has won.
But as college football's legendary commentator Lee Corso would say, "not so fast my friend."
Remember that the Big 12's new deal only included the conference's second tier rights. First tier rights will be up for bids in 2015, meaning that by then, there's a good chance that the Big 12 will leap past the Pac-12 from a total television revenue standpoint.
To wrap things up, the Big 12 was cheering for the Pac-12 to fire off a large number. This is a good thing.
Get it?
SCOREBOARD WORK: Speaking of money, Iowa State didn't waste any time when it comes to putting up that new $5 million scoreboard at Jack Trice Stadium. The university released a photo gallery of the updated work earlier today, which you can view by CLICKING HERE.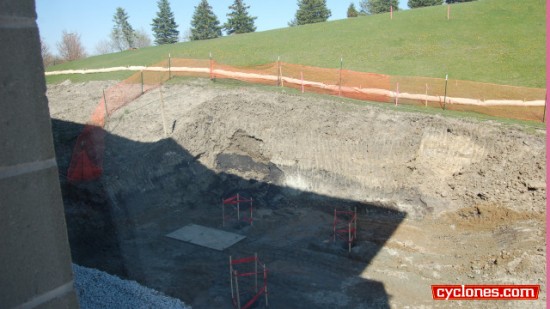 QUARTERBACK COMPETITION IN MANHATTAN: Iowa State isn't alone. Kansas State coach Bill Snyder has a quarterback competition emerging after last Saturday's Wildcat spring game.
The front runner right now is Collin Klein, who went 25-of-37 for 358 yards and five touchdowns in the scrimmage. Klein went 11-for-18, 138 yards and a touchdown last season.
Then, there's senior Sammuel Lamar, who went 17-of-32 for 173 yards.
The darkhorse? Iowa State fans should understand this. It is JUCO transfer Justin Tuggle, who began his career at Boston College, before transferring to Blinn C.C. Sound familiar? It should. Tuggle was Heisman Trophy winner Cam Newton's successor at Blinn last season.
For more on this story, CLICK HERE to read a piece written by Cole Manbeck of the Manhattan Mercury.
TYRUS MCGEE: Future Cyclone men's basketball player Tyrus McGee was ranked as the 15th best JUCO prospect in America yesterday, according to www.jucorecruiting.com. McGee, a 6-foot-2, 185-pound guard out of Cowley County C.C., chose Iowa State over the likes of Wichita State, Creighton, TCU and Colorado. Rumblings indicate that Oklahoma State was also seriously recruiting McGee.
I anticipate McGee to be a potential starter as soon as next season in Ames.
LINKS GALORE
– Here is part two of Ian Smith's exclusive CycloneFanatic.com sit down interview with Iowa State women's basketball coach Bill Fennelly. In this installment, Smith asks Fennelly about next year's team, the Wisconsin rumors, the St. Louis Cardinals and more.
– According to the Ames Tribune, former Iowa State men's basketball player John Lamb was arrested last night.
– The nationally ranked Iowa State women's golf team has a big weekend ahead of them. Rick Brown from the Des Moines Register reports.
– Former Colorado football coach Dan Hawkins recently sat down with Tom Dienhart of Rivals.com. I realize that many of you likely don't care about Colorado anymore, but this is a good read. The "Hawk" comments not only on his time in Boulder, but the future of the Big 12 as a 10-team league too.
– Two BCS dark-horse BCS contenders in 2011 according to Mark Schlabach? Oklahoma State and Texas A&M.
– ESPN.com Big 12 blogger David Ubben investigates the Big 12's NFL Draft snubs.
– Remember former Missouri basketball player Kareem Rush? The dude has some pipes. Check it out.
– A summary of Kansas State's spring game from the Kansas City Star.
– How exactly do some of college football's top coaches "change the culture" at a program? Rivals.com's David Fox reports.