By Chris Williams, CycloneFanatic.com Publisher Follow Chris on Twitter @ChrisMWilliams
Forgive me fanatics. This isn't going to be a massive roundup but I wanted to get some links put together for you all on what I hope is a safe, relaxing Memorial Day weekend for you all.
Surprisingly, there have been quite a few Iowa State blurbs pop up nationally over the past few days. Here is a recap.
PRESEASON MAGAZINES/THE CYCLONES: I bit the bullet and bought three preseason college football magazines on Friday afternoon. In the past, I've written reviews of them for all to read. I'll likely do the same this year. Here is a quick recap on how these publications have Iowa State doing in 2011.
Lindy's: 5-7, ranked 73rd in the nation and ninth in the Big 12
Athlon: 4-8, ranked 63rd and eighth in the Big 12
Sporting News: Ninth in the Big 12
WRONG DIRECTION?: ESPN.com's college football guru, Mark Schlabach recently ranked every single BCS college football team on the following scale.
5: Consistent winner with potential to be BCS bowl contender every season 4: Potential to join the sport's elite in the near future 3: Recent mediocre results but seems to be building momentum 2: Recent success but seems to be headed in wrong direction 1: Below-average program with little success in past or future
Schlabach gave Iowa State a 2. I'm going to write more about this next week but this is a pretty good read. I don't blame Schlabach for giving Iowa State that ranking but I don't agree with the language that comes after the number. To say that this football program is heading in the wrong direction couldn't be more false. When it comes to recruiting, facilities, money, etc., Rhoads and his staff clearly have things moving in a positive direction. Again, I plan to elaborate on this next week.
MCKNIGHT HEADING HOME: CLICK HERE for a fine piece of reporting by Sean Keeler from the Des Moines Register. Iowa State football's strength and conditioning coach Yancy McKnight is from Joplin, Mo., where one of the most devastating tornadoes in American history ripped through town less than a week ago. McKnight will do what he can to help this weekend. Read the Keeler report for full details.
THREE CYCLONES/TOP NEWCOMERS: Jason King from Yahoorecently published his "Top newcomers in the Big 12" piece, looking ahead to the 2011-12 college basketball season. Chris Allen, Royce White and Tyrus McGee are all mentioned in the column. It is good to see McGee get some recognition. The transfers will grab most of the preseason headlines for Iowa State, but McGee is legit and will have just as big of an impact on this team.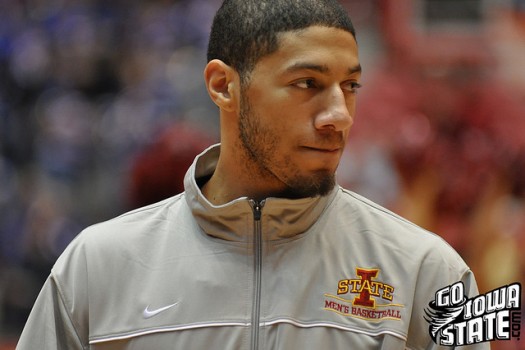 AN INTRIGUING ROSTER: Will Iowa State make next year's NCAA Tournament? Who knows. It is too early to tell. We do know one thing though here in the end of May.
This team will be "interesting." That's the case according to Jeff Borzello of CBSSports.com. Here's his quick preview of Iowa State from his Big 12 "Conference Catch-up."
Might be the most interesting team in the league – five transfers are eligible. The talent is there.
Borzello also refers to Iowa State as "transfer central" in the piece. Get used to it, if you're not already.