By Ian Smith, CycloneFanatic.com Contributor
Follow Ian Smith on Twitter: @IanWSmith3
This is part two of Ian Smith's exclusive interview with Iowa State women's basketball coach Bill Fennelly. In this installment, Fennelly talks about Iowa State's 2011-12 team, Julie Vanloo and a little Cardinals and Cubs.
To read part one CLICK HERE.
IS: Obviously, you guys lost Kelsey Bolte. What does this team have to do to pick up where she left off?
BF: Every year you lose players, that's part of college sports. I don't know in my time if we've faced a bigger loss than Kelsey Bolte for a couple of reasons. Number one, she was by far our most dynamic scorer. We might be the only team in the country who doesn't return a double-digit scorer, so that's an issue. And number two, I don't know who the leader of the team is. So you lose the on-court best player and what happens off the court. We have some things to do – some things to worry about. That's odd to say when we only had 10 players and nine of them are back.
We have to score the ball better. Our guard play has got to get better, whether it's the new players or the returning players. We have to stop turning the ball over in the post. And we have to develop some people. We don't have anyone on our team that can score 16 points a game like Kelsey did. But we can get two from you, three from you, four from you. This offseason is going to be huge for some people. That's the thing as a coach you worry about because our last individual workout was April 21st. The next time I get to see them and do something is August 22nd. So they're on their own for four months. They know what they need to do, they know what they need to work on. The line every coach in the country uses is, "Players are made in the offseason and teams are made during the season." We are going to find out over the next four months who wants to be a player.
I think all of our incoming freshman can play and contribute. I hope they all come in expecting to play and fight for playing time. For a team that lost one player, we probably have a few more question marks then most people think.
IS: Every year it seems like we're asking how are you going replace Allison Lacey or Lyndsey Medders or whoever? This year it's Bolte.
BF: Every year I tell people, the teams we've had that have found a way to win have had a surprise. The surprise might be your best player becoming a great player like Bolte. The surprise might be someone who was a role player last year that becomes a starter. It could be brand new face.
We know what our limitations are, it's no secret. You look at our field goal percentage, our turnover margin, our scoring averages, whatever, we rebounded OK, we defended OK, but there are things we have to do. And knowing next year, we will play the toughest schedule in the history of the school. We have 18 Big 12 games and Iowa, UNI and Drake right off the bat and we have to go to Michigan. And one thing that's hanging over our head a little bit is the first and second rounds of the NCAA Tournament is at Hilton (Coliseum) and the regionals are in Des Moines. You're sitting here wondering how we are going to get ourselves in position to do that. The motivation for our team has to be, that they have to be so motivated that they refuse to let anybody else use our locker room in the NCAA Tournament. That's what I'll tell them.
When we get a positive surprise, we've been competitive. We don't have that one player who will bails us out. You look around the NCAA and the NBA, the teams that have that one great player bail them out, find a way to win a couple of games. We lost some close games last year because we were inexperienced in a lot of spots. That's got to get cleaned up.
IS: Like you were saying, most people don't understand, you say goodbye to them Wednesday and then you don't seem them for four months.
BF: And that's the challenge. They can work with Coach (Andrew) Moser. We can check on them academically and check on them socially because they will all be here in the summer. But it's like anything else, how motivated are you to do the things necessary to get better. The stories you hear about the great players are the ones who were extremely motivated in the offseason. The ones that aren't extremely motivated, at this level they don't get better, they don't play and your team doesn't win.
We are fortunate our players have to place to go. They can get in the (Sukup Basketball Facility) 24 hours a day, seven days a week.
Follow CycloneFanatic.com on Twitter: @CycloneFanatic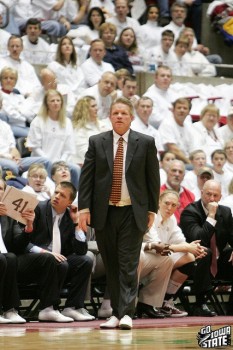 IS: It seems like you guys have a lot of players who are on the verge of taking that next step.
BF: Probably with exception of Elly (Arganbright) as a walk-on, but you can go down the roster and every kid has had a big game. Anna Prins has had big games, Chelsea Poppins had monster games, (Amanda Zimmerman's) had good games, Lauren Mansfield's had good games. It's not like they haven't done it. They are capable. We will give them a DVD from their best game, a stat sheet and say look what you did against Texas or Baylor or in the NCAA Tournament. It's not like it can't be done. It's not like we lost Kelsey Bolte and there is no one else there. I have a lot of confidence in the kids that are coming back. Now we are talking about senior, senior, junior, junior, junior, junior. Now there is no excuse. We have six kids who are seniors or juniors who have played winning basketball at Iowa State. But they have to play it on a more consistent basis.
That's the other thing. When you invest in the stock market,  you want it to go (steadily up). You want to avoid ups and downs. We've had way too much (ups and downs). We've had way too much two points, 20 points. You have to be able to go into a game and say, "I know she's going to get 12. She could get 20, she could get eight if she gets in foul trouble." But not go into a game and say she might not score, she might explode. We have to get through that. Hopefully the new kids can add some depth. They are all skilled enough to play. Whether you can transfer that from high school and AAU to the Big 12 is a whole 'nother thing. Not many people can do it like Hallie (Christofferson) did it.
IS: One of those people that are coming in that people want to know about is Julie Vanloo. Obviously, she is in Europe. She's signed with you but where do you stand there?
BF: Basically, what's going to happen is she's going to come to Ames or go pro. What we decided to do, and we think her family understands, is we wanted to sign her so if she came to the States, we get her. Then we just said take your time. She is actually playing right now in their NCAA Tournament – a cup tournament. Then she is going to visit some pro teams and make a decision on whether the pro thing is what she wants to do right off the bat or come to the States.
She is very skilled. She's very good with the ball. She's played at a high level. She's someone that, I don't think there is any question, has the skill set to come in and really contribute. She can play the one or the two. We'll see. I think it's probably 50-50 whether she'll come. It'll probably be the end of July (before we know) unless she decides the offer is too good to pass up. But it'll be awhile before we know.
IS: How tough is the Big 12 going to be and how do you prepare your team for something like that?
BF: This is great grammar, but the Big 12 went from the best league to the bestest. Right now, we are the best league in the country. That's not my opinion, that's statistical fact. No offense to Colorado or Nebraska, but you lose the two teams in our league who had the highest RPI. Now you have 10 teams in the league with an RPI of 85 or lower. And you got to play everybody twice. Every time I start worrying about my schedule, I feel bad because I think about Paul (Rhoads) having to play Iowa, Connecticut and every team in the Big 12. We are all in that boat. Sixteen to 18 (games) doesn't sound like a big jump, but when you are adding two really good teams, it is. Then you add a conference tournament. The travel will be different with more trips south. It'll be very hard.
I've always been a big believer, you can't do anything in life if you don't know the task ahead of you. I'm not going to lie to them about it. It's like a baseball player that goes 0-for-4, that doesn't mean you aren't any good. You just have to come back the next day. We might get a stretch where we have to go to Baylor and Texas A&M back-to-back. You could easily lose three or four games in a row and not be that bad. I'm going to have to do a better job of literally compartmentalizing every game. Everybody talks about the next game, but there's always a hangover when you lose to someone. You have to play every single game almost as if it is its own mini season. If you don't, a loss to Baylor may cost you game against someone you think you can beat. Then it starts that downward spiral. Kids are better at it then coaches. Kids can flush it better than coaches unless they individually played bad.
IS: The home court is always important, but in the new Big 12 it is as important as ever because of all the tough road trips. You need to defend your home court.
BF: Those nine home games you get, you better figure out a way to win seven of them at least. It's going to be ridiculously hard. Again, that's where we've been so lucky. This year, we lost one home game. Besides the effort of our staff and players, the effort of our fan base has probably been the driving force in the success of our program. Teams don't want to come here. We play well here. If that continues, I think that'll be more important. I think it's important to every sport at Iowa State. It's always important, but I think there is going to be a whole another level to the home field – Jack Trice or Hilton. The advantage Iowa State is going to have in every one of those games won't be on the field or the court necessarily, it's going to be in a game plan and a fan base. We've got to figure out how to use that to our advantage.
Want more from CF? 'LIKE' CycloneFanatic.com on Facebook today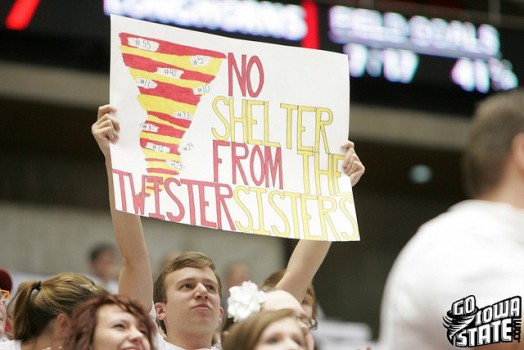 IS: You were rumored for the Wisconsin job, and I'm not sure if anybody ever asked you about Wisconsin, but it seemed like multiple papers were reporting you as a finalist. Do you kind of get a chuckle out of that? I'm sure it's not the first time it has happened.
BF: You do get a chuckle of it because none of it was based in fact. We live in a world where you can throw it on Twitter, you throw it on a message board and you might be right. I was at the Final Four when it all went down and people were coming up to me and asking, "Are you going to change your red?" "Do you like cheese?" That kind of stuff. It happens a lot. You just have to get used to it. The thing I worry about it you don't want it to impact recruiting and you don't want it to impact your relationship with the administration. It never does because they understand.
IS: If you didn't coach, what do you think you'd be doing?
BF: Hmmm… wow. I really have no idea. It's all I ever really wanted to do. I'd want to do something where I'm around people. I'm not a 9-5 type of guy. I want to be engaged with people, especially young people. I guess my dream job would have been to be the radio or TV voice of the St. Louis Cardinals.
IS: (Your son) Steven is sticking around to be the graduate assistant and obviously Billy is on staff, did you think you'd ever have that opportunity? And how special is that?
BF: I tell you, there is nothing better. Very few people are fortunate enough to have a great relationship with their kids growing up, and I think I did. And then to continue that relationship and be around them as they get older. It's been fun. It's been great for our family. The administration here has been great about it. They are both good kids. They both love Iowa State. They are committed to what this place is about. But a lot of places wouldn't have allowed that. They are passionate about what happens here. This is what they've grown up with. Iowa State women's basketball is a part of their souls. I think when you start thinking about people working in your program, you want people who are committed, loyal, passionate, talented. I don't know why they should be penalized because they are related to me. But no, it's been fun. Certainly, I can't tell you how lucky I feel. I get to do what I love to do, and I get to do it with people that I love.
Fennelly talks about the Cardinals and Cubs…
IS: Is Albert Pujols worth the money?
BF: It depends how much we're talking.
IS: As much as he's asking…
BF: If he's asking $300 million for 10 years, then no. No one is worth that money. I think he deserves to get paid like the best players in baseball. I think he deserves a contract that rewards him somewhat for what he's already done. But you cannot mortgage the franchise. If he got what he wanted and (Matt) Holliday, that's 40 percent of your payroll and those guys don't pitch. Pay him in the top-5, then it's up to him to say I want to be in St. Louis. We'll see.
IS: How would deal with a Cubs World Series title?
BF: I think I'd have a hard time dealing with the fans – (assistant coach) Josh Carper, Greg McDermott and all my buddies that are Cubs fans. It's not going to happen so I don't have to worry about it.
IS: Do you ever feel sorry for Cubs fans?
BF: I do feel sorry. Again being a Cardinals fan, you don't like the Cubs. Or if you're a Red Sox fan, you don't like the Yankees. But I remember seeing, when the Red Sox won it, there was like this older gentleman and they showed him and he was in tears. I feel bad when someone is that devoted to a team and they are never going to see them win. You could go through an entire lifetime and never see them win once. That is depressing. That would be sad. I don't know if that's fair for someone to suffer that much.