By Chris Williams, CycloneFanatic.com Publisher
CLICK HERE to read our offensive spring football preview.
Now, it is time to attack Iowa State's defense heading into spring ball. Here's a look at some of the top storylines.
SECONDARY QUESTIONS
Here's a quote that Paul Rhoads recently gave to Cyclones.comregarding the safety position heading into this spring.
"We have zero experience at the safety position, so this is an area of concentration this spring. It's the No. 1 position that we must bring along."
I realize that improving the defensive line is on the top of many minds and rightfully so. But replacing future NFL player (in my estimation) David Sims will be a colossal chore for the Iowa State coaching staff this spring. Secondary coach certainly Bob Elliott has his work cut out for him.
Senior Ter'Ran Benton (pictured below) starts the spring at number one on Iowa State's depth chart at strong safety. The way I understand things, Benton will move all over the field in 2011. He'll play some at corner, safety, nickel, you name it.
"TB might be the most versatile defensive back in the league," Rhoads told Cyclones.com.
Behind Benton on the depth chart at strong safety is senior Earl Brooks and redshirt freshman C.J. Morgan.
From an experience standpoint, things don't get any better over at free safety. Another versatile player, sophomore Jacques Washington is currently listed at number one, with sophomore Deon Broomfield and junior Durrell Givens behind him.
Note that Givens was a JUCO transfer to Iowa State last season, where he ended up redshirting due to multiple injuries. To this point, nobody really has any clue as to what type of player he will be going forward.
The good news regarding Iowa State's secondary is the cornerback position. The rotation of Benton, senior Leonard Johnson and junior Jeremy Reeves (pictured above) could make cornerback Iowa State's best position on the defensive side of the football.
Keep an eye on Jensen Watson
This 5-foot-9, 176-pound redshirt sophomore will likely see time at multiple positions during spring ball. Where he'll end up is sill in question. He's currently listed as a second string left cornerback behind Reeves.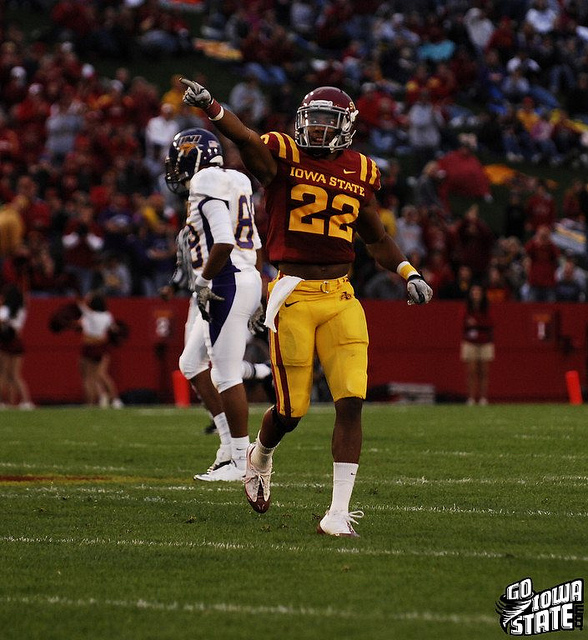 D-LINE DEPTH
Don't worry. I haven't forgotten about the defensive line. This position has been a thorn in this program's side ever since Jason Berryman's issues back in the day. Right when Cyclone fans thought that they were on the verge of beholding another playmaking defensive end, Jacob Lattimer got into trouble and is currently serving an indefinite suspension.
That's where I'll start on the defensive line. We really don't know what is going to happen on the Lattimer front. If he's eligible to play in the fall (which I suspect he will be), you know that he'll hold down one of the starting spots. There's no doubt about that. What if he isn't there?
I'd guess that junior Roosevelt Maggitt will hold down the right side of the line. That's where he's at on the pre-spring depth chart at least. On the left side, senior Patrick Neal is number one with two intriguing prospects, Willie Scott and Rony Nelson behind him.
Nelson is no doubt one of the team's top stories heading into spring ball. You all surely remember the Rony Nelson drama from last August. The Big 12 forced the JUCO transfer to redshirt in 2010. Well now he can play, but how good is he? I'll keep a close eye on that over the next month.
I'll also have an eye on Scott, a former linebacker who is still in a transition period while learning how to play defensive end. Does that sound familiar? Lattimer did the same thing last year, before becoming an honorable mention All-Big 12 player by season's end.
Moving to the interior portion of the line, senior Stephen Ruempolhamer (pictured below), junior Cleyon Laing and junior Jake McDonough will be staples this spring and next fall. The issue for the coaching staff will be finding that fourth guy? Sophomore Aaron Moore, sophomore Walter Woods and redshirt freshman Brandon Jensen will all be in the mix. While it won't grab any headlines, the battle for the fourth spot will ultimately be an important one to watch over the next month.
SOLIDITY AT LINEBACKER
At the linebacker position, this spring is all about development for Iowa State.
Junior A.J. Klein is the man at SAM. Senior Matt Tau'fo'ou will get the nod at MLB and Jake Knott is number one at WILL.
The young linebackers in the program are the guys who I want to learn more about. A guy like redshirt freshman Adrian Bennett consistently makes defensive coordinator Wally Burnham glow. Why is that? What about Bennett's game is so promising?
How is sophomore Jeremiah George progressing in the middle?
What about Knott's backup, redshirt freshman Floyd Mattison? These are guys who we've heard a lot about, but still haven't seen anything from.
Keep an eye on Jevohn Miller
This 6-foot-4, 236-pound true freshman is technically still a senior in high school. Miller graduated from B-G-M (Iowa) at the semester so that he could attend spring ball for Iowa State. Expecting him to make an immediate impact isn't fair, but the fact that he's here is a tells you a lot about Miller's work ethic.