By Brent Blum, CycloneFanatic.com Contributor
CycloneFanatic.com's coverage of the 2011 Big 12 Tournament is brought to you by our good friends at Wilson Toyota, located at 2212 S. Duff Ave. in Ames.
Kansas City – The Iowa State women's basketball team held off a feisty Nebraska Cornhusker squad, winning  69-61 in the opening round of the Big 12 conference tournament.
The Cyclones needed every one of Lauren Mansfield's career high 23-points in the win. With the game tied at 57 with five minutes remaining, Mansfield and Chelsea Poppens sparked a key 12-4 run that closed out the Huskers.
The turning point happened a few minutes earlier. Nebraska led 49-48 with 10 minutes to play. In a scramble underneath the basket, Poppens grabbed an offensive rebound and swung an elbow that inadvertently connected with a Husker defender. It resulted in a technical foul. The ensuing two free throws gave the Huskers a 51-48 lead.
"You need a rallying point sometimes. Our kids were a little tired and it gave us an extra break. Our fans got into it at that moment. They have an amazing ability to know when our team needs them to most," Bill Fennelly said. "It was a really well played last seven minutes by us."
Two threes by Mansfield and one by Chassidy Cole gave Iowa State a 57-53 edge that Poppens finished off. The sophomore from Aplington, Iowa scored eight of her 11 points in the final four minutes. She added 10 rebounds for her fourth double-double of the season.
"Pop always plays hard. She struggled early. But she's a kid that always plays with an amazing amount of energy. I think she was shook up by the technical foul call. But she competes every second of every play," Fennelly said.
"When she's open, we're going to try and get it to her," Mansfield said. "Once we got it to her, she did really well with it."
Early on it appeared that Iowa State may coast into the quarterfinals.
Kelsey Bolte capped off a 12-0 run with a three from the right wing as Iowa State breezed to a 20-8 lead with 13 minutes remaining in the first half. Bolte hit three of her first five shots from deep to give Iowa State the advantage. The Cyclones also got a strong start from sophomore Jessica Schroll who scored five of her eight points early in the contest, including her third trey of the season.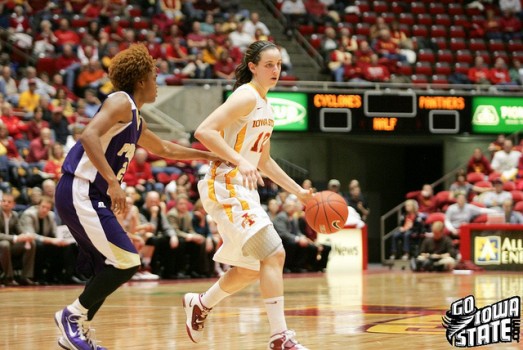 But the Huskers, who had dropped nine of their last 10 coming into Kansas City, rallied. They hit 47 percent of their first half shots and connected on seven first half threes. A Jordan Hooper trey at the halftime buzzer tied the game at 38.
"Before Coach even got in there, we collectively decided it wasn't good enough," Bolte said. "Any team that makes seven threes on us, we weren't doing a good enough job. We decided we needed to play better defense than we did."
The defense was up to the task in the second stanza., holding the Huskers to 23 points on 35 percent shooting. The Huskers made just one field goal in the final five and a half minutes.
"The core of our team has been the attention to detail defensively, and it wasn't there in the first half. And I thought the attention was there in the second half," Fennelly said.
Iowa State also got a big boost from players not named Kelsey Bolte. The All Big 12 first team performer scored 15 points on the afternoon, but was held without a point in the final 16 minutes.
"Lauren (Mansfield) really stepped up. She had five three-pointes. That's great. Our shots were falling," Bolte said.
The junior point guard  from Australia took advantage of her opportunities en route to her career high.
"They left me open on the zone, I'm sure they were chasing Bolte. I started to hit a few. My teammates really had my back, they told me to keep shooting, so I did," Mansfield said.
"Certainly Lauren's threes were big. They defended Bolte really well," Fennelly said. "But when you run at someone before they get the ball, that opens up other areas. That's what Bolte does to you. She hurts you just being on the court."
The win moves Bill Fennelly's record to 20-3 in conference tournament opening round games in his career at Iowa State and Toledo.
"It was a night where Poppens and Lauren and a few others made enough baskets to survive," Fennelly said.
The Cyclones advance to meet the fourth-seeded Kansas State Wildcats in the quarterfinals on Wednesday. Iowa State won both previous match-ups with K-State this season. Tip time is set for 1:30 pm at Municipal Auditorium. Look for continuing coverage all week long here at CycloneFanatic.com.