By Ian Smith, CycloneFanatic.com Contributor
Lauren Mansfield is a basketball nomad who has finally found a home.
First, the 5-foot-7 point guard honed her skills in her native Australia. A two-year stint at Midland College in Texas followed. Now, she can't wait to check out her new digs wearing the Cardinal and Gold.
Mansfield will be in the starting lineup for the No. 20 ranked Iowa State women's basketball team when it takes the court for the first time tonight against Minnesota State. The game is the first at Hilton Coliseum since major flooding destroyed the court.
"I kind of don't know what to expect," Mansfield said. "I've heard it's magic – Hilton Magic. That's exciting. I've never really played in front of thousands (of people), or anything like that."
She better get used to it. Thanks to a superb fall camp, Mansfield won the starting point guard spot.
"She has definitely, by far, been the leader in what we've done in practice," Iowa State coach Bill Fennelly said. "She will get the first look at it."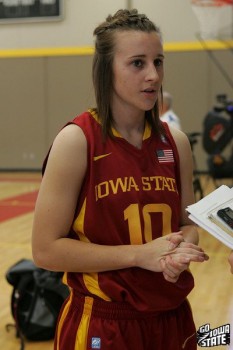 If it weren't for her past, Mansfield (pictured above) wouldn't be where she is now. After starring in her hometown of Adelaide, Australia, Mansfield moved to the United States and Midland College. All she did there was score 633 points and dish out 257 assists.
The Cyclones will need similar numbers if they are going to make another deep run in the NCAA Tournament. Former Cyclone Alison Lacey is drilling 3-pointers in the WNBA now, but there are still plenty of weapons at Iowa State to surround Mansfield with.
Back is senior Kelsey Bolte (12.9 points per game), and sophomores Anna Prins (9.9 ppg), Chelsea Poppens (8.8 ppg), Jessica Schroll (3.9 ppg) and Amanda Zimmerman (5.0 ppg). Because of that, Mansfield plans on being a pass-first point guard who takes care of the ball and finds the open player.
"Getting my teammates in the game is very important," Mansfield said. "When my options are there, when I get the chance, I'll take it."
Lacey's departure not only leaves a big void in points, but also leadership. Bolte will take on some of that role, but she also isn't worried about Mansfield stepping in at point guard and taking charge.
"The team has done really well so far," Bolte said. "Lauren is going to be handling things right now, so we are getting used to her and her style of play. It's going along really well. We are communicating, working on little things, working on us."
Most improved
While fans will be keeping on an eye on Iowa State's new point guard, they might also notice a couple of old faces who have improved.
Sophomore Chelsea Poppens and junior Chassidy Cole both made strides this offseason.
"Chelsea Poppins is a lot better," Fennelly said. "I know everyone kind of saw her at the end (last year), but she's really matured, her offensive skills are better, and she really competes hard."
"Cassidy Cole is better. She didn't play a lot last year, but I think she's better."
Poppens and Cole are exactly the type of role players who can flourish in the Cyclones' system.
"Our term is impact winning," Fennelly said. "I think both those kids can impact winning. They are not complete players by any means, but they can help our team win games if the other players do what they are supposed to do."
Small town girl with big game
It's hard to overlook any player who stands 6-foot-3, but when you come from a town of less than 300 people, it happens. That may have been the case with freshman Hallie Christofferson, but it didn't take her long to make people pay attention once she arrived at Iowa State.
When Anna Prins missed practices earlier this fall with an illness, Christofferson stepped up.
"Without question, Hallie Christofferson has been a big surprise," Fennelly said. "We knew she had a chance to be pretty good, but she's better than we thought. When you come from a small town, people hold that against you sometimes. But, she is long, she's athletic, extremely competitive, and she's picking up the system."
"She's someone that we didn't know where she would fit into the mix, but when Anna got sick, she got more reps and she took advantage of it."
Home sweet home
On Tuesday, a fire marshal stopped Fennelly from going into Hilton Coliseum. No one will be able to tell him no tonight. The game with Minnesota State marks the first time any team has played in Hilton since the floods.
"I'm so excited to even think about playing back at Hilton Coliseum," Fennelly said. "That place is so special to so many people.
"There are not many people in this community who don't have a special memory of that place."
Iowa State's opponent, Minnesota State, returns three starters from last year's 15-13 squad. The Mavericks are coached by Pam Gohl, who is an impressive 47-15 in three seasons at the helm.
Tipoff is set for 7 p.m.