By Chris Williams, CycloneFanatic.com Publisher
Undersized. Undermanned. Underdogs.
Those three U-words combine to equal one perfect description of the 2010-11 Iowa State Cyclones.
Fred Hoiberg's inaugural Iowa State squad had as much, if not more drive than any other team in the Big 12 Conference. They probably made you swear a time or two. You probably scratched the hair right off of your head on a multiple occasions. And wow, those late-game meltdowns got were painful.
But you had to love this team. How could you not?
Here's my year in review for the 2010-11 Iowa State men's basketball season.
TEAMMVP
Diante Garrett – In his first three seasons as a Cyclone, Diante Garrett averaged 8.4 points and 4.3 assists per game. As a senior, Garrett's averages skyrocketed to 17.3 and 6.1. No debate necessary here.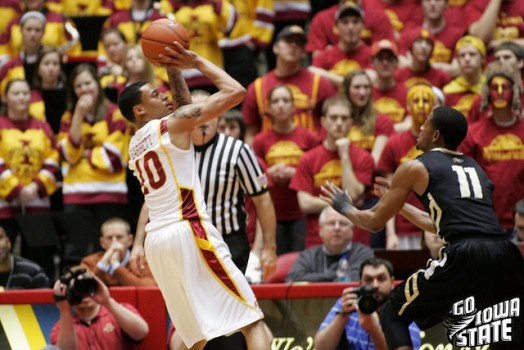 BIGGEST SURPRISE
Calvin Godfrey – Think about the Calvin Godfrey you saw during the first 22 games this season. It was at that time when this 6-foot-8 freshman averaged 4.1 points and 4.7 rebounds per game. Before the season began, that's about what most people anticipated from Godfrey, a physical, dirty work type of guy, who was being forced to play more than he probably should have as a rookie.
After being suspended for "violating team rules" following a Feb. 1 loss to Colorado, Godfrey averaged 10.6 points and 7.7 rebounds over Iowa State's final seven games of the season. That includes a 23-point, 11-rebound outburst against Colorado on March 2.
Full disclosure – I didn't think that Godfrey had that type of game in him. I interviewed Calvin after Iowa State's Big 12 Tournament loss to the Buffs. I'll be posting tidbits from that conversation at some point next week here at CycloneFanatic.com.
To make a long story short, Godfrey had a choice to make during his suspension. He could pout, or come back stronger. I think we all know which choice he made.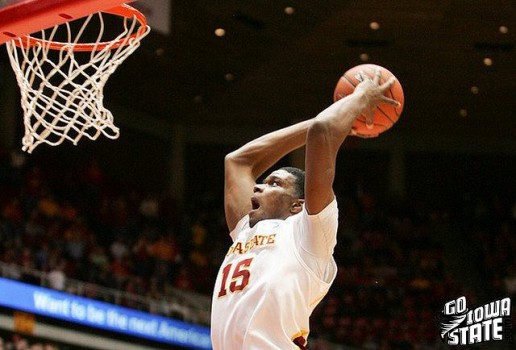 HE WAS WHO HE THOUGHT HE WAS…
Melvin Ejim – Solid. Is there a better way to describe Melvin Ejim, a 6-foot-6 freshman who played out of position all season long? After participating in all 32 games (he started 30 of them), Ejim averaged 10.3 points and more importantly, 6.7 rebounds per contest. Ejim's best stat was that he grabbed 93 offensive rebounds on the year. Again…Solid stuff from the rookie, just as we expecte. Melvin Ejim's future appears to be bright in Ames. I'm sure that we'll still see him down low some in the future, but with a legitimate frontcourt coming into Hoiberg's arsenal next season, this soon-to-be sophomore will have a lot of pressure lifted from his already very broad shoulders.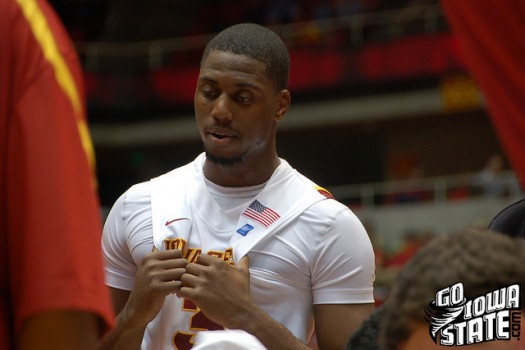 BEST WIN
Dec. 10, 2010 @ Iowa (75-72) – If it wasn't the first-ever Hoiberg vs. McCaffrey meeting, I wouldn't put this as Iowa State's "best win" of 2010-11. After all, the Hawkeyes ended their regular season with an unattractive 11-20 record. But this one was all about setting the tone. It doesn't matter if you are a Cyclone, Hawkeye, Panther or Bulldog, I imagine you'd like to see hoops in this state return to their glory days. Hoiberg and Iowa State won round one, in Iowa city. Scott Christopherson's seven 3-pointers and 30 points will go down in Cyclone history books and this victory really set the tone for the rest of Iowa State's non-conference schedule. One other thing that made this game so memorable for me was Diante Garrett's 1-for-14 start to the game. And the Cyclones still won? Yep. More on this win later…
Honorable mention: Nov. 21 over Creighton. March 2 over Colorado.
WORST LOSS
Jan. 26 vs. Texas Tech – It was really the only time all season when I remember Fred Hoiberg being upset with his basketball team's effort. Hoiberg was visibly irritated with his squad after Pat Knight led the senior laden Red Raiders to a 92-83 win in Ames. Iowa State went 4-for-21 from 3-point range in that game, while Texas Tech shot 55 percent from the field.
Honorable mention – (Jan. 8)  at Nebraska, (Jan. 19) at Oklahoma State and (Jan. 29) vs. Oklahoma.
BEST TEAM STAT
Scoring Offense/The Long Ball – Iowa State averaged 74.8 points per game this season, which ranked them fifth in the Big 12. Why? These Cyclones led the Big 12, averaging 8.59 3-pointers per game. As the great former Atlanta Brave Tom Glavine once said, "chicks dig the long ball." That's a good thing for these Cyclones.
WORST TEAM STAT
Defensive Rebounding – Iowa State was statistically worst defensive rebounding team in the Big 12 this season.
BEST INDIVIDUAL STAT
Jake Anderson's Rebounding – "Uncle Jake" is 6-foot-2 and he averaged 7.2 rebounds per game, which happened to be seventh best in the Big 12. Not too shabby Jake.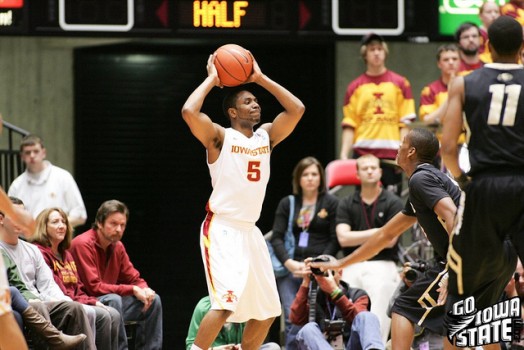 Honorable Mention – Scott Christopherson's 44 percent 3-point shooting, Melvin Ejim's 6.7 rebounds per game and Diante Garrett's 195-to-106 assist-to-turnover ratio. In all honesty, pretty much any statistic that Diante Garrett recorded this year could be mentioned in this category.
WORST INDIVIDUAL STAT
Individual Minutes Played – Diante Garrett was a machine. He never got tired. DG played more minutes than anybody else in the Big 12 this season, averaging 36.72 per game. Meanwhile, fellow Cyclone Scott Christopherson ranked second in the same category, averaging 35.84 minutes per contest.
In a way, you can consider this a positive statistic. But really, all it does is prove how little of flexibility that Fred Hoiberg had as a coach. Heck, Hoiberg had to call upon members of the football team at one point this season, just to get some warm bodies on his bench.
Honorable Mention – DeMarcus Phillips only playing in eight games as a Cyclone.
BEST INDIVIDUAL PERFORMANCE
Scott Christopherson vs. Iowa – If only people cared as much about this game as they used to… Ah forget about it. From now on, he'll be know as Scott Christopherson, "Hawkeye Killer." Christopherson went off in Iowa City this year, going 7-of-12 from 3-point range and willing his team to a 75-72 win.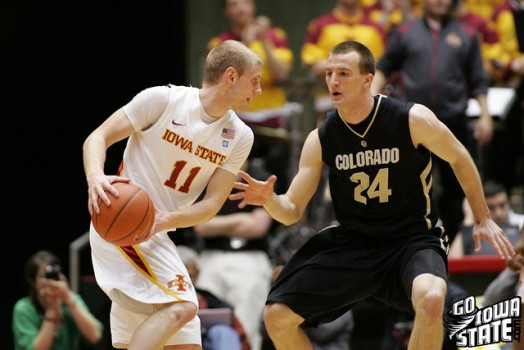 BEST MOMENT
Buzzer beater vs. Creighton – Should it have counted? Who cares! Iowa State caught a break for once. Thank you very much Jamie Vanderbeken!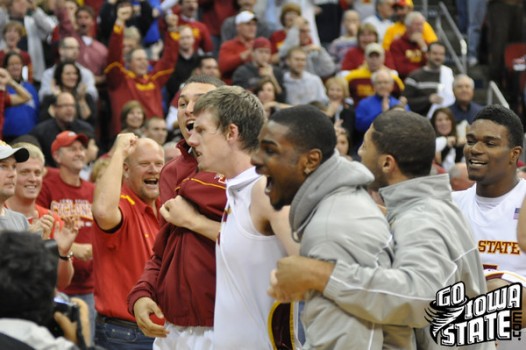 YOU SHOULD BE OPTIMISTIC BECAUSE…
…Look at the Baylor Bears. That's a team with all of the talent in the world, but their coach rarely got them ready to play. Iowa State on the other hand lacked talent and numbers throughout the season, yet Hoiberg coached them to two victories at the end of the year when heads should have been hanging. In a year full of tough, last minutes losses that could have easily worn a team down, Iowa State's rookie head coach kept his team's attention. That's awfully encouraging.
Other reasons include: Calvin Godfrey's growth, an influx of talent coming into the program, Iowa State is entering what is expected to be an offseason of low attrition, more depth, more talent, more depth and yes, more talent.
DON'T EXPECT A FINAL FOUR NEXT YEAR BECAUSE…
…The Cyclones are losing one of the best guards in Iowa State history, a "silky" big man who can shoot the three and one of the scrappiest players in the Big 12 Conference. That equals 41.2 points per game. Sure, Iowa State will have a lot more talent on the roster in 2011, but will that talent mesh equal more wins? The good news is that none of the FAB 4 (Royce White, Chris Babb, Chris Allen and Anthony Booker) have gotten into any trouble over the past year. All of the reviews I've heard have been raving about the best scout team in America.
So long 2010. Look out 2011.