By Chris Williams, CycloneFanatic.com Publisher
Follow Chris on Twitter @ChrisMWilliams
I really don't see how any reasonable fan can be disappointed in last night's 71-66 road loss to Texas A&M by the Iowa State men's basketball team.
Only six scholarship players played for the Cyclones. Three frontcourt freshmen and a 6-foot-2 guard outrebounded the sixth-best rebounding team in America.
Yeah, it sucks to lose eight games in a row. Just ask Diante Garrett (link to a Randy Peterson/Des Moines Register blog). But fans still need to support this basketball team. Despite many setbacks, the Cyclones haven't quit. Neither should the fans. Hilton needs to be packed on Saturday when Missouri comes to town. Below is my regular game recap including my "Three Up, Three Down" from last night. Enjoy.
CF'S PLAYER OF THE GAME
Jake Anderson – Calvin Godfrey set the tone early for Iowa State, but "Uncle" Jake sustained it and made this a game in the second half. Anderson led the Cyclones in scoring with 18 points last night, while recording six rebounds as well.
THREE UP
The Trio – Here are some mad props to Melvin Ejim, Calvin Godfrey and Jordan Railey. All three of these freshmen have put in some tough, sometimes unfair spots all season long. Example: On a regular Big 12 basketball team, Railey, Eric McKnight and possibly Godfrey would be redshirting. With Jamie Vanderbeken's absence on Wednesday, this trio (the freshmen combined for 19 of Iowa State's 33 rebounds) went on the road and outrebounded the sixth-best rebounding team in America. The thing I like the most about these freshmen is their toughness. Jordan Railey might commit two fouls per every minute he plays (hyperbole alert), but the dude doesn't back down from anybody. I respect that. Melvin Ejim racked up five offensive rebounds and despite being in major foul trouble for the majority of the game, Godfrey tallied 11 and nine on the night. Despite all of the losing, these three are gaining quality experience against top-notch competition right. That will only help future Iowa State teams succeed.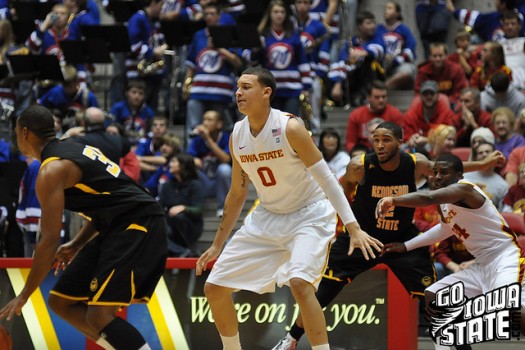 Coaching – Iowa State has lost eight basketball games in a row. Whether if it was Scott Christopherson's elbow, suspensions or Jamie Vanderbeken's ankle, this team really hasn't been at 100 percent since Big 12 play began. It would be really easy for these guys to curl up in the fetal position and take their lickings while looking ahead to next year and for three of them, life beyond Ames, Iowa. But somehow, Fred Hoiberg and his staff has managed to keep this team focused on playing basketball. If Hoiberg can do this with a severely undermanned basketball team, that makes me even more optimistic about next season and beyond.
Scott Christopherson – He got the all-time Iowa State record. Christopherson has hit at least one 3-pointer in 28 straight games. CLICK HERE to read more about that.
Honorable Mention
Diante Garrett – He wasn't shooting well last night. Garrett went 5-of-14 from the field but he helped his team compete without being the leading scorer. While he still racked up 13 points, Garrett's eight assists were crucial in Iowa State keeping this one close.
Here's an idea. You really should "LIKE" Cyclone Fanatic of Facebook. Please?!?!?!
THREE DOWN
Diante Garrett – Wait a second….DG is on the Three Up and Three Down for today? What's going on here? Well, he also committed seven of Iowa State's 15 turnovers. A&M only turned the basketball over 12 times. Clean it up DG.
Free throws – Iowa State only got to the free throw line six times last night, making three of them. The Cyclones have only shot eight free throws in their last two games. Against Kansas State on Feb. 5, Iowa State went to the line 24 times. If you look at Iowa State's box scores during Big 12 play, there is an obvious parallel that can be drawn with this team's free throw shooting to its overall success. Here are a few more examples. In home games against Texas Tech and Oklahoma, Iowa State shot 25 and 23 free throws. The Cyclones nearly won both of those games. In addition to the last two games, on Feb. 1's date with Colorado, Iowa State only went to the line 10 times.
Texas A&M – I'm going to call my shot right now. The Aggies will be upset in the first or second round of the NCAA Tournament. Toughness can only get you so far. Eventually you need to score some points. At 7-4 in the conference, this is the Big 12's third best team? Ouch.